Alumni Reunion 2022: reuniting, celebrating, creating new memories
U of T's biggest alumni gathering took place May 25-29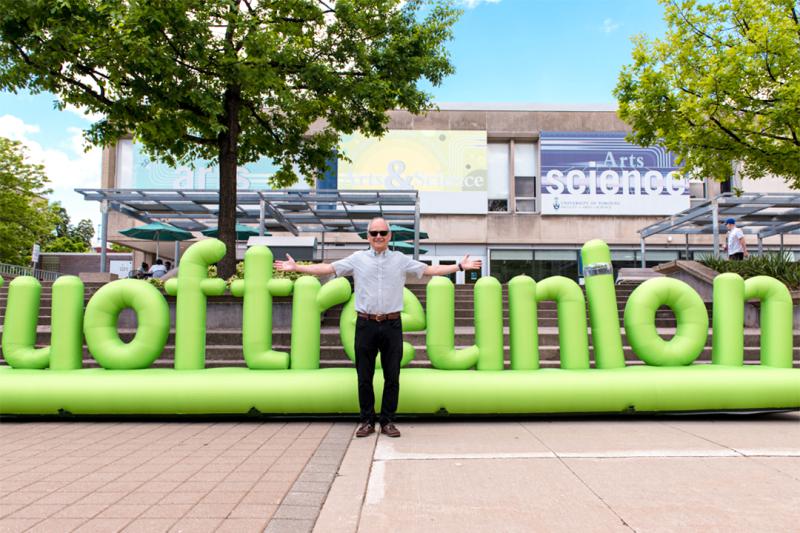 President Meric Gertler welcomes alumni with open arms as U of T's marquee alumni gathering returned online and in person.
---
That's a wrap! The University of Toronto's annual Alumni Reunion is over for another year. It was a triumphant return to campus for U of T's marquee alumni gathering, offering a variety of ways to catch up with old friends and create new memories.
This year's Reunion marked the first time U of T delivered a hybrid version of the event, combining a mix of in-person and virtual gatherings. "It was absolutely delightful to welcome alumni back to campus this year," said Barbara Dick (BA 1987 UC), U of T's assistant vice-president, Alumni Relations. "It was also our first opportunity to stage such a large hybrid offering, and from the feedback we've received, and the energy and enthusiasm of attendees in person and online, it appears to have been a great success."
More than 75 events made for a buzz of activity across all three U of T campuses, from meetups and lectures to campus tours and activities for kids. All told, Reunion brought together more than 11,400 attendees in person and online. "One of the great advantages of offering an online experience is that we are able to extend our reach," said Barbara Dick. "It allows us to have even more alumni participate—no matter where they are in the world."
Events to expand the mind and heart
Dr. Roberta Bondar (PhD 1974, Hon DSc 1992, Hon DSacLt 1993 TST), Canada's first woman astronaut, delivered a fascinating keynote talk at the UTAA Annual General Meeting, focusing on her perspective of planet Earth through her unique experience as an astronaut, neurologist, environmentalist, and photographer.
St. George Street took on a carnival atmosphere on the Saturday of Reunion, with the first Alumni Fest street party offering Reunion-goers a chance to enjoy music, games, food, and fun.
Biplob Mazumder (MIS 2005) attended with his family. "It was a nostalgic feeling," he said. "Sadness and happiness. Sadness because it refreshed my memories of missing moments when I was a student—there were so many nights we didn't sleep! Happiness when I met two friends from almost 20 years ago. Time flies and seeing how I've been growing and how other people were growing brought new happiness to my mind. The University helped me be where I am today, and I'm grateful."
Mazumder's two children, aged one and four, enjoyed U of T Engineering's car activity station. "A good thing about coming with my boys was feeling I could share the University with them," he said. "They can dream big, and we can make plans for their journey in the future."
The annual Stress-Free Degree lecture series drew many participants both in person and online to hear from some of U of T's top researchers on topics ranging from climate modelling and smart transportation to the GTA housing crisis and strategies to improve long-term care and mental health.  
Connections with great friends, from then to now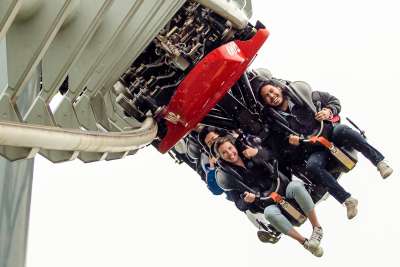 Younger grads enjoyed an exclusive event at Canada's Wonderland, and the LGBTQ2S+ Spring Soirée drew enthusiastic alumni to the King York Terrace to kick off Pride month and enjoy a night of food, drink, and networking.
"Spring Soirée is an incredibly special event," said U of T President Meric Gertler. "The evening is a reminder that U of T benefits tremendously from the diversity of our alumni and from our commitment to supporting and advocating for sexual and gender diversity, on campus, across Canada, and around the world."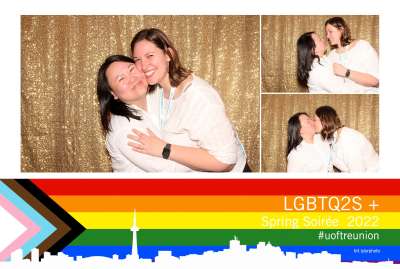 Jackie Nguyen (BA 2016 SMC) and Ivana Van-Tol (BSc 2019 UTM, MEd 2021) attend the Soirée every year. "To see if each event is at a better location than the last one!" said Nguyen with a smile. "I like it because it's within a small community. You run into familiar faces. It was nice to see U of T's president there, saying hello. I thought that was quite lovely."
Nguyen, Van-Tol, and their friends had fun at the photo booth, but also reflected more seriously on the welcoming atmosphere. "It's a very generous event," said Nguyen. "It's accessible to everybody. It's come as you are and you could see quite a few demographics of people: current students and past students, young and old, people of colour, people with disabilities—everybody who has the common denominator of being interested in queer activities. We had a great time and we'll look forward to the next one."
It's a very generous event. It's accessible to everybody and you could see young and old, people of colour, people with disabilities.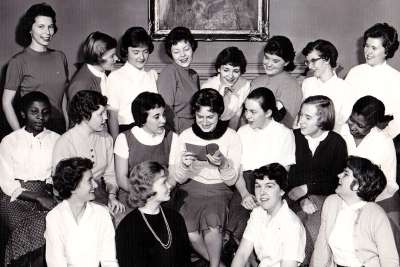 As in past years, U of T honoured alumni who celebrated their 50th, 55th, 60th, 65th, 70th, 75th and 80th anniversaries of graduation at the Chancellor's Celebration and the 50th Anniversary Ceremony. Both events took place online.
Gwynneth Evans (BA 1962 TRIN, Hon DSacLitt 2003 TRIN), an active volunteer with Trinity College, celebrated her 60th anniversary after helping organize her class of 1962 to attend. "After our detective work," she said, "more than 40 out of 150 registered for our call."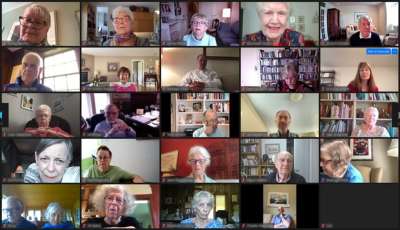 The group chatted about their shared memories and where their lives took them. "Gathering in the Buttery, music, Hart House Theatre," said Evans. "One still point in the turning world was the Trinity chapel—quite a few of us had sung there and quite a few of the couples had married there. And if we had lived in residence we felt the importance of that extremely strongly. I was delighted that two of our classmates from Jamaica joined the call. We first met in September 1958 when we all arrived in our skirts and sweaters and pearls, and now they were with us again."
The theme of the conversation was strong friendships, says Evans, "and that very strong sense of gaining experience and confidence, both in the classroom and outside the classroom. There were not only smiles and sense of real gratitude, but also quite a lot of humour. We really reinforced for ourselves the importance of education, community, and being able to develop many talents so that we can contribute to our world."
Stay engaged and enjoy that Reunion feeling year-round!
"Reunion is a very important aspect of our lives," said Evans. "The University of Toronto knows this, but involving alumni and allowing them to contribute in every way—talent, time and treasure—is a very healthy and important part of our education system. And our social life in this country."
Alumni Reunion is just one of the ways graduates can stay engaged with U of T long after receiving their degree—wherever they are in the world. Explore this site to find out how you can attend fascinating events and lectures, get U of T swag and other perks, volunteer as a mentor, sign up for our monthly newsletter, or connect with us on social media. There are so many ways you can get the most out of being part of a dynamic group of global alumni 640,000-plus strong!
---
Alumni Reunion 2022 in photos