April 29, 2019 | Volunteer & Awards
'Talent, creativity and commitment': U of T students, faculty and staff receive Awards of Excellence
By Peter Boisseau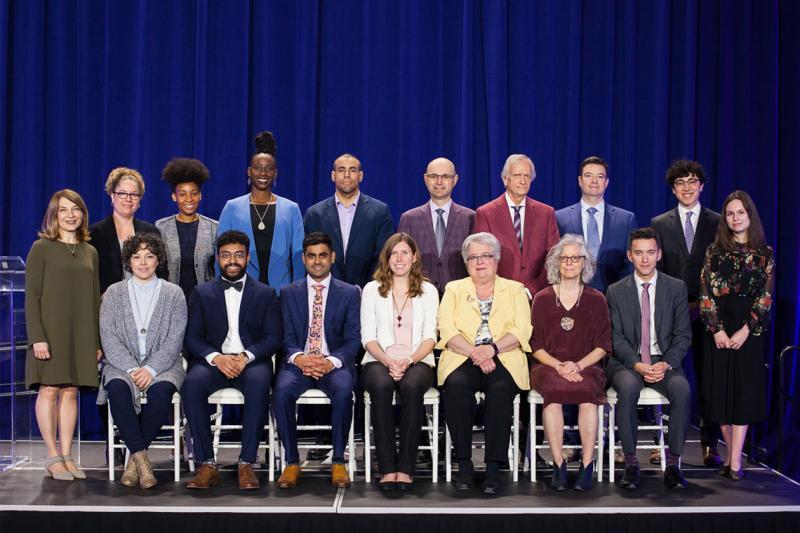 University of Toronto students, faculty and staff were honoured with 2019 Awards of Excellence at a ceremony last week, with U of T President Meric Gertler praising the winners for the "incredible depth and breadth" of their contributions to the university.
"The fact that we consistently rank among the world's top universities is really a testament to the brilliant research and teaching happening every day on our three campuses," said President Gertler.
"And it's entirely due to the talent, creativity and commitment of our individual faculty members, staff and students."
Supported by the University of Toronto Alumni Association (UTAA), the Awards of Excellence program comprises nine separate, prestigious awards for faculty, staff and students. The oldest award, the John H. Moss Scholarship for undergraduate students, was created in 1921, and the most recent addition, the Jill Matus Award for Excellence in Student Services, was established in 2016.
This year, the awards were presented on stage by President Gertler, Chancellor Rose Patten (Hon LLD 2009) and Scott MacKendrick (BASc 1982), president of the UTAA, with David Palmer, U of T's vice-president of advancement, serving as master of ceremonies.
President Gertler said this year's faculty winners have raised awareness of unconscious bias, advanced human rights and improved Ontario's health-care system, among their long list of accomplishments. Staff winners, he added, have promoted student wellness, reimagined alumni relations and worked to bridge racial divides in sports.
As for student honourees, President Gertler said they "combined exceptional academic performance with co-curricular leadership, on campus and well beyond."
---
At the ceremony, U of T News spoke with six award recipients about their work and contributions to the University.
Jillian Sprenger: John H. Moss Scholarship winner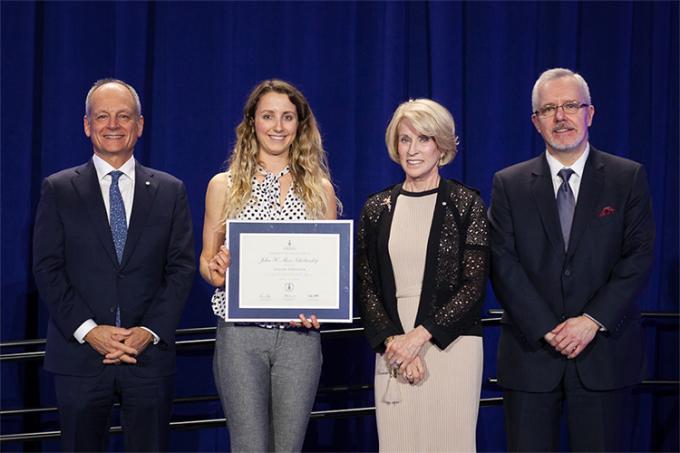 A fourth-year Trinity College student majoring in global health, Jillian Sprenger has already conducted original research, produced a documentary film on climate refugees, undertaken five independent projects and secured funding to travel to Myanmar, Taiwan, Ecuador, Ethiopia and Sri Lanka.
A triathlete and former member of the Varsity cross-country and track and field teams, she also mentors high school students through U of T's Global Ideas Institute. Her professors praise her ambition and willingness to step out of her comfort zone.
The John H. Moss Scholarship will help support her in graduate school, where she plans to study medical biophysics at U of T in the fall.
"If there is something that you love, I think you make time for it, and I've always been someone who has a lot of things on the go at once," said Sprenger.
"It doesn't feel like work, it's fun."
Mama Adobea Nii Owoo: Adel S. Sedra Distinguished Graduate Award winner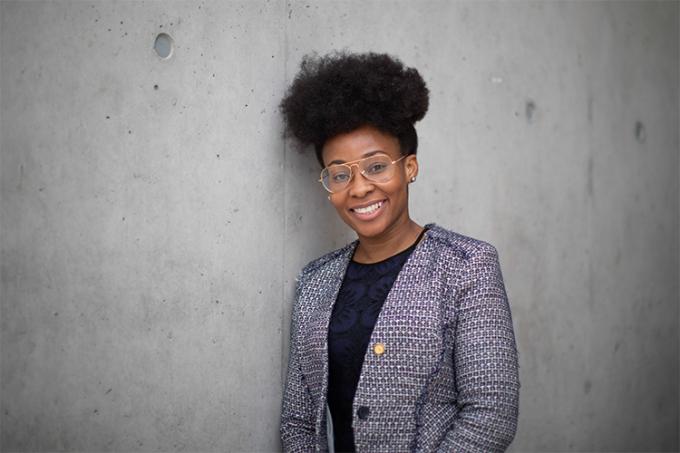 Mama Adobea Nii Owoo, a PhD candidate at the Ontario Institute for Studies in Education, speaks five languages and is working to strengthen Indigenous languages in her native Ghana.
Nii Owoo says the former British colony promoted English as the official language at the expense of the country's Indigenous languages, which has created barriers to education and hampered the growth of literacy.
Drawing on lessons learned from Canadian Indigenous language initiatives, Nii Owoo's thesis includes a documentary film on the education of teachers in Ghana, and she founded the non-profit Afroliteracies Foundation to create free print and video lessons in English and Gã for teachers in Ghana. She is also working on two children's books.
"Teachers are the closest actors to education and a lot of us take the language of instruction for granted," she said.
"But at the end of the day, when education is carried out in a language that people do not understand, it brings many more challenges."
Ike Okafor: Jill Matus Award For Excellence In Student Services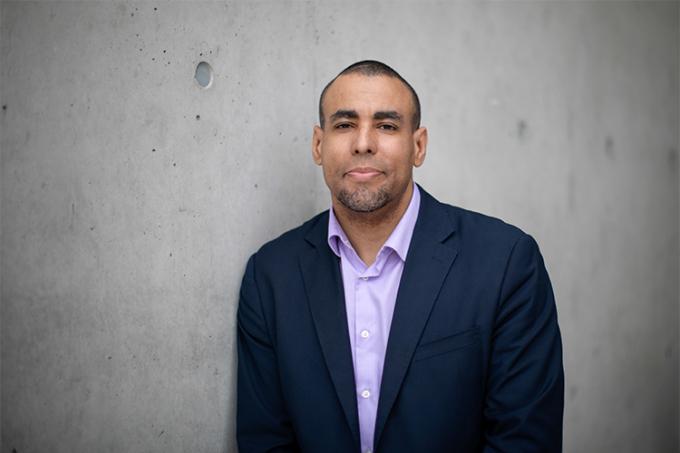 A senior officer in service learning and diversity outreach at the Faculty of Medicine, Ike Okafor (BA 2003 NEW) is responsible for many groundbreaking initiatives – including the Community of Support and the Black Student Application Program, which have helped more than 100 students facing systemic barriers get into top-ranked medical schools, from U of T to Yale, in just the last four years.
Colleagues say Okafor's visionary idea of supporting students years before they apply to medical school has created real change and new opportunities. As a role model and dedicated leader, students laud him as fair, moral and hard-working.
"I think it's a question of the society we want to live in," Okafor said. "I feel if we are able to reduce barriers, it's going to benefit everyone and enhance the quality of life in general."
Barbara Dick: Chancellor's Award (Influential Leader)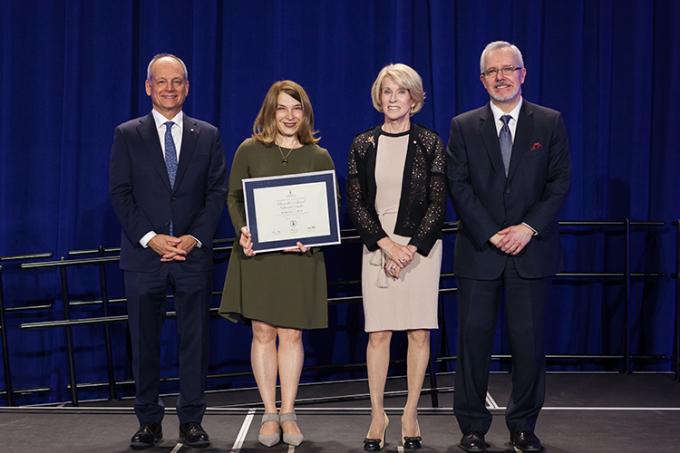 As assistant vice-president of alumni relations, Barbara Dick (BA 1987 UC) has overseen an exponential increase in alumni engagement since her appointment in 2011, with a ten-fold increase in alumni volunteer engagement and a tripling of registrations for U of T's Alumni Reunion.
A U of T graduate herself, Dick is known for using innovative programming to cultivate relationships with alumni, particularly more recent graduates.
"Your interest in engaging with the university three years after graduation is motivated by different needs than when you're in your 30s and have a young family, versus when you're a retiree and have more time on your hands," Dick told U of T News. "We try to take a segmented approach that speaks to where our alumni are in their lives."
Dick has also been credited with effectively leveraging the University's global network of alumni in efforts to recruit the best international student talent.
"We provide our alumni with a long-distance opportunity to make a real difference and support our mission in a meaningful way," she said.
Janelle Joseph: Chancellor's Award (Emerging Leader)
The lead author of three books about race and sport in Canada, Janelle Joseph (MSc 2006, PhD 2010) is focused on how gender, race, and ethnicity relate to power. She has advocated for faculty and staff training on unconscious racial bias and created an undergraduate elective course on race and indigeneity. 
Joseph is director of academic success in the Division of Student Life and assistant director of the transitional year program. She leads the Learning Strategist Community of Practice and chairs the board of stewards for Hart House. Colleagues attest to Joseph's exceptional rapport with her students and staff, and praise her for compassionate and positive leadership that encourages others to strive for more.
"All of us have to become a little bit uncomfortable, because complacency allows the status quo to continue," said Joseph. "We all have to challenge our assumptions and try to think differently."
Andrea Sass-Kortsak: Vivek Goel Faculty Citizenship Award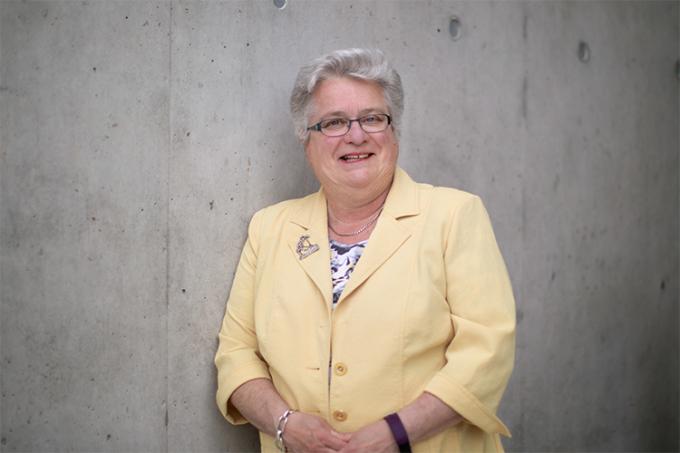 Andrea Sass-Kortsak (BSC 1977 TRIN, MHSc 1981), an associate professor at the Dalla Lana School of Public Health, was a leader in establishing occupational hygiene as a formal profession. She spearheaded the founding of a regulatory body, the Canadian Registration Board of Occupational Hygienists, which sets national standards for professionals who prevent workplace hazards.
Sass-Kortsak was also a significant force in the development of the Dalla Lana School of Public Health, where she led curriculum renewal, developed an enrolment tracking system and shared best practices across divisions. Among her many other achievements, she developed a PhD funding policy and was a leader in the Safety Abroad initiative to provide risk-management support for students who travel.
"As an educator, my primary passion has always been teaching and the development of our profession," she told U of T News.