Invited by Justin Trudeau, U of T alum Lana El Sanyoura addresses fellow graduates across the country
By Geoffrey Vendeville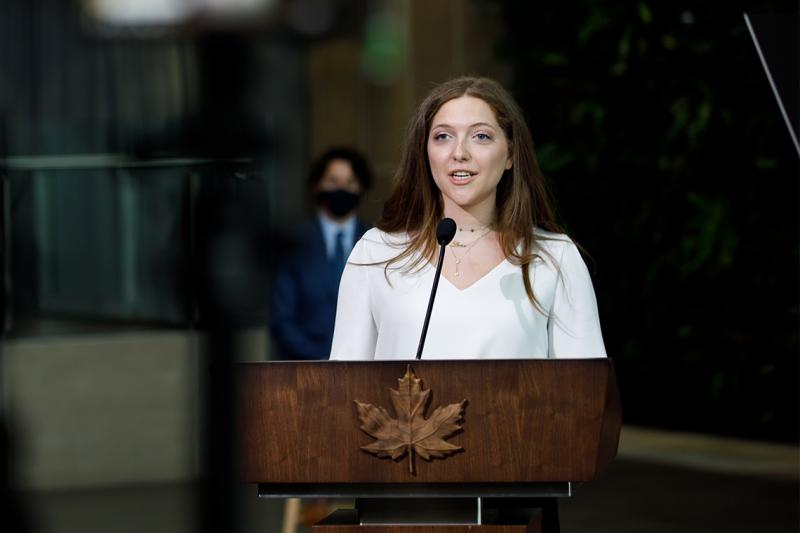 Lana El Sanyoura (BSc 2020 VIC), who graduated from U of T with a degree in cognitive science and computer science, was one of four students invited to Ottawa by Justin Trudeau to deliver an address to the country's graduating class (photo by Adam Scotti)
---
As a recent University of Toronto graduate, Lana El Sanyoura (BSc 2020 VIC) is no stranger to meeting deadlines and occasionally working late into the night.
Yet on June 9, El Sanyoura received an assignment unlike any other she's faced over the last four years: an invitation to come to Ottawa and join Prime Minister Justin Trudeau in an address to the class of 2020 – right across Canada.
She hopped into a car shortly after 8 p.m. and, with her mom at the wheel, pulled out her laptop to draft her remarks. She watched Michelle Obama's 2020 commencement speech for inspiration and FaceTimed her dad in Lebanon for feedback.
"We are faced with a pandemic, systemic injustice and an unstable climate. How can we use our education and our voices to make a difference?"
Before stepping up to the lectern the next morning, El Sanyoura says she felt a weight of responsibility to share words of hope with fellow students graduating at a extraordinarily challenging time in history – and one in which the class of 2020 is needed to make positive changes.
"We are faced with an unprecedented pandemic, systemic injustice in various forms and an unstable climate that is changing life as we know it," El Sanyoura said in her remarks.
"So let's ask ourselves: How can we use our education, our tools as graduates and our voices to make a difference?"
For El Sanyoura, a Victoria College student who graduated with an undergraduate degree in cognitive science and computer science from the Faculty of Arts & Science, that means making sure that the benefits of technology are shared evenly and that machine learning is free of unfair biases. She says she chose to study at U of T because it offered her a path to combine her passions in science, math, the human mind, art and self-expression.
El Sanyoura was one of just four Canadian university graduates invited to Ottawa to participate in the address to the country's graduating class alongside the Prime Minister.  
Trudeau praised El Sanyoura for her work building community in her department, where she co-founded a club for women in computer science, taught programming workshops and mentored other students.
She won the Konrad Women in Tech Scholarship, the John H. Moss Scholarship and conducted original research projects in language learning and culture shift in Assistant Professor Yang Xu's Cognitive Lexicon Lab. She also interned at Intel, participated in research at the MIT-IBM Watson AI Lab and was twice named MVP on her intramural basketball team.
On top of all that, El Sanyoura is a songwriter, choreographer, filmmaker and photographer.
As an undergraduate student, El Sanyoura said she learned to be resilient and bounce back from disappointment.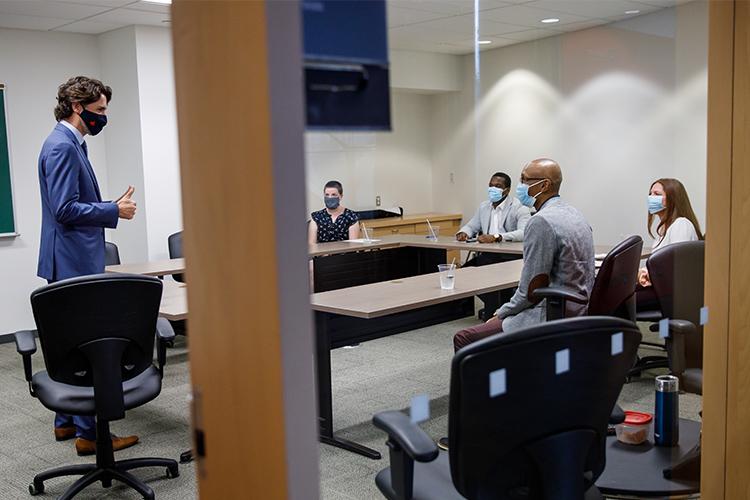 That message was echoed by Trudeau when it was his turn at the microphone. He commended the class of 2020 for the work they put into obtaining their degrees and noted the challenges they face.
"No student gets to choose the world into which they graduate, but if you could – and let's be honest here – you probably wouldn't have chosen the world of 2020," he said, listing events like the crash of Ukraine International Airlines Flight 752, which killed eight U of T community members, the Nova Scotia shootings and COVID-19. 
"The choices you will make, both big and small, in the next few years will decide the future of our country, and of our world, and I cannot think of a generation better prepared to set us on the right path forward."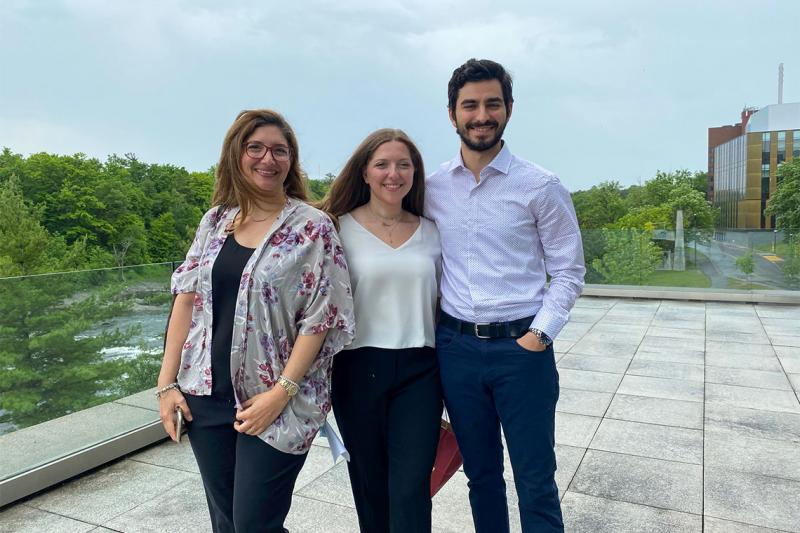 El Sanyoura, who is currently working for Amazon, reserved the last part of her speech to thank essential workers, health-care professionals and everyone who helped the graduates of 2020 achieve their goals – in her case, her mother and father, Randa and Ayman El Sanyoura.
She will return to U of T in the fall to begin a master's degree in computer science.
---
VIRTUAL HUGS FOR THE CLASS OF 2020
Congratulations 2020 graduate! Your new alumni community welcomes you with open arms.
Your relationship with U of T doesn't have to end with graduation. It's actually a lifetime resource of ideas, networks, connections and support.