September 6, 2017 | Alumni
Francesca Valente curates an extraordinary exhibition: a new vision of Canada
By Diana Kuprel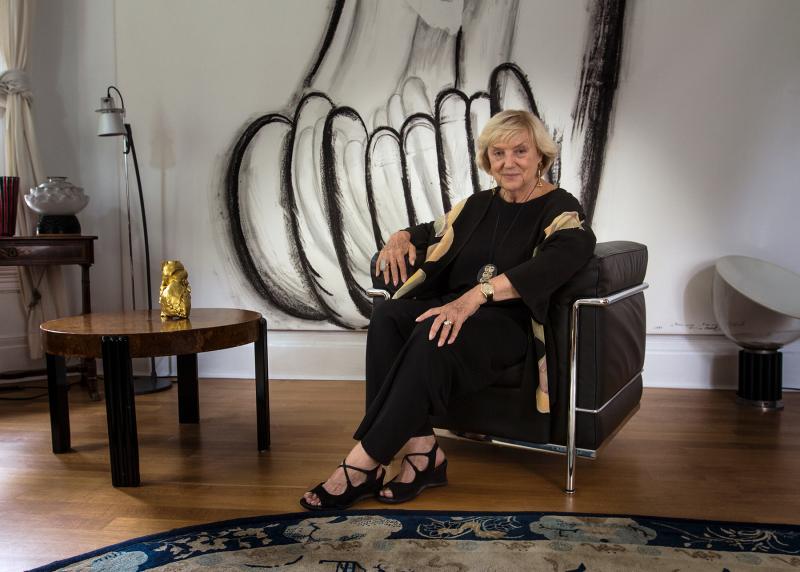 Photo by Jackie Shapiro
Francesca Valente is a global cultural mediator and animator who divides her time between Toronto and Italy. After earning her MA in Canadian literature at the University of Toronto in 1977 as an international student, she launched a 30-year career with the Italian Ministry of Foreign Affairs. She has received several awards for her contributions to the promotion of Italian and North American culture.
Valente is one of the curators for Imago Mundi, an ongoing international art project that aims to map the world's human cultures. She commissioned more than 200 original artworks from Central and Eastern Canadian artists as part of the project's "Great and North" exhibit—a celebration of Canadian culture to mark Canada 150. The exhibit opened August 29, 2017 for a two-month run at the Palazzo Loredan in Venice.
Tell us about Imago Mundi and the Canadian contribution to this acclaimed project.
Imago Mundi is a democratic, collective and global map-in-the-making of human cultures as envisioned by Luciano Benetton, creator of the fashion empire United Colors of Benetton. To date, more than 20,000 artists from 130 countries have contributed original work, all using the same single format of a 10 x 12 cm canvas.
2017 is Canada's year to be featured. I commissioned and curated original art work by 220 artists from Ontario, Quebec, Nova Scotia, P.E.I., New Brunswick and Newfoundland and Labrador as part of the broader "Great and North" exhibit that includes another 539 artists from Western Canada as well as Inuit and First Nations artists of North America; these sections were curated by Jennifer Karch Verzé.
How did you select and collect so many artists, across such a vast region?
I did a lot of research. I consulted with leading curators, like Peggy Gale (BA 1967 UC), Jonathan Shaughnessy at the National Gallery in Ottawa, Sarah Fillmore of the Art Gallery of Nova Scotia, Pan Wendt of the Confederation Centre Art Gallery in Charlottetown, and Mireille Eagan of The Rooms in St. John's, Newfoundland.
I traveled to talk in person with the artists — by plane, train and even bicycle. I delivered canvasses. The artists would also suggest other artists, and that was so special. And then it was a question of persuading them to take part — I must have blown the tires of my bicycle twice from hauling around so many catalogues to show them as reference. Perseverance and conviction were key, but also taking the time to discover the hidden talents.
What factors were important to you in assembling a balanced collection?
I didn't want any form of tokenism to be associated with the collection, and so while the vast majority of the artists are living in Toronto, I am proud that there is a strong representation from each of the provinces. And the fact is, many of the Toronto-based artists did come from away, like Taiwan-born Ed Pien, who now teaches at U of T's John H. Daniels Faculty of Architecture, Landscape, and Design, and Vera Frenkel, who was born in Bratislava.
I also wanted the exhibit to be intergenerational. Next to established artists like Edward Burtynsky are emerging artists, like Erin Loree, who is in her 20s, or Brendon McNaughton, a 25-year-old artist already making a name for himself as a major talent.
I also wanted it to be interdisciplinary: my intention was to show this part of Canada as a creative laboratory where the borders between various creative practices are dissolving. I have included writers like Margaret Atwood, and Barry Callaghan (BA 1960 St. Mike's, MA 1963), and Morden Yolles (BASc 1948), the structural engineer behind Canada's five tallest buildings. I wanted to show this other dimension to these artists. I remember being mesmerized by Atwood's illustrations of a children's book she wrote. Her piece for the exhibit depicts her family's scientific background — her father was an entomologist.
The Central and Eastern Canada part of the exhibit is called, "Out of the Bush Garden," a rather evocative and thought-provoking title. How did you come up with it?
It comes from Margaret Atwood (BA 1961 VIC), who wrote the poem "The Bush Garden." This powerful oxymoron, which refers to graftings and hybrids, was subsequently chosen by her teacher Northrop Frye, who was also my mentor and teacher, for his collection of essays on the Canadian imagination.
I wanted to honour Frye and Atwood; the metaphor evokes all the artistic creativity that has taken place in Canada because of cross-pollination. I thought by adding the preposition "out of" — which was suggested by yet another U of T literary alumna, Janice Kulyk Keefer (BA 1974 UC) — that the title would become much more layered.
What did you want to show about Canada?
I wanted to show this part of the country as a think tank, a creative laboratory. And this aim is reflected by the image selected for the catalogue's cover. It is a conceptual photograph by Michael Snow that shows the fullness of undefined potential: an empty page to be inscribed, a doorway to unlimited freedom of expression. He placed the empty canvas against the backdrop of the wildflowers of Newfoundland, suggesting fertility and cross-pollination.
How did the artists respond?
Most of the artists took this as a challenge and the result is some truly unique pieces, made in the most diverse media: canvas overlain with copper, lead, deer hide, ceramic and even handwoven and embroidered canvas.
The artists really transformed the canvas, and several challenged its flatness. Some decided to slash it, as a tribute to the Italian artist Lucio Fontana; Graeme Patterson, had a starling fly through — a very striking cynetic animation piece! They took to heart the fact that the images on the Imago Mundi website rotate, so the audience gains a 360 degree appreciation of the work of art.
What is striking is that, even with this innovation in form, many of these pieces could not be accused of being l'art pour l'art.
Not at all, they either really captured the spirit of the place or they had a powerful artistic message to send about Canada's place on the world stage, or to the world about global challenges.
For instance, the architect Jack Diamond paid tribute to the Battle of the Atlantic, the longest running military campaign during the Second World War; he created an exquisite 3D rendering of the corvette, the small warships built with parts coming from all over Canada and assembled in Halifax, that contributed to changing the destiny of the war.
Or Stephen Cruise, who drapes 13 pencils, which can no longer write, over a goat (it was the year of the goat in the Chinese zodiac), in tribute to the Charlie Hebdo journalists killed in Paris.
In what way did the Canada 150 milestone inform your selection?
I will invoke Northrop Frye again. He said the Confederation of 1867 was a romantic and imperial conception, based on French and British biculturalism, and declared that it was now time for a re-Confederation based on a transfusion of cosmopolitan energy from every cultural component, including the driving force of the First Nations.
This is a very important concept for me because, let's face it, cultural homogeneity is no longer an option in the third millennium. We know Canada is a model of integration and interaction of different ethnic components at multiple levels. I felt I had to reflect this. So even though the First Nations and Inuit artists are represented in their own right in the other parts of the Great and North Exhibit, I also included in the Central and Eastern Canada exhibit First Nations artists of different generations, like Robert Houle, Rebecca Belmore, Meryl McMaster and Bonnie Devine , who handwrote part of the constitution and draped her beadwork over it. I interwove them because they are a most interesting and vital part of the Canadian cultural scene.
It is an extraordinary exhibit. Will it come to Canada?
Right now I am exploring the possibilities with key cultural and educational institutions and we are also seeking funding. It would be brilliant to bring the show to Toronto, at the very least — it really shows the global dimension of Canada's cultural heritage.
Republished from a longer version of this interview at the Faculty of Arts & Science.
On September 30, 2017, join fellow U of T alumni and friends in Venice to celebrate Canada's 150th anniversary with a guided tour of the Great and North exhibit, a Canadian contribution to the Imago Mundi project!