U of T Alumni Reunion

U of T Alumni Reunion
Experience the biggest alumni event of the year. From campus tours to cocktail parties, kid-friendly events to mind-expanding lectures, Alumni Reunion is your chance to create new U of T experiences.
So Many Beginnings. So Many Stories.
That first taste of independence, first all-nighter, first aha moment in a lecture hall—U of T was a time of firsts for so many grads. Scroll below to explore photos, stories and videos of your fellow alumni's most memorable moments at Alumni Reunion and U of T.
Sally
Alumni Stories
U OF T LAUNCHED MY LIFE IN CANADA
Sally AbuKlam
DDS '14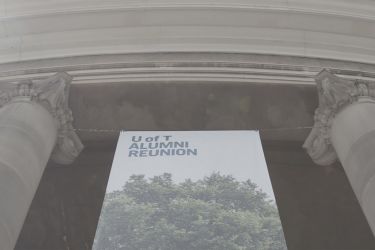 What's your U of T story?
Share it on social.
Tell us about a memorable U of T moment and hear stories by fellow alumni at #uoftreunion.
See you at the next alumni reunion
For so many grads, U of T was a time of so many beginnings. It still is. Alumni Reunion weekend is your chance to share memorable U of T moments with friends, meet interesting people and create new experiences. Join us for the biggest alumni event of the year.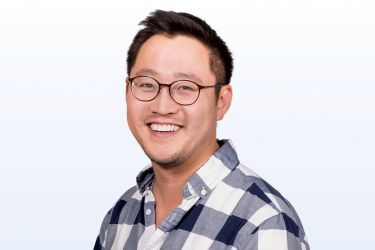 Gimmy Chu
Gimmy Chu
I STARTED A COMPANY WITH MY BEST FRIENDS
Gimmy Chu
BASc '06
CEO Gimmy Chu met his best friends and future business partners at U of T. The three friends co-founded the green technology company Nanoleaf, which has grown into one of the world's most innovative producers of lighting technology.
"Christian, Tom and I were on the U of T solar car team together. Christian and I were doing our electrical engineering degrees and Tom was doing a PhD in biophysics. The three of us just kind of clicked and we decided to start building stuff together. After a lot of trial and error, we ended up developing a highly efficient LED light bulb—twice as energy-efficient as anything else out there. We knew we were onto something special, and that's how Nanoleaf was born. It still blows me away that we were able to create a company that's changing the way people see light the world over. You just never know what kind of adventure life's got in store for you."
Shirley
The Scarlet Letter made me a feminist
Shirley Criscione
(BA '68 UTSC)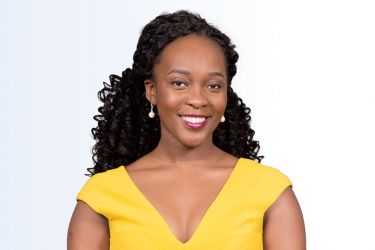 Rumbi Mugwagwa
Rumbi Mugwagwa
U OF T WAS HOME, FRIENDS BECAME FAMILY
Rumbi Mugwagwa
BA '07 UC
As an international student from Zimbabwe, Rumbi Mugwagwa arrived at U of T without friends or family to help make the transition to university and a new country. But it took almost no time for her to bond with her extended family of international students as she pursued an economics degree and got involved with a range of extra-curricular activities, including dance. In the classroom, her course on post-colonial history taught her how to think critically—skills she uses today as a portfolio advisor for BMO.
"U of T quickly became home and my friends became family. I am still friends with almost all my international student pals and dance friends. I loved my courses, especially the one in post–colonial thought because it taught me how to read through and critically analyze material quickly—valuable skills that I use daily in my career."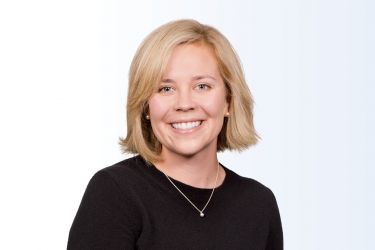 Tiffany McKenzie
Tiffany McKenzie
I FOUND MY FUTURE IN IMMIGRATION HISTORY
Tiffany McKenzie
BA '08 TRIN
Tiffany credits her decision to become an immigration lawyer to a profoundly personal connection she made in a course she didn't even want to take.
"I was in fourth year and I needed one more history course to graduate. I specialized in US history and had taken pretty much every American history course, so I settled on the history of Canadian immigration. To be perfectly honest, I took that class because it fit my schedule, I needed the credit and I liked the TA who was teaching it. But the decision ended up changing my life. My TA encouraged me to do my paper on Canadian war brides because my grandmother was a war bride, and we had her old diaries and letters. I got to know my grandmother in a totally different way, and I was able to see history through a very personal lens. I trace my career in immigration law all back to that one course, and to my TAs willingness to push me to do something different."
ONE DOOR OPENED THE NEXT AT UTM
Chris Thompson
BA '12 UTM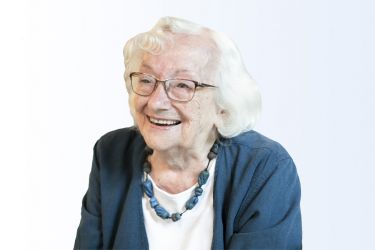 Helen Brimmell
Helen Brimmell
I wouldn't have been a reporter without U of T
Helen Brimmell
BA '43 UC
Working on the student paper at U of T launched Helen's 50-year career in journalism. Right after graduation, she took a job in Ottawa, where she became a full member of the Parliamentary Press Gallery. Helen capped off her career as family editor of the Daily Mercury in Guelph, Ontario.
"My father didn't think there was any point in girls going to university. I had to work on him, but in the end, he let me go—begrudgingly. When I graduated though, he was very proud. Every year back then, Canadian Press hired U of T graduates—the top three editors of the campus newspaper. I was Deputy Editor of The Varsity, so CP offered me a job. Of course, I took it. On the centenary of the Parliamentary Press Gallery, I received an honour for being the third woman ever to become a full member. That was June 1, 2016. Two years later to the day, I was at Alumni Reunion celebrating my 75th anniversary of graduation. It's all been remarkable. I have U of T to thank for so much of that."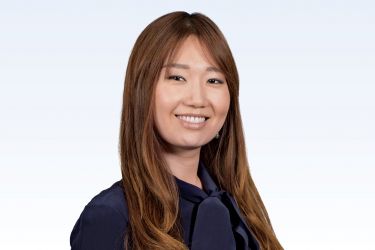 Julie Jo
Julie Jo
I FOUND MY CONFIDENCE AT THE RESIDENCE PIANO
Julie Jo
BA '13 UC, MPP '15
An ESL student in the social sciences, Julie Jo found it challenging to understand written assignments and think critically in another language. At U of T she found a community of people and places that helped her gain the skills and confidence she needed to succeed. Today Julie is a Business Analyst at the Ontario Ministry of Citizenship and Immigration.
"It wasn't easy for me at first. I was not a very confident English speaker when I started at U of T. Luckily for me, there were so many wonderful resources at my disposal. I had great professors who encouraged me to stay after class and see them during their office hours, and sometimes instead of going to parties, I went to Robarts and the Writing Centre. I even started reading my textbooks out loud, which drove my hallmates crazy! I also found my sanctuary in the Junior Common Room at University College. When I was lonely or felt overwhelmed with exams, I'd go there and play the piano. It was very therapeutic for me, and I loved that friends would cheer me on when I performed at the open mic nights. The people and that piano really gave me the encouragement and confidence I needed during my time at U of T."
I GREW WITH INNIS
Robert Patrick
BA '67 INNIS, BEd '72, MEd '79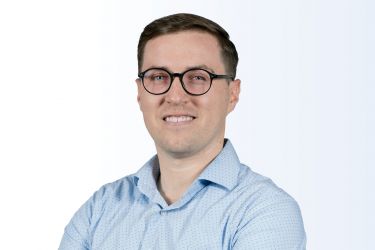 Andrew Kennedy
Andrew Kennedy
I DISCOVERED I'M A CAREGIVER
Andrew Kennedy
BPHE '09, MSc '11, BScN '13
Andrew Kennedy always thought he'd be working in a lab, quietly researching and making discoveries. But his time at U of T studying nursing and competing as a varsity athlete taught him that he's more of a people person than he realized. He puts those skills to work each day as a nurse and patient care manager at Sunnybrook Hospital.
"I initially started in physical education, but after my masters switched to nursing. At U of T I was able to round out my courses with electives like philosophy which taught me to see things differently – to not put people in boxes, including myself. Nursing provided the perfect mix of research and working hands-on with people which I found really appealing. I also made great friendships through my time on the varsity track and field and cross country teams, enduring early morning runs around Queen's Park."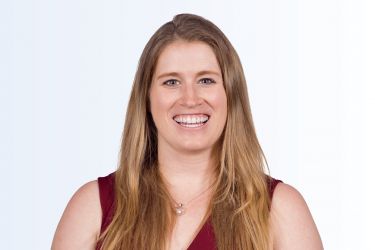 Lindsay Dryden
Lindsay Dryden
I LEARNED TO TREAT PEOPLE, NOT PATIENTS
Lindsay Dryden
PharmD '15
A hospital pharmacist at St. Michael's Hospital, Lindsay credits her U of T professors with teaching her how important the human element is to patient care.
"There were about 30 of us in the PharmD program when I was there. It was pretty intense—so much information to absorb, you really have to be on your game. Professors would quiz us in class and I'd get this knot in my stomach as they walked towards me. They'd say, 'Okay Lindsay you're the clinical pharmacist now. What are you going to do about X or Y?' At first my answers were pretty textbook, but the profs really pushed us to think beyond the test. They asked us to focus on the human element of what we were doing. They'd say, 'What if it was your mom? What if it was your dad or your grandmother?' Knowing facts and how to optimize care is critical, of course, but you can't forget the human connection. Learning to treat people as people, not as cases or patients was the most important lesson I took away from my time at U of T."
Alumni Reunion 2019 Photo Galleries