Alumni Reunion 2023: five days of celebrating, reuniting and memory-making!
U of T's marquee alumni gathering took place May 31-June 4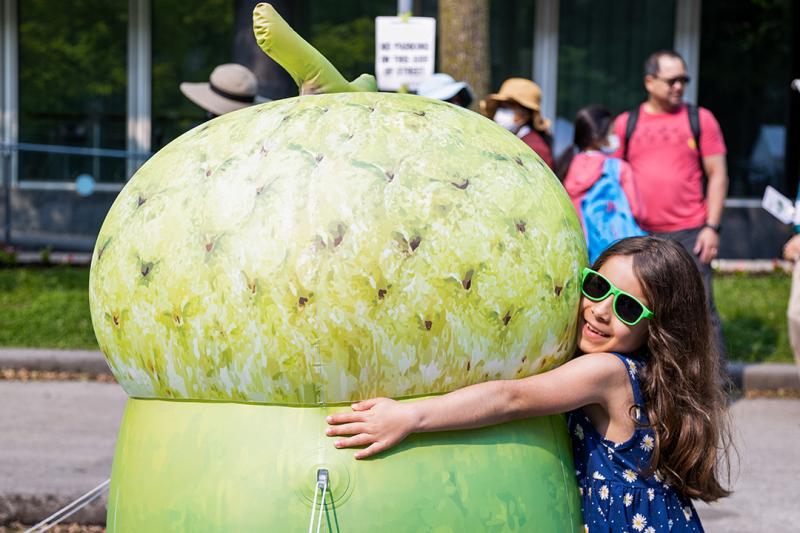 Kids got in on the fun at Alumni Reunion 2023.
---
Now that was a celebration! The University of Toronto's Alumni Reunion 2023 offered more than 100 events over five days across our three campuses. It was the most successful Alumni Reunion to date, attracting more than 12,000 people to meet up with old friends and create new and lasting memories.
"This year's reunion was an incredible display of alumni pride, celebrations, reminiscing, learning, networking and more," says Barbara Dick (BA 1987 UC), U of T's assistant vice-president, alumni relations. "The buzz of activity across our campuses gave our grads unique opportunities to join in the festivities, including members of our global community of alumni who were able to participate through virtual offerings."
Fun in the sun, on the street
 A perfect sunny Saturday set the stage for Alumni Fest on St. George Street and Alumni Fest East at U of T Scarborough, turning both areas into lively street festivals. Reunion-goers enjoyed delicious food, entertainment, games and more.
On St. George campus, Kids' Passport made a triumphant return, offering kids the chance to travel to a variety of faculties and departments, and learn intriguing facts from professors and grad students.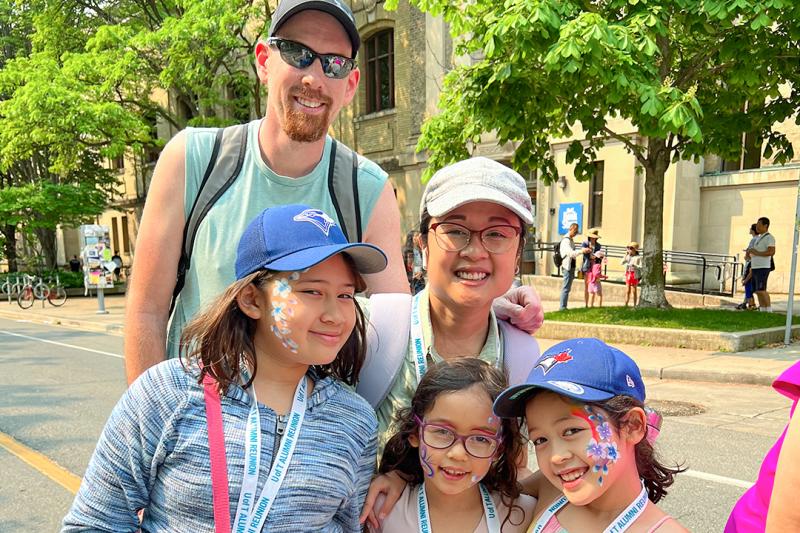 Alumna and current graduate student Lorraine Pirrie (BSc 2002 SMC), her husband and three kids, ages 11, 8 and 6, made Kids' Passport at OISE their first stop. There, they enjoyed face painting and storytelling, before setting out to other faculties to enjoy bubbles, get their caricatures done and more. They ended the day listening to music on St. George, soaking up the sun. "I was so looking forward to bringing them back to campus to experience Kids' Passport again—we missed it!" she says. "It's so great to see them on campus."
CONNECTING WITH FRIENDS, OLD AND NEW
Jacquelyn MacCoon (BASc 2013, MEng 2014) came back to campus to celebrate her tenth anniversary of graduation from the Faculty of Applied Science & Engineering. Her weekend began with an expansive event for all engineering alumni at the Faculty Club. "It was a phenomenal event where graduates ranging from one to 60 years enjoyed sharing stories, networking, and finding common ground in our work," she says. "There were grads from different years, cities and different types of engineering. The camaraderie was just electric; it was so incredible to make new friends."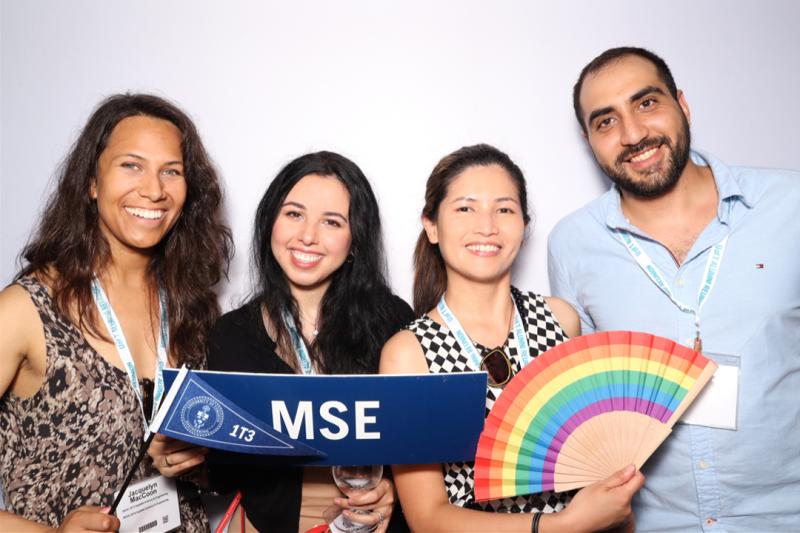 Our newest grads enjoyed an exclusive evening at the Ontario Science Centre, where they spent the night catching up with friends and trying out many of the interactive science experiments on hand.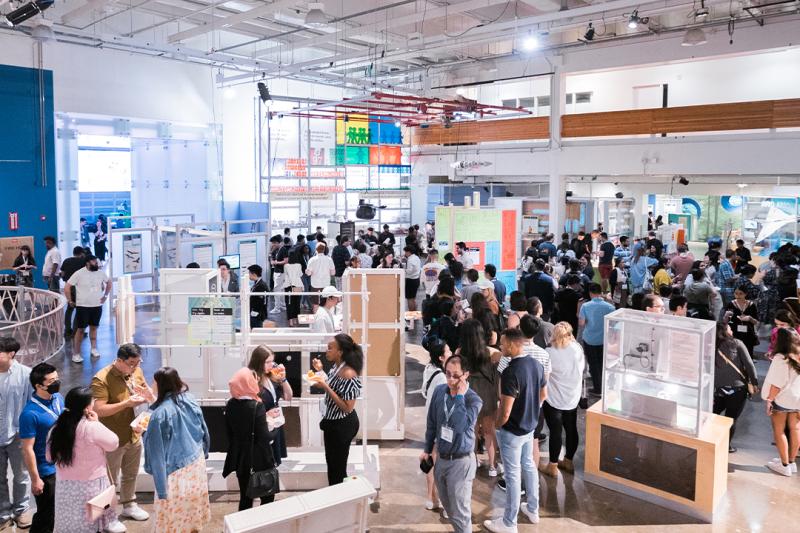 The 2SLGBTQ+ Spring Soirée drew an enthusiastic bunch of grads to Eataly Toronto. Attendees were treated to a great night of food, drink and networking to kick off Pride Month.
MIND-EXPANDING LECTURES AND TALKS
The annual Stress-Free Degree lecture series drew eager learners both in person and online to hear from some of U of T's top minds. There was an exciting mix of fun and serious subjects, from the buzzworthy TV show Squid Game to the legal side of AI and the importance of online data privacy.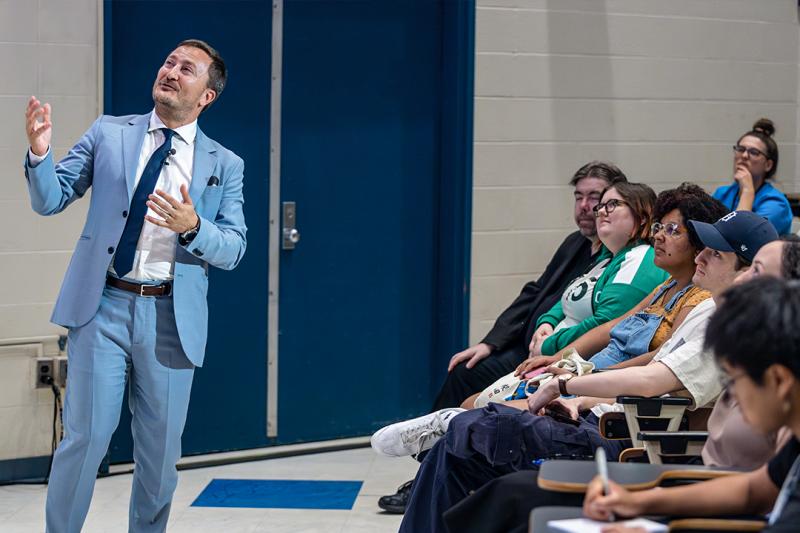 Racial justice champion Lesra Martin (BA 1988 Innis) gave an online interview at the University of Toronto Alumni Association Annual General Meeting. Called "The Power of One for All," his interview focused on overcoming obstacles and paying it forward. The official proceedings of the AGM followed the online talk and R. Douglas Elliott (LLB 1982) was named the recipient of the Carl Mitchell Award for Community Impact.
SPECIAL ANNIVERSARIES
Celebratory events took place for alumni graduating in a year ending in three or eight, as well as special receptions for those marking their 50th, 60th, 65th, 70th, 75th and even 80th anniversaries!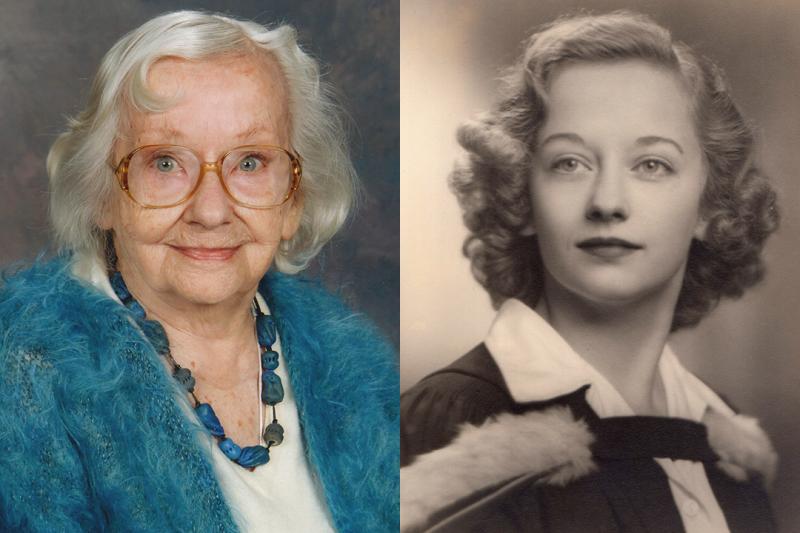 Helen Brimmell (BA 1943) received her 80th anniversary medal. She has fond memories of her time at U of T and how it prepared her for a career in journalism, first with the Canadian Press, then as a member of the Canadian Parliamentary Press Gallery. "I just took off at U of T, I did practically everything, but what I did most of was work on The Varsity as deputy editor. I just loved it."
Brimmell recalls attending her 75th anniversary in 2018. "My whole family came with me to my 75th because I think we all figured that was as far as I'd go! When I opened the box with the medal in it, it was 80! So my daughter traded it for 75. But now I have 80 as well!"
KEEP THE FEELING GOING AND ENJOY THAT REUNION VIBE YEAR-ROUND!
Graduates can stay engaged with U of T long after receiving their degree—wherever they are in the world. Take a look around this site to find out how to take advantage of the many opportunities to do so. We have events, lectures, volunteer and mentoring opportunities that take place all year. Subscribe to one of our newsletters, connect with us on social media or come down and hang out on our beautiful campuses. You're part of a global community of 660,000-plus grads. Get involved today!