September 14, 2022 | Alumni
The 'What now?' podcast with Randy Boyagoda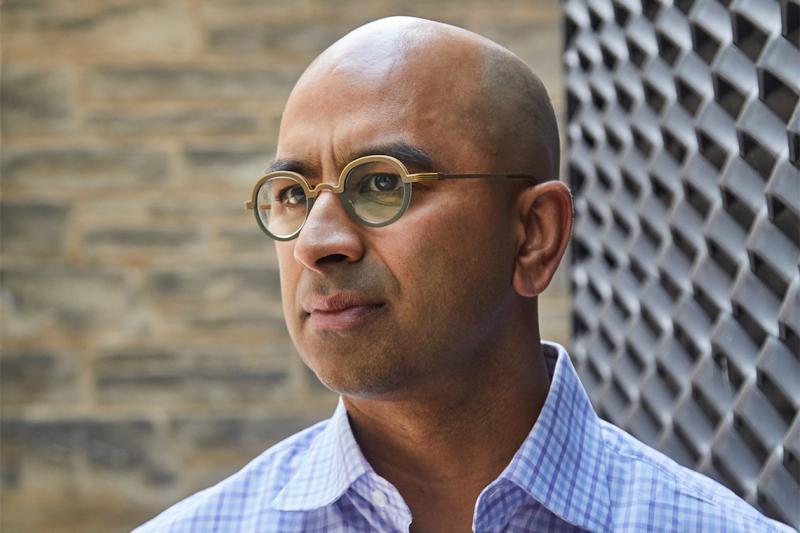 Randy Boyagoda, a U of T alumnus and a professor of English, hosts the What Now? podcast (photo courtesy of Randy Boyagoda)
---
What Now?, a podcast created by U of T Communications and hosted by Randy Boyagoda (BA 1999 TRIN), considers how global society might rebuild after the pandemic unraveled so much of how we used to live.
Sept 14, 2022: "Citizen reset"
Director of the Citizen Lab Ron Deibert sits down with Randy to break down everything from privacy and propaganda to how to solve marital problems and the intricacies of being a Libra.
What Now? is available on Apple, Spotify and other popular podcast services. Get What now? in more formats, or listen now on YouTube.
Previous episodes
Aug. 3, 2022: "The Real New Normal" Maydianne Andrade (MSc 1995), a U of T alumna and a professor of evolutionary biology at the University of Toronto Scarborough, meets Randy to talk about the experience of hosting her 2020-2021 podcast, The New Normal, and offers her thoughts on what the "new, new normal" should be. And she brings listeners up to speed on her other specialty: the sex lives of spiders.
Aug 9, 2022: "The Evolution of Education" Rubén Gaztambide-Fernandez, professor of curriculum and pedagogy and editor-in-chief of the journal Curriculum Inquiry at the Ontario Institute for Studies in Education, discusses how schools have changed for better – and worse.
Aug 17, 2022: "What is the Cost?" Clémentine Van Effenterre, assistant professor of economics and host of the podcast InequaliTalks, talks about austerity measures and protests, privilege and class divisions and the new shape of work.
Aug 24, 2022: "Machines and Slow Disasters": Edward Jones-Imhotep, an associate professor and historian specializing in the social and cultural life of machines, who is director of U of T's Institute for the History and Philosophy of Science and Technology, explores a wide range of related topics, including Black androids, slow disasters and social order.
Aug 31, 2022: "Smarter Cities": Beth Coleman, an associate professor of Data and Cities at the Institute of Communication, Culture, Information and Technology and the Faculty of Information where she directs the City as Platform Lab, discusses what a smarter, more human-centred city might look like.
Sept 7, 2022: "What Are the Chances?": Jeffrey Rosenthal, professor of statistics and bestselling author of Struck by Lightning: The Curious World of Probabilities and Knock on Wood: Luck, Chance, and the Meaning of Everything, discusses luck, the pandemic and what it means to be born on Friday the 13th.
Sept 14, 2022: "Citizen Reset": Ron Deibert, political science professor, director of the Citizen Lab at the Munk School of Global Affairs & Public Policy, and authority on cyber espionage, commercial spyware, internet censorship and human rights, talks about privacy and propaganda.