December 9, 2020 | Alumni
Thanks to Alumni Support, Raw Talk Podcast Tells Powerful Stories About The Science of Medicine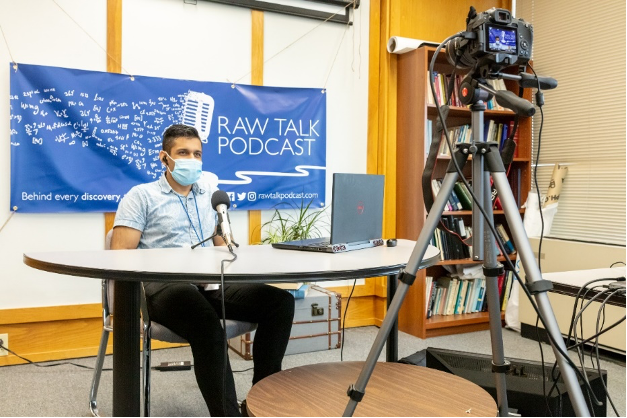 Yagnesh Ladumor (BSc 2019 Innis) is a co-executive producer and show host of Raw Talk Podcast. In 2020, the alumni affinity partnership helped his team create a video set and host the COVID19Decoded live series. Photo: Nathan Chan
---
A young man with cystic fibrosis is describing what it's like to need a lung transplant. "The CF lungs, they're so congested," says Myles Lynch. "You always sounded sick." His sister Jillian's voice cracks as she adds, "Transplants are amazing, but that moment before Myles rolled into surgery… it can also be your last moment, because there's not that 100 per cent guarantee."
This is the University of Toronto's student-run Raw Talk Podcast, exploring the incredible story of organ transplantation.
Yagnesh Ladumor was on the other side of the microphone, producing the program. "That was a perfect episode to illustrate how important lived experience, people from patient communities, is to our format," he says. "I'm very proud of that episode."
Raw Talk Podcast tells powerful stories about medical science that advocate for research, for vulnerable communities and for health-care change. Alumni who use financial services from U of T's affinity partners—like the U of T MBNA credit card, or insurance from Manulife or TD Insurance—make it possible. 
Did you know? When you use U of T alumni financial services, you get preferred rates and support Raw Talk Podcast. Learn more
Ladumor (BSc 2016 INNIS) is a fifth-year PhD student in the Department of Medical Biophysics, researching a potential new drug for neuroblastoma (a cancer of the peripheral nervous system). He is co-executive producer of Raw Talk, along with Jesse Knight, a second-year PhD student at the Institute of Medical Science who models how different interventions could help reduce the toll of HIV/AIDS.
The two initially volunteered for Raw Talk for reasons of the heart. "Just love of podcasts," smiles Knight, who joined the team after volunteering to revamp its website. Ladumor's story is similar: "I really enjoyed listening to podcasts while I was doing tissue cultures. I just wanted to try my hand at making them."
"We have over 50,000 downloads overall"
They now lead a team of more than 30 passionate graduate students in science and medicine.
They're proud of how the podcast, now in its fifth year, has grown. "Within the first two weeks of every episode released, we have about 300 to 500 downloads," says Knight. "We have over 50,000 downloads overall." Three-quarters of their audience are Canadian, while the rest spans the globe from the U.S. to Japan.
Initially launched with a mandate to simply tell stories out of U of T's Institute of Medical Science, Raw Talk now criss-crosses the University, city and world to tell bigger stories, with a commitment to sharing the voices of marginalized communities.
And the two biggest events of 2020 were an important part of that.
"In February 2020," says Knight, "we were in the middle of planning the live event we do every year. The COVID first wave lockdown hit, and we had to cancel.
"We realized, though, we could fill a gap in the existing COVID-19 coverage. None of the discussions on the news were ever more than 10 minutes. Researchers from across U of T were all pivoting toward COVID, not just virologists and epidemiologists, and we wanted to allow those experts to talk in more detail about the complexities of this crisis. That was the COVID19Decoded series."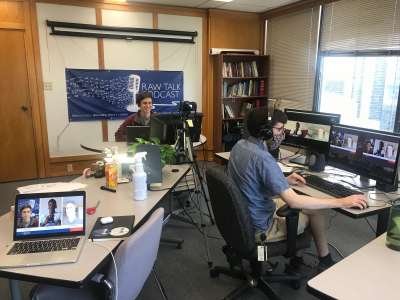 "Researchers from across U of T were all pivoting toward COVID-19. We wanted to allow those experts to talk about the complexities of this crisis"
In a series of eight videos that aired live over the summer, the Raw Talk team dove into the nitty-gritty of everything from what is a coronavirus to how immunity works to the psychological and racial impacts of the pandemic.
It couldn't have happened without the support of alumni through the affinity partners. "The fact that the sponsors allowed us to pivot to a different format without bureaucracy was fantastic, because we were all very stressed at that point," explains Ladumor. "It was one of our first forays into video production, and we needed to upgrade our technical equipment."
"Everything was so hectic behind the scenes," laughs Knight. "One time the audio quality from the guest was unexpectedly bad, so in the middle of the livestream our audio engineer Alex Jacob (BSc 2015 VIC, MA 2016) signed up with his personal credit card to upgrade us to a premium Skype account. Without funding, it really would have been impossible to do the series."
U of T affinity partners provided 75 per cent of Raw Talk's budget this year. But its impact in funding COVID19Decoded was much bigger than providing equipment.
"It also changed the direction of the podcast, in a good way," says Ladumor. As the team explored the inequities exposed by the pandemic, they were reminded of the importance of including community voices along with scientific voices when telling stories.
"We want to raise patient voices and community voices to tell a better and more complete story"
"Some of our commitment to lived experience and diverse voices was born out of the Black Lives Matter movement," says Knight. "We want to raise patient voices and community voices to tell a better and more complete story."
That's good for the scientists they profile as well as the listeners. "I've learned so many different elements from working on the podcast," says Knight, "and one was grounding the scientific work you're doing in tangible ideas, contributing to the kind of social change that you would like to see in the world."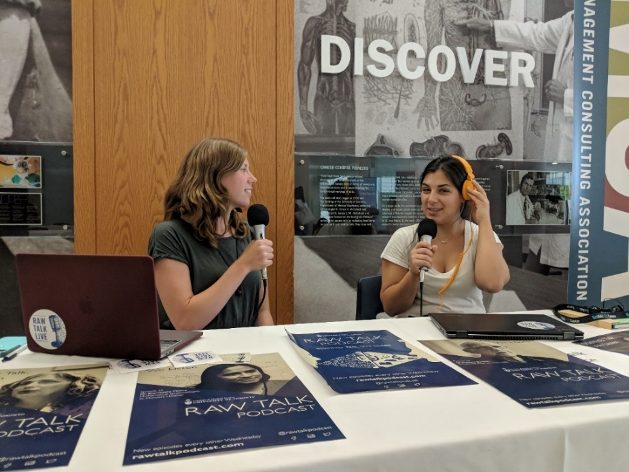 Ladumor adds: "I hope we can convey, to the majority of the population who funds science with their tax dollars, what it means to have a hypothesis, do experiments, find new evidence and adjust the hypothesis. For people looking in from the outside, it can often look like we got it wrong. But getting it wrong is an integral part of science. It means that we're going somewhere." 
Making a difference to the public understanding of science is just the beginning of Raw Talk's impact. The students learn leadership skills, time management, and how to create a positive collaborative environment. They inspire their peers to contribute to the community of scientists.
And they are just as moved by the raw stories behind science as their listeners are.
Tune in this season for upcoming Raw Talk Podcast episodes on forgotten diseases, on travel and health, and on racism in health care
"I really enjoyed our recent episode on global health," says Knight. "All of our guests encouraged us to challenge our assumptions about who are the experts in global health, and how that's often different from who holds the power, and who dictates the priorities. They really emphasized how much we stand to gain from listening to and supporting expertise from all parts of the world."
"Personally, the homelessness episode was one of my favourites," says Ladumor. "The way that it was made, with the thoughts of Linda Bingham, who found her voice to tell her story for the very first time. That episode really had an impact on me."
---
Raw Talk Podcast couldn't happen without alumni support.
When alumni use financial services from Manulife, MBNA and TD Insurance, these affinity partners give a portion of the proceeds to Raw Talk Podcast and over 50 other U of T student and alumni initiatives every year. Plus, alumni receive great preferred rates negotiated by U of T.