Terry Gardiner is Hart House's community builder for inclusion
By Megan Mueller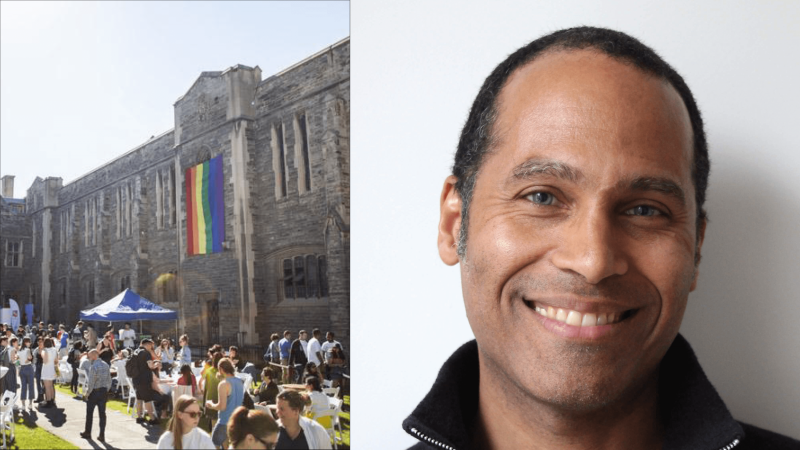 Chair of the Board of Stewards at Hart House and LGBTQ2S+ champion, Terry Gardiner is highly regarded around U of T as a community builder who is deeply committed to students, staff and faculty, and their well-being. Photo of Hart House Pride Pub 2019 by Nick Iwanyshyn
---
For over a decade, Terry Gardiner (MSW 2009) has served as an influential changemaker in the advancement of equity and inclusion at the University of Toronto. Last year, he was honoured with the Distinguished Leader Chancellor's Award, which is one of the University's prestigious Awards of Excellence, as a reflection of this dedicated work.
Gardiner wears many hats at U of T, in fact. He is Chair of Hart House's Board of Stewards. He is also Director, Student Programs in the Faculty of Law, where he leads a team that implements student life programming, mental health and wellness supports, and Indigenous initiatives for law students.
As part of Hart House's Pride 2022 celebrations, Hart House sat down with Gardiner to discuss his engagement with the Board of Stewards; his past work as Co-chair of Queer University of Toronto Employees(Link opens in a new tab) (QUTE), a resource group for lesbian, gay, bisexual, transgender and queer staff and faculty; his ongoing work in this area, on and off campus; and the vital role that Hart House plays in supporting and engaging students.
Moving Hart House forward and progressing in much-needed ways
Gardiner has been on Hart House's Board of Stewards, which is Hart House's highest governing body, for years. Along with the Hart House Warden, the Board consists of student representatives, staff members and others from across the University. It is ultimately accountable to the University for Hart House's operations and helps to keep Hart House on track in pursuing its goals and priorities each year. "I see this as a very important undertaking. I feel fortunate to be part of the exceptional work that Hart House does," he says.
He particularly enjoys hearing from students about their committee work; and getting into the "nuts and bolts," such as the renovation projects and the equity initiatives, which he believes are "moving Hart House forward and progressing in much-needed ways, helping the House to be a leader at the University in terms of supporting students. One of the things that the House is really wonderful at is bringing together a broad and wide community."
Fun fact: Gardiner had a prior career as a ballet dancer and, at one point, he stepped in at Hart House to replace the ballet instructor while she was on maternity leave. 
QUTE Work Means Affirmation and Validation
For many years at U of T, Gardiner was also Co-chair of QUTE, which exists through the support and leadership of the Sexual & Gender Diversity Office (SGDO)(Link opens in a new tab). 
"What we knew then, and continue to learn, is that the experience of people from many marginalized communities is not the same as that of every other member of our university community. QUTE is intended as a space for people who identified as LGBTQ+ to come together and share experiences, to build community," he says. He credits the visionary leadership of Director Allison Burgess for the ongoing success of the group.
Gardiner underscores the fact that QUTE began at a time when many didn't feel they could comfortably be themselves in the workplace. Many felt that they could not, for example, have a picture of their partner or same-sex spouse on their desk.
But talking with others, building that community, has change that. "When people meet others, hear about other people's experiences, they realize: The way I'm feeling and thinking … I'm not alone. Having a listening ear, to be validated, to be affirmed in one's own experience and to share are imperative."
Gardiner points out that QUTE also offers people an aspirational glimpse into opportunities for professional development. "It can be incredibly meaningful for somebody who, say, is in an entry level position to meet somebody ‒ a senior director or a vice president who is a member of the LGBTQ+ community. They can see that if the more senior person was able to move up the ranks, then they could too. Being able to embody what it looks like to be a couple of steps farther along the professional journey is very important."
Numerous LGBTQ2S+ Initiatives in Positive Space
Gardiner has collaborated with Burgess to support initiatives related to SGDO. "I've had the good fortune to sit at the positive space table currently chaired by David Kim [also a Hart House Board of Stewards member]. This is a space at the University that's designed for LGBTQ and allies to come together and create a more inclusive, welcoming space for people who identify as members of the LGBTQ community; and to build learning, awareness and connection for people who identify as straight.
"A big part of the work of positive space has been about helping to support students' voices and to engage students. None of us ever does this work alone. I think of the many folks who I've met over the years at the positive space table who've been contributing for decades and who bring incredible knowledge, experience and generosity."
Outside of U of T, Gardiner has led weekly mindfulness sessions for LGBTQ2S+ community members at The 519 (Link opens in a new tab)community centre - also a partner with Hart House Youth Access programming. "Just pausing to build awareness by paying attention and letting go of judgment ‒ the tenants of mindfulness ‒ is essential," he explains, emphasizing that the sessions were open for all.
Hart House "An Oasis for Students"
These positive spaces are crucial, and in this light, Gardiner sees Hart House as "an oasis for students."
He first learned about the House as a grad student. "Having a space away from my faculty and college, allowed me to build, expand, learn and connect in ways that amplify the reason I came to University in the first place."
He says that while students come to U of T to learn and build knowledge, to earn a degree, the experience is enriched by connecting with people who think differently, have different experiences and are from other disciplines. "Hart House is a space to come together and meet people that you might never have otherwise, over a meal – such as the annual $5 buck lunch; or talk; or learn about the topic in a presentation. These are opportunities that I don't know would happen anywhere else across the University."
Gardiner believes the House is truly a space that bridges communities. "It's available, it's open and welcoming for folks from all of our communities across U of T, from the student experience to the alumna experience. In my view, helping to forge and build connections … I think that's what communities are all about. I can't say enough about how wonderful a space I think Hart House is and know it to be."
In closing, to celebrate Pride month, he urges all to attend the upcoming U of T Pride Pub at Hart House. "I look forward to seeing students, staff, faculty, all of our community partners and alumni coming out to join us on June 9."