November 21, 2020 | Campus
In robes and pyjamas, with cake and hugs, U of T graduates celebrate virtual fall convocation
By Geoffrey Vendeville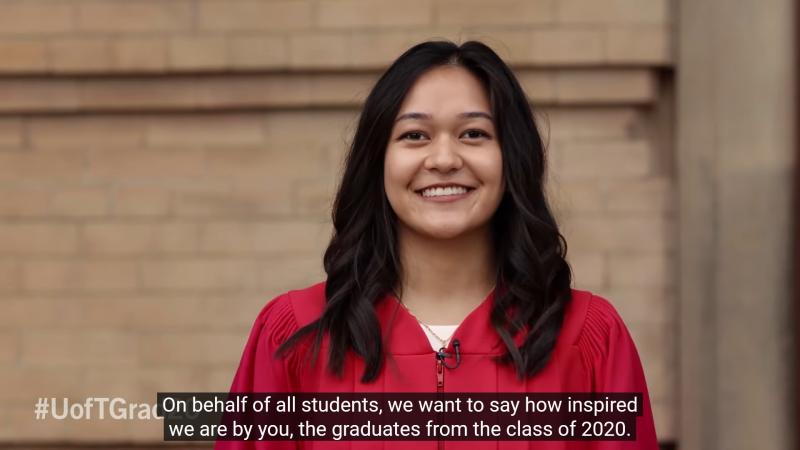 With their families and on social media, thousands of University of Toronto students celebrated graduation Saturday during U of T's annual fall convocation – the second virtual convocation in its 193-year history.
President Meric Gertler and Chancellor Rose Patten (Hon LLD 2009) stood on Convocation Hall's stage, decorated with gonfalons representing each faculty and division across the three campuses, and conferred degrees on more than 5,200 graduates in absentia.
The newest group of U of T graduates found their own ways to celebrate – and make light of – the unusual circumstances as they watched the broadcast of the pre-recorded ceremony from across Canada and around the world.
"Who else is convocating in their PJs today?" tweeted Ben Ouyang (BAScE 2013, MD 2020, PhD 2020), who was graduating with an MD-PhD from the Temerty Faculty of Medicine.
At a podium wearing the traditional navy-and-silver ceremonial robe, President Gertler congratulated students for reaching the finish line, assuring them they would be invited back to campus to celebrate their achievements in person when the situation permits.
"We look forward to seeing you then and to acknowledging each of our graduating students at those celebrations," he said, welcoming the graduates to the more than 600,000-strong family of U of T alumni that includes prime ministers, business and community leaders and other luminaries.
"We have no doubt that the University of Toronto's high international standing can be attributed to generations of dedicated and very talented faculty and staff members. But we also understand that this reputation has been built by our alumni, a group that now includes each and every one of you."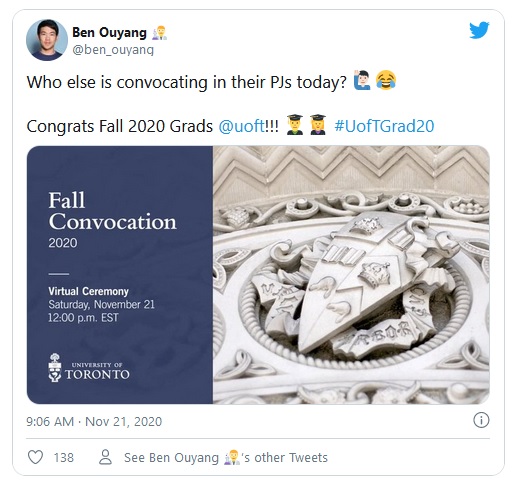 Patten, a former banking executive who blazed a trail for women on Bay Street, said the graduating class "has given us all very special reason to hope" and praised the Class of 2020 for rising to meet the historic challenges brought on by the global pandemic.
"You have demonstrated exemplary courage, perseverance and generosity," Patten said. "These are the qualities of leadership that we need in our society, now more than ever. We are so proud to count you among the global community of alumni of the University of Toronto," she said.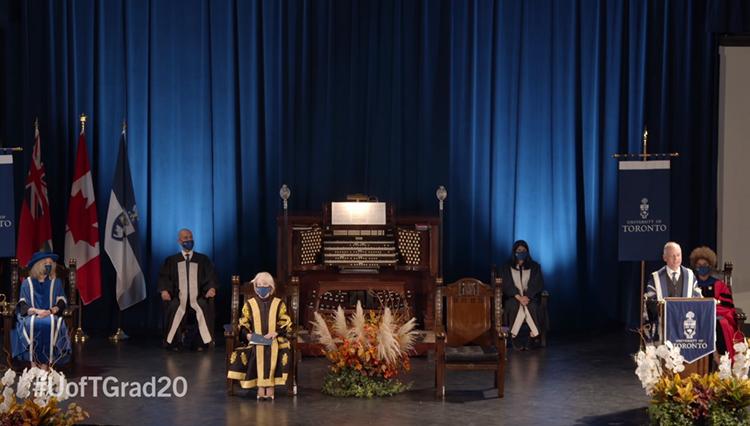 The virtual fall ceremony included many time-honoured U of T traditions: a graduation procession from Simcoe Hall in traditional attire, a bedel carrying U of T's mace, two esquires carrying the staves, an exchange in Latin between the president and chancellor, organ music by U of T's John Tuttle (Hon DSacLett 2005 TRIN) and the sound of the carillon bells from Soldiers' Tower. The bedel for the ceremony was Claire Kennedy (BASc 1989), chair of Governing Council, while Marium Vahed and Amin Kamaleddin, both student governors, served as esquires.
There were some important differences, too.
In lieu of reading each graduate's name on stage, a scrolling banner listed each graduate's full name and their program – a moment that still managed to prompt shrieks of excitement that were shared on social media.
Caitlin Tejowinoto (BSc 2020 SMC), a member of St. Michael's College, appeared in a series of photos and a short video on Instagram that showed her watching the virtual event with family and a large cake, decorated for convocation. In the video, a finger points excitedly at a laptop as Tejowinoto's name is about to crawl across the screen. Next comes clapping, grins and someone exclaiming: "Yay! High distinction!"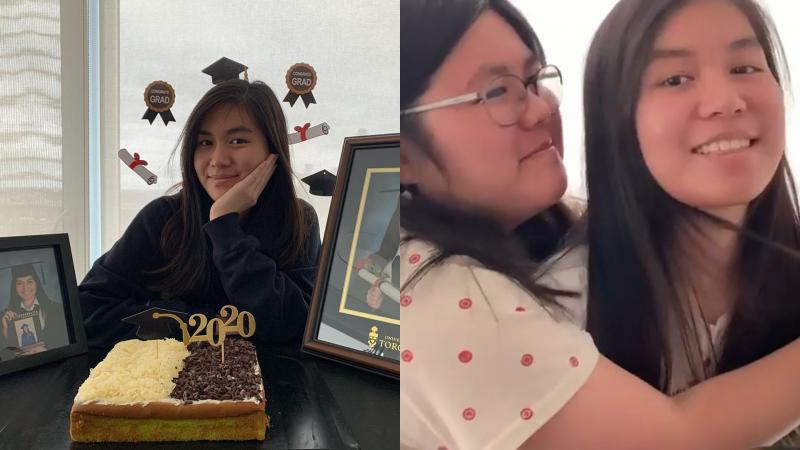 Another key change: The Class of 2020 – both those who graduated in June and in November – will have access to secure digital diplomas in the coming months, along with their traditional parchments, which will be arriving over the coming days by courier. The move is part of U of T's broader Transcript Innovation Initiative, a digitization project that will be formally rolled out next year.
And, in a first for the university, the national anthem was performed by the U of T Symphony Orchestra and U of T Wind Ensemble, with each musician recording their part separately from kitchens, living rooms and bedrooms across the Greater Toronto Area. More than 60 student musicians appeared on screen in a Zoom mosaic to play a version of O Canada that was arranged by John Fenwick, a U of T Faculty of Music graduate, and mixed by Jeff Wolpert, the director of music technology and digital media program.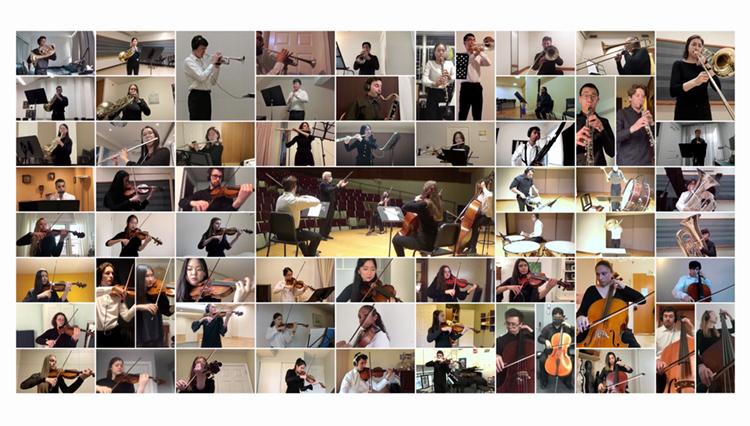 Convocation speaker Maydianne Andrade (MSc 1995), a world-renowned evolutionary ecologist known for her expertise in the mating habits of cannibalistic spiders and her efforts to champion equity and diversity on campus, offered graduates a "double congratulations" for reaching one of life's important milestones – and doing it during a global public health crisis.
"You deserve to be very proud of these extraordinary accomplishments," she said. "More than that, because of what you have experienced and overcome, you have every reason to look eagerly towards your future."
Professor Andrade, the vice-dean, faculty affairs, equity and success at U of T Scarborough, urged students to use their knowledge and talent to solve the greatest challenges facing the world – many of which have come into sharper focus during the pandemic. They include climate change, income inequality and anti-Black and anti-Indigenous racism, she said.
"Now more than any time in recent history, you will be central to our ability to overcome the daunting challenges we must face together"
"Now more than any time in recent history, you will be central to our ability to overcome the daunting challenges we must face together."
No doubt there were many graduands who, like Ouyang, took the opportunity afforded by a virtual convocation to graduate in pajamas, sweatpants and other casual attire. Others rented formal convocation regalia from Gaspard, U of T's official supplier.
Ellen Gute (PhD 2020), meanwhile, tweeted a photo of herself after her thesis defence in August when she had an unusual cardboard mortarboard perched atop her head. The mortarboard depicts ice crystal formation on a tree pollen in a cloud, a reference to her PhD research on the effects of atmospheric processing on pollen ice nucleation ability under cold and mixed-phase cloud conditions.
Gute, who comes from Germany, explained that the making of a hat related to your PhD research topic is a European tradition.
"It was very special that my family and friends prepared the hat for me especially since it was not too easy to get all the parts together during the pandemic," she said, after watching the convocation event with her friends and parents back in Germany.
Near the end of the virtual event, students received congratulations from their peers, faculty and division leaders, who wished them well from locations across the university's three campuses.
Shira Joudan (PhD 2020), who graduated with a PhD in environmental chemistry, watched the ceremony from her couch while texting with her parents in Winnipeg. After the event, she joined a spontaneous Zoom chat organized by U of T students graduating with doctorates in science.
At one point, her mom messaged her:
"Mazel tov!! Crazy but it brought a tear to my eye and you weren't even there!!"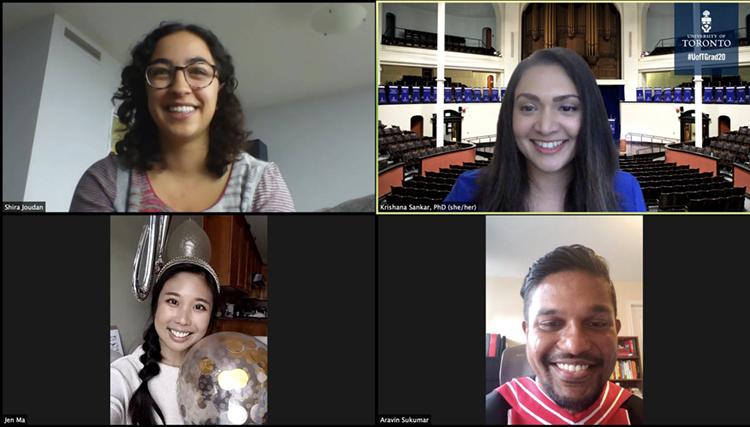 For Keon Priestley (BA 2020 UTSC), the moment represented an achievement that was a long time coming. The U of T Scarborough graduate finally completed a degree he had begun more than two decades earlier, when a health condition forced him to drop out of school.
He dedicated his convocation to his late mother on Instagram with the following post:
"Today I can officially say I am a graduate of the University of Toronto. It has been a long journey, but all in its due time. This could have never happened if it were not for the support or family and friends, but especially the motivation my Mom provided. This degree is ours Mom. Graduate School next."
WATCH FALL VIRTUAL CONVOCATION:
---
Congrats CLASS OF 2020!
Virtual high five, 2020 grad. In unimaginable times, you went from U of T student to U of T alum. Welcome to your new alumni community.
Your relationship with U of T doesn't have to end with graduation. It's actually a lifetime resource of ideas, networks, connections and support.