'U of T opened my eyes to a wider range of perspectives': the positive attitude Philip Schwarz learned at U of T
By Michael McKinnon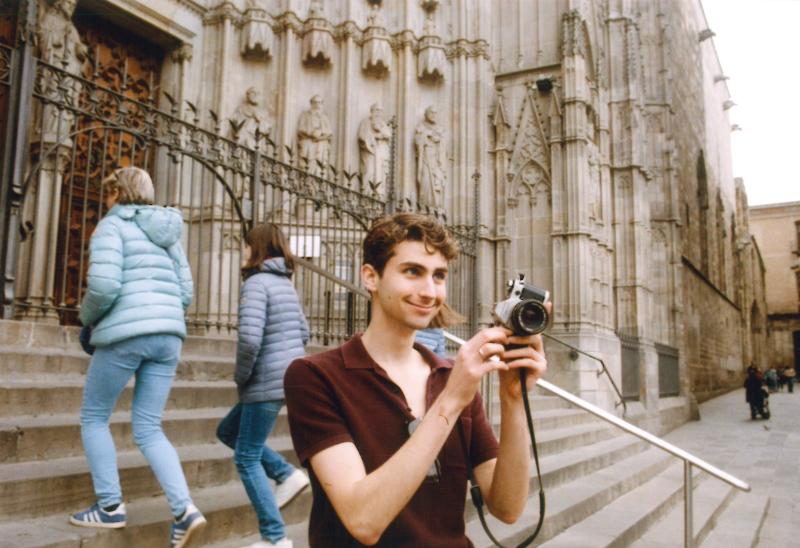 Philip Schwarz takes pictures outside the Sagrada Familia in Barcelona. Experimenting with old cameras is one of his hobbies. All photos courtesy of Phil Schwarz.
---
Faculty of Arts & Science alumnus Philip Schwarz (BA 2018 TRIN) came to U of T in hopes of better understanding his own identity — including his place in the LGBTQ2S+ community — and learned to appreciate the unique perspectives people bring to the world.
"U of T opened my eyes to a wider range of perspectives by listening to and learning from different people's stories," says Schwarz, who earned his honours bachelor of arts with a major in diaspora and transnational studies and political science as a member of Trinity College in 2018.
"U of T taught me a lens of viewing the world through human stories and experiences, and recognizing the human impact many events have. No one is 'cookie cutter;' everyone has multiple dimensions of themselves. Being a Black queer man is not the same as being a straight Latina woman, for example. It's so important to consider intersectionality because there's rarely one solution that fits all."
No one is 'cookie cutter;' everyone has multiple dimensions of themselves
Growing up in Ottawa, Schwarz saw politics as a natural career path, even if he didn't know exactly what he wanted to do or where it would take him. He chose U of T after narrowing his vision to political science and diaspora and transnational studies, which spoke to his desire to better understand his own identity, including his Mexican-Canadian heritage and his place in the LGBTQ2S+ community.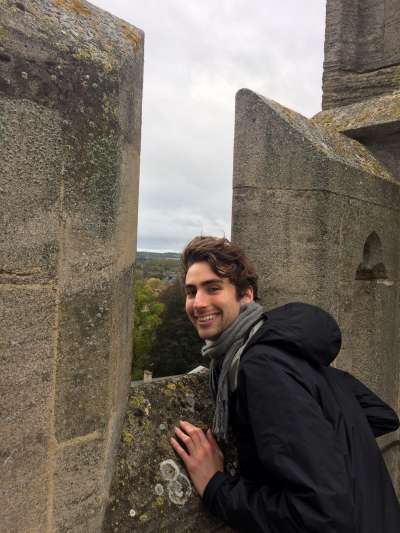 "I was trying of contextualize my identity and my concept of home, of being half-Canadian, half-Mexican, and trying to formalize what I was experiencing as somewhat of a Third Culture kid," he recalls, referencing the mixed identity children often assume that is a mix of their parents' two cultures.
"That personal question was what drove me to do diaspora and transnational studies, and there were classmates who were there for slightly different reasons to broadly answer similar questions. Having that community there was really comforting."
The interdisciplinary program opened his mind to a broad range of perspectives. It gave him the flexibility to explore courses he might not otherwise have taken — such as classes in the Anne Tanenbaum Centre for Jewish Studies, for example, that spoke to the intersection of Jewish heritage and queerness. He now strongly recommends The Colour of Law by Richard Rothstein, a book he read in a class on housing policy, which talks about the consequences of state sponsored segregation in the U.S. through the accounts of those personally impacted.
Schwarz also credits U of T and its college system for bringing people from disparate backgrounds and majors together to learn and socialize. Students brought unique perspectives to Trinity College's many clubs and co-curricular activities, including Rainbow Trinity. As a member and eventually president of the club, Schwarz helped organize poetry readings, film screenings and other social gatherings.
A lot of my work was around creating a safe space for the queer community to engage and get to know each other
"A lot of my work with Rainbow Trinity was around creating a safe space for the queer community to engage and get to know each other," he says. "That was another great way for me to better understand my own identity, through a community of people who had similar stories. I had just moved from Ottawa to Toronto, and it was a new beginning in many senses."
Engaging with people — each with different backgrounds and perspectives — inside the classroom and beyond, solidified for Schwarz that everyone has their own story and something to bring to the table. Since graduation, he's applied that lens to roles with the United Nations Association in Canada, the G20 Research Group and the Immigration and Refugee Board of Canada.
"Working with the board was really fascinating because it involved examining people's stories, their applications, why they were claiming refugee status. Claimants often included photos of their communities in Canada and their family members' photos to show how they've participated and are making connections within their new community."
Schwarz is now head of integrity and intelligence with Oxfam in Oxford, U.K., working with a team that responds to and triages incoming reports of potential misconduct, the scope of which ranges from allegations of fraud to reports of sexual abuse.
"I suppose working in this role has allowed me to continue trying to help vulnerable people, often living in fragile contexts, and consider how we can improve our systems to make them more accessible, less colonial, and ultimately better support survivors," he says.
It is invaluable to have your work contribute to someone else's well-being
Schwarz attributes his ability to consider intersectional factors when interacting with survivors of misconduct to the education that he received from U of T. Even though his major in diaspora and transnational studies does not link directly to his responsibilities at Oxfam, his education enabled him to look beyond the obvious evidence when handling a reporter or a survivor's experience. "It's about being humble and treating people equally with kindness, respect and human decency — you never know what other people have been through and how that's impacted the way they experience the world."
While he's had multiple roles, he says a thread of "wanting to help people" connects them all.
"I think it is invaluable to have your work contribute to someone else's well-being or positively impact other people's lives," he says. "There's nothing else like that feeling. I think it's an attitude I can bring to any type of work, which can translate to any sector — and that's what I learned at U of T."