Filmmaker Nisha Pahuja reflects on U of T's role in her career
By Ali Raza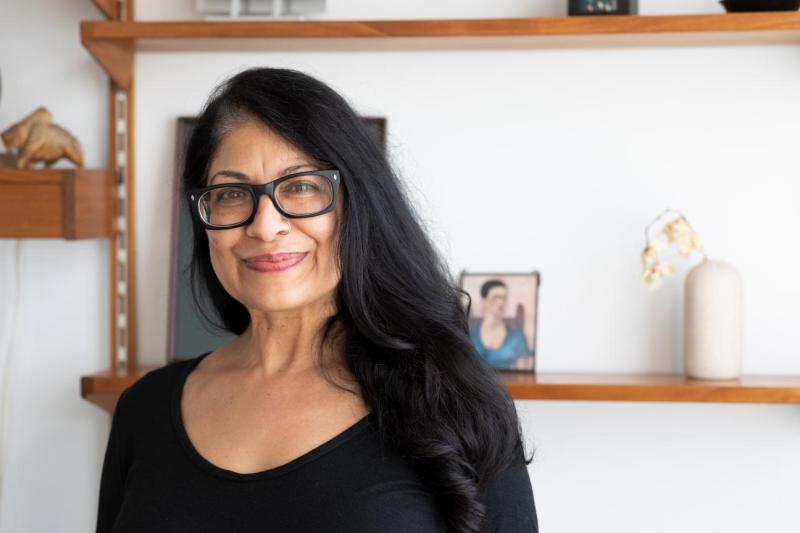 Nisha Pahuja is an independent documentary filmmaker based in Toronto. Photo by Polina Teif.
---
Nisha Pahuja (BA 1994 UTM) is a Toronto-based independent documentary filmmaker and a proud alumna of U of T Mississauga. Her latest film, To Kill a Tiger, opened in theatres across Canada in February and has already received several accolades. It tells the story of a farmer in Jharkhand, India, who fights for justice after his 13-year-old daughter is brutally raped. It's a film that looks at social justice, gender equality, and masculinity.
The film premiered at the Toronto International Film Festival in September 2022 and was named the winner of the festival's award for Best Canadian Film. It was then named to TIFF's annual Canada's Top Ten list for 2022. In February it was presented at Hot Docs and was released in Canadian cinemas. Most recently, To Kill a Tiger bagged three Canadian Screen Awards nominations for Best Feature Length Documentary, Best Editing in a Documentary, and Best Original Music in a Documentary.
With the success of her latest film, Pahuja reflects on her career in documentary filmmaking and how it all began during her time at U of T Mississauga in the early 1990s. Watch her story below.
"Being at UTM was the impetus to pursue a creative life," she says. Pahuja graduated in 1994, when UTM was known as Erindale College. She had also spent some of her academic life at the St. George campus. She studied English Literature and minored in Philosophy and Sociology.
As a natural writer, literature and storytelling became her primary interests. Shortly after graduating, she received a grant from the Toronto Arts Council and started her writing career. Soon after, another door opened for her when she was hired as a researcher for a documentary.
That experience demonstrated she could combine her passion for social justice and her love of literature. "I fell in love with the documentary form," Pahuja says. The combination of creative storytelling and social justice was a 'perfect blend.'"
She has since produced and directed four feature documentaries: Bollywood Bound, Diamond Road, The World Before Her, and her most recent, To Kill a Tiger.