November 7, 2023 | Alumni | Career Support
New grad Angela Wang's quest for social equity and holistic health
By David Goldberg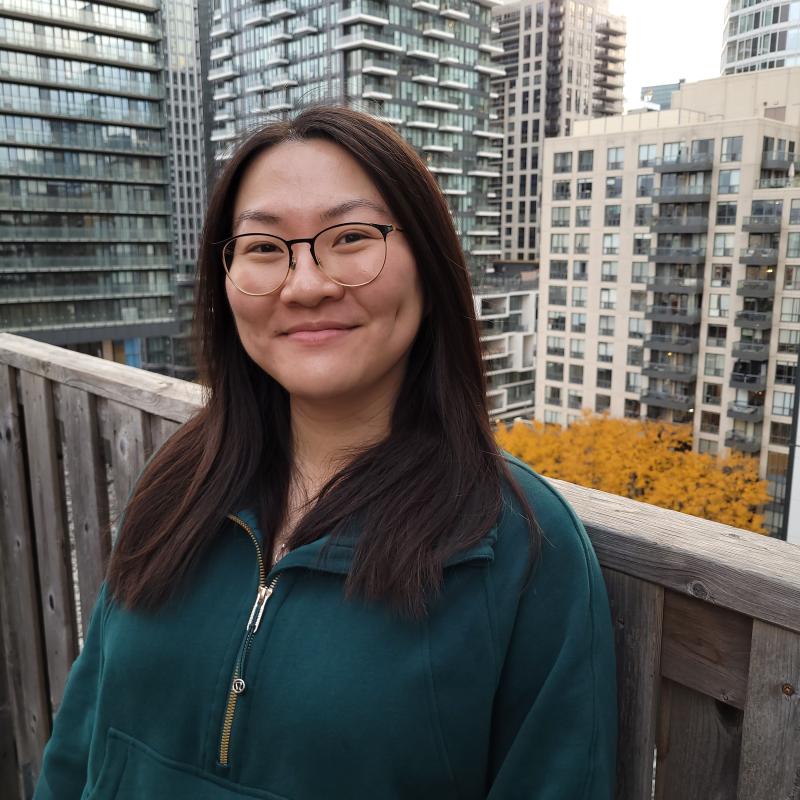 ---
Angela Wang is an altruistic changemaker driven by passion for scientific research and a deep-rooted desire to advocate for people in her community.
Wang, who majored in global health and psychology with a minor in women and gender studies as a member of Victoria College, is now pursuing her master of public health with the Dalla Lana School of Public Health.
"Some of the most pressing public health issues are related to poverty, homelessness and the housing crisis because these permeate into — and interact with — a kaleidoscope of other concerns," says Wang.
"I want to look at everything happening upstream: Do people have access to nutritious food in their neighbourhoods to prevent disease? Are people being paid livable wages? Are we doing enough to integrate gender-based analyses, anti-racist and decolonial perspectives into our programs, policies and research projects?"
While at U of T, Wang secured numerous scholarships, including the University of Toronto National Book Award and the Victoria College Herbert Carnegie Admission Scholarship. She also actively pursued experiential learning, serving as a research assistant in several labs and projects, including the Einstein Lab of Cognitive Neuroscience, Gender and Health and researching for the LGBTQ2S+ Health team at Dalla Lana.
Ahead of fall convocation, Wang reflects on her time at Victoria College and what's next for her.
---
Why was U of T the right place for you to earn your undergraduate degree?
Studying at U of T allowed me to shape my degree into whatever I wanted. The breadth of courses and programs gave me the opportunity to explore other interests and made me realize very quickly that I wanted to work across disciplines, to work with people, and to look at social determinants of health. I was surrounded by incredible scholars and community leaders who encouraged me to challenge conventions and engage in worldmaking.
During your time at U of T, you worked extensively with equity-seeking groups including LGBTOUT — how did these experiences influence your academic life?
This work kept me grounded and nourished my spirit when I felt overwhelmed with my studies and life in general. We tend to think of university as an institution that is isolated from the rest of the real world, but the university has tremendous influence on the structures that shape our lived experiences. When I volunteer with groups and participate in community-organizing, and when I am gifted stories and wisdom from the people I work with, it rejuvenates me and reminds me why I set out on this path in the first place.
What career will you pursue?
Community-based research and programming will always hold a special place in my heart, but I am also interested in exploring where I might fit in the world of policy and government. My mission is to always place myself where I will make the most impact, and now the thrill of entering my master's program has me feeling like the world is my oyster. I'm currently looking at the World Health Organization's internship program as I search for practicum placements as part of my degree.
How will you make the world a better place?
My undergrad changed how I think about social inequities, capitalism, coloniality, education, health care and human rights, and I want to pay it forward by helping my peers do the same. It is a lot of hard work, undoing and unlearning the thought processes we have been steeped in, but it's necessary to make the world a better place. I've seen a major shift in the way my generation is mobilizing toward collective action and self-determination. I will continue propagating this change by inspiring critical thinking and raising tough questions in circles of power and influence. I'll also continue my grassroots community involvement to support members of society who've fallen through the cracks.
What advice do you have for current and incoming students to get the most out of their U of T experience?
For incoming students, it may be intimidating to be surrounded by the talent U of T has attracted from around the world but remember, you were accepted for a reason. Forget imposter syndrome! And for current U of T students, remember these three things. One, ask for the support you need. Two, rest and play are just as important as studying. And three, remember to take care of yourself and each other.