October 30, 2023 | Alumni
"I see AI as a companion to people": U of T alum David Bennett on ethical AI
By David Goldberg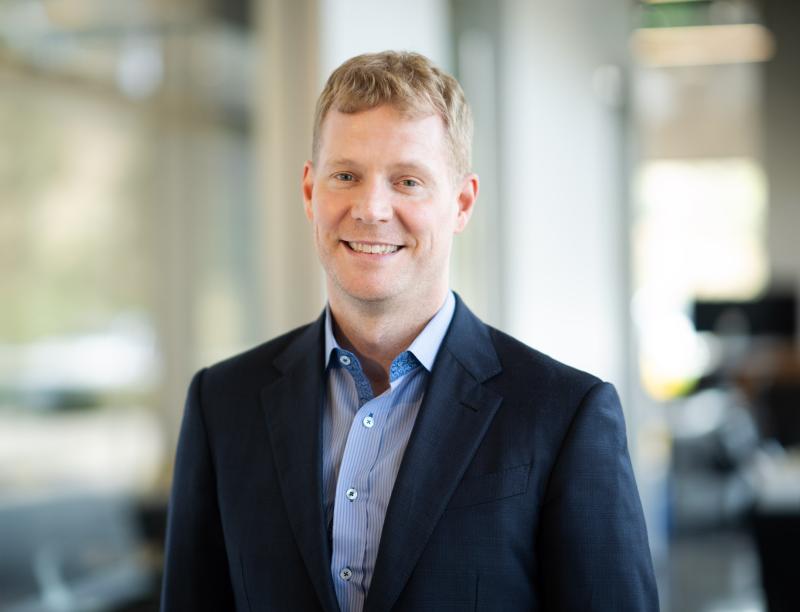 ---
David Bennett (BA 2003 INNIS, MA 2004) doesn't share the ominous outlook some have cast on artificial intelligence — in fact, the Faculty of Arts & Science alum can't wait to see what comes next.
Bennett is the chief customer officer at Tenstorrent, a Toronto-based developer of high-performance AI chips and software solutions. Last month, Tenstorrent received $100 million USD in funding from Hyundai Motor Group and Samsung, who want to use the company's AI chips in vehicles and consumer electronics. Earlier this year, LG announced it would use Tenstorrent's chips in its smart TVs.
"I see AI as a companion to people," says Bennett, who earned his honour's bachelor of arts in 2003 as a member of Innis College and his master's degree in 2004, both from the Department of East Asian Studies. He also minored in computer science during his undergrad. "AI is not going to replace people's jobs," he says. "It's going to make them 10 times more efficient."
Journey to U of T
Born in Jamaica and raised in Brampton, Ont., Bennett says his love of the Japanese language and culture was sparked on a high school exchange program there. U of T was an obvious choice to pursue his passion.
"It was the only place I wanted to go because of its great Japanese program," says Bennett. "I saw U of T as one of the world's premier universities."
Bennett taught himself how to write code, build computers and speak Japanese — all before university — but U of T enabled Bennett to level up his skills in a meaningful way. Associate Professor Ikuko Komuro-Lee mentored Bennett to master the reading and writing of Japanese; it was a pivotal moment in Bennett's life.
After U of T, Bennett taught classical Japanese at a prestigious college in Japan, returning to tech after several years. As a business development manager with AMD, one of the world's largest manufacturers of semiconductors and computer processors, he soon became the youngest corporate vice-president in the company's history.
Combining his passions
His next role was as CEO of Lenovo Japan, where his U of T experiences collided for a massively successful stint at the renowned computer maker.
"Between Japanese and computer science, I've been very fortunate to combine my passions and that's led to some amazing opportunities — whether that's running a large company in Japan, relating to Japanese customers or making important friends in the tech sector," he says.
One of those friends was former AMD executive and engineering visionary Jim Keller, who in the past developed chips for Apple, Tesla and Intel. Impressed by Bennett's ability to thrive in the Asian market, he recruited Bennett to join his new startup, Tenstorrent.
Bennett works out of the company's office in Austin, Texas but he's still fiercely proud of his Canadian roots. He travels to Toronto often and there's one place he can't resist visiting.
"I always find a way to check out Robarts Library," he says. "From the eighth-floor East Asian studies library to the 14th floor where I spent a lot of time as chair of the graduate students' union for EAS, I love walking around Robarts because it's super nostalgic for me."
The value of staying connected
Bennett stays in touch with fellow Innis College alumni and those connections have proven beneficial for business.
"We are doctors, consultants, lawyers and startup CEOs, and it's really become a core group of friends and business associates. We've done deals together and invested in each other's companies. It's fascinating how that all worked out."
Bennett still feels hopeful about the future of AI. "There's no danger of AI taking over the world, but it is fundamentally going to change the world," he says. "It's a complex topic and it will take time to figure out the right way to approach it."