Cancer nanomedicine: U of T grad Ben Ouyang wants to answer the 'questions that matter most to patients and their families'
By Deanna Cheng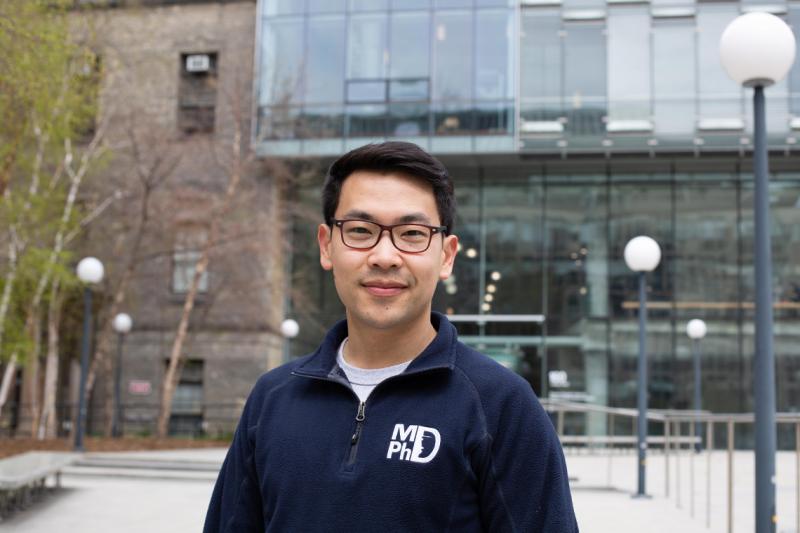 Ben Ouyang, who earned a joint MD/PhD at U of T, is now a first-year resident at the Massachusetts General Hospital in Boston (photo by Julia Soudat)
---
When he was six years old, Ben Ouyang (BAScE 2013, MD/PhD 2020) and his family emigrated from Tianjin, China to the United States and then settled in Canada.
He recalls being drawn to science at a young age, saying it inspired him to pursue his undergraduate degree as well as a joint MD/PhD at the University of Toronto.
A past recipient of the Doctor Henry and Helen Goldenberg Hematology Award from the Temerty Faculty of Medicine, Ouyang is now a first-year resident at the Massachusetts General Hospital in Boston.
Writer Deanna Chang recently caught up with Ouyang to ask him about his journey in medicine, how mentorship inspired his research in cancer nanomedicine and what his future holds.
---
Why did you decide to pursue medical school at the Temerty Faculty of Medicine?
At the end of my undergraduate degree in biomedical engineering, I felt like I only had a brief introduction to biology and medicine. I didn't really understand how the human body worked.
I wanted to go to medical school to build a foundation of knowledge about human physiology and human pathophysiology – to continue asking questions about how and why the human body worked the way it does. Temerty Medicine allowed me to pursue both my research and medical training while opening opportunities with research labs in and around Toronto.
Why did you choose the concurrent MD/PhD training program?
While exploring medical school, I discovered the path of the physician-scientist – physicians who both care for patients and pursue biomedical research. I fell in love with research and felt I needed more background in the fundamentals of human biology so I could investigate scientific and medical questions and be more impactful with my work. I chose the MD/PhD program to help me focus on the questions that matter most to patients and their families. I'm hoping I'll be able to find answers for them.
What question did you set out to answer and what problem were you looking to solve?
I spent five years in Dr. Warren Chan's lab in the Institute of Biomedical Engineering looking as deeply as I possibly could into cancer nanomedicine. The field is built around the idea that we can deliver chemotherapy drugs more effectively into tumours by using nanoparticles. This would increase the delivery of chemotherapeutic drugs to tumours, shrinking them more effectively than if you just gave drugs on their own using classic chemotherapy.
By analyzing 10 years of studies, Dr. Chan found that only about 0.7 per cent of the injected nanoparticles are delivered to the tumour, a number that has been pretty stagnant over time. It highlighted a big problem in the field and, with Dr. Chan, we worked to increase that number.
What were your research findings?
We identified that the biggest barrier to drug delivery is the liver, whose cells filter toxins from the body. It effectively scrubs up to 99 per cent of the injected nanoparticles.
What I discovered in my PhD studies was that the liver cells have an inherent maximum capacity of nanoparticles that they can take up. If there are too many nanoparticles flowing through the blood vessels, these cells can no longer take them up quickly enough. Then the nanoparticles can flow right past them and continue on to the rest of the body and the tumour.
Using this concept, we developed decoy nanoparticles that were empty, made with inert molecules without any loaded drugs. These decoy nanoparticles distracted the liver cells – enabling more of the nanoparticles loaded with drugs to make it to the tumour.
What could this mean for health and health care?
This innovation is now patent pending, and we are working to license it with a goal to translate it to humans. If all goes well, I hope that this method can be used with approved nanoparticles to increase the efficacy of killing tumours. It also has potential to extend beyond cancer to deliver medications like gene therapies. If we figure out how to overcome delivery barriers, then we can greatly expand the realm of possibilities for treating diseases.
What was your PhD supervisor like?
Dr. Chan is an incredible mentor. He taught me rigorous science while asking really interesting questions. He has this philosophy of mentorship where each student that passes through his lab receives a customized plan depending on their interests, goals and backgrounds. My first interview with him was scheduled for 20 minutes, but it went for two hours because he delved deep into my interests, career goals and my philosophy for research, and asked how he could fit into my journey.
I am so grateful that these meetings with him continued throughout my PhD. I've also been lucky to have excellent research mentors through every step of my journey. It makes me excited to also give back to the community through my own mentorship.
What advice would you give to the next generation of people who are interested in pursuing careers in medicine or research?
University Professor Michael Collins from the University of Toronto's department of civil and mineral engineering once advised, "To find the answer, you must know the answer."
To "know the answer" requires a solid foundation of knowledge. In order to build that foundation, I think it's important to pursue your questions as far as they can go by speaking to different doctors or scientists and learning the biggest problems they're facing and if these problems are interesting to you too.
If you can imagine what the final outcome would be if you solved it, take a step back and think about what prerequisite steps need to be completed first and iterate it down until you get to a problem you can solve with your current skills. Whether that's by reading, coding or sharing your knowledge over a coffee or your favourite ice cream, you will come to know and find the answers naturally, and then good things will happen.
What are you doing now in your first year of residency?
I'm currently completing my first year of residency in internal medicine at Massachusetts General Hospital in Boston as part of the Stanbury Physician-Scientist Pathway. I chose it in particular because it is catered towards my career aspirations to become a physician scientist.
You recently received the Doctor Henry and Helen Goldenberg Hematology Award. What did that mean to you?
It was an honor to receive the Doctor Henry and Helen Goldenberg Hematology Award. Hematology and oncology is a field that I have a great interest in and receiving this award validates to me that I could be an appropriate fit for this career. It also relieves financial stresses. It enables me to focus on my passion for research and innovation. Instead of looking for ways to supplement my income, I can read an extra paper or reflect more deeply about medical mysteries and their solutions.
What lies ahead for you?
There is a long road ahead of me. I am hoping to complete my residency at Massachusetts General Hospital within the next few years before exploring a fellowship in hematology and oncology. My goal is to become a good physician and a good scientist. Beyond that, I hope that by the end of these five years, I can identify one or two specific unanswered questions that I can embark on a journey to discover the answers to.