October 16, 2023 | Alumni | Volunteer & Awards
Meet the 2023 Rotman Alumni Winners achieving greatness in the world
By Cialyn Carson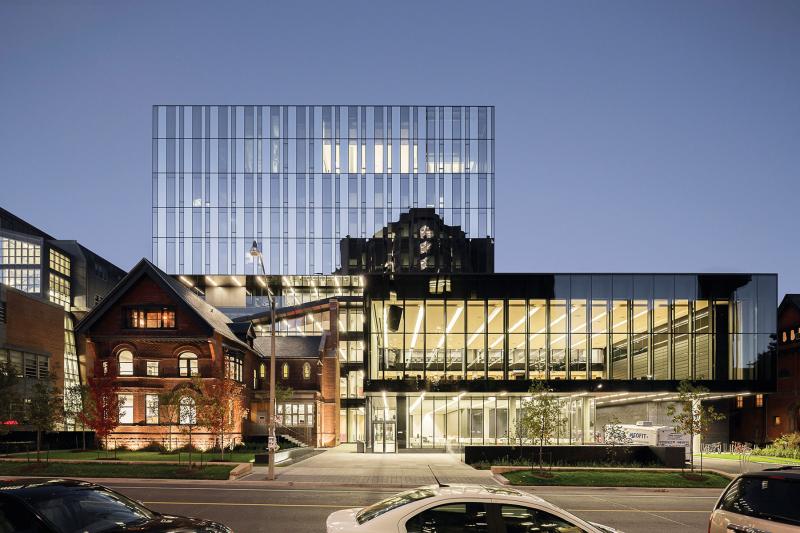 ---
Members of the Rotman community gathered from near and far to honour and celebrate three outstanding alumni and the immense impact they have had on the School, their communities and the world.
The annual Alumni Awards Dinner kicked off the 2023 Reunite at Rotman celebrations. The dinner awarded three distinguished alums from varying years and programs with the Rotman Leader to Watch Award, the Rotman Volunteer Excellence Award and the Rotman Lifetime Achievement Award.
---
Rotman Leader to Watch Award: Naheed Kurji (MBA 2012)
When Naheed Kurji applied to the Rotman School of Management, he worried he didn't have the precise scores or pedigree to be accepted into the MBA program.
Yet, Kurji exemplified the exact type of leader that embodied the essence of the School. That is why, as the president of Recursion Canada and past co-founder and CEO of Cyclica, he is the recipient of the 2023 Rotman Leader to Watch Award.
This alum is recognized for his dedication and leadership in tackling some of the most pressing global issues related to safe and sustainable medicine for all patients. Honing the very skills introduced at Rotman, Kurji's ventures are continuously recognized as industry leaders in the development and application of machine-learning and artificial intelligence techniques for the discovery of medicines and broader healthcare purposes.
If you ask Kurji, it is all because Rotman took a chance on him. "Rotman's admission committee really took an interest in my personal journey, what inspired me, and goals for the future," he said. "Rotman not only gave me my start, but the formative community has continued to support me and my ambitions over the years."
These ambitions include the successful start-up of Cyclica, which was born from a winning presentation at a Rotman Entrepreneurial and Venture Capital Association (REVCA) Case Competition, while Kurji was a student and executive member of REVCA. After pursuing a short career in corporate finance post-graduation, Cyclica once again presented itself to Kurji, this time as a robust business plan, when he leaned into the full circle moment and joined as an investor and co-founder. Fast forward 10 years, Cyclica was acquired by Recursion Pharmaceuticals (NASDAQ: RXRX), creating what Kurji believes is a "category-winner – a company that is industrializing how medicines are being discovered for the benefit of all patients."
When looking ahead to what's next, the grad remains firm in his mission to work on projects and surround himself with people who will have an enduring and sustainable impact on the human condition, focusing on human health. In his new role at Recursion Canada, he looks to integrate technology and data to industrialize drug discovery to create a more sustainable model. He also believes Toronto is a treasure trove for entrepreneurship and the talent that will help him do so.
In hopes of inspiring the next generation of Rotman grads, Kurji reiterates that there is no linear path to success. Instead, the messy trials and tribulations allow one to truly challenge and apply themselves.
---
Rotman Volunteer Excellence Award: Rachel Megitt (MBA 2010)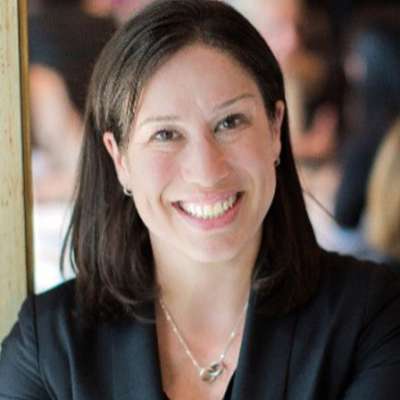 Rachel Megitt has always been a solution-oriented person; it was what brought her to Rotman in the first place. As a consultant, she was driven to offer her clients strategic solutions and decided an MBA would help her do exactly that.
"For me, when I thought about business schools, there was only one," said Megitt. "It was Rotman or bust." To her own surprise, her return to consulting was very brief after her summer internship at Rotman introduced her to the world of finance, where she remains today as the vice-president of term investments & savings at RBC InvestEase and head of RBC Healthcare.
But that's not all; Megitt is continuously recognized for her volunteerism and contributions to the advancement of women in Toronto, specifically educating high school-aged women about the opportunities working in finance. As the founder of RBC's Ladies Who Lunch and co-founder of RBC Academy, she connects her drive to create a better world for women in finance to her time at Rotman, when she was elected president of the Graduate Business Council (GBC) in her last year.
While everyone was congratulating and celebrating this accomplishment – one of the first female presidents of the GBC – she was both sad and mortified. "That sentiment really changed how I looked at different challenges around diversity in the workplace. Since that day, I have remained motivated to pour myself into these passion projects that not only fill my cup but address the real-world problems we have with creative solutions. I owe it to myself, my daughter and my son, as well as the next generation of women and people in the workforce, to leave the world a better place… It has never been a question for me; it's been a necessity," said Megitt.
Remaining eternally grateful for the opportunities Rotman provided her, Megitt is honoured to receive this year's volunteerism award. She shares the following testament for today's students and graduates; "Rotman opens so many doors for its students, but it is up to us to get ourselves to the door and walk through it. Throughout our careers, we must maintain this accountability and responsibility to leverage our Rotman experiences to create the futures we want – both for ourselves and others."
---
Rotman Lifetime Achievement Award: Victor Dodig (BCom 1988)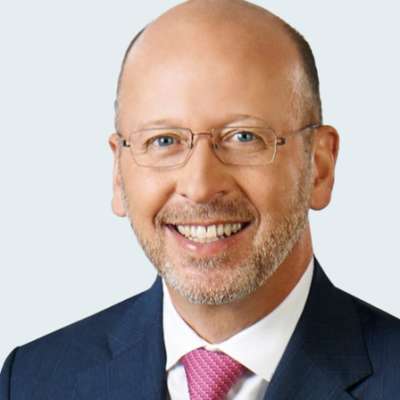 When Victor Dodig began his part-time role as a bank teller at CIBC during his university years, little did he envision that this very institution would become the launching pad for his remarkable journey, ultimately becoming the bank's President and CEO. "Being a CSR was the best part-time job for me at that time in my life. It helped me pay for school, and it introduced me to the world of banking, where it really matters – at the community level. People would cash their pay cheques, pay the bills, and I had the chance to learn from their stories and their ambitions."
Growing up in an inner-city neighbourhood of Toronto to two immigrant parents, Dodig was inspired by his parents and their efforts to raise a family in a new country. He saw the hard work that went into buying the family home and renting out floors to make ends meet – and he adopted that diligence into his own approach to work as he built his career.
Dodig completed his undergraduate studies at the University of Toronto (St. Michael's College) in Commerce and then furthered his education at Rotman and the Harvard Business School. His strong educational foundation and work ethic led him to early career successes and the opportunity to work overseas, but his ties to Canada were strong – and ultimately, he wanted to move back.
"It's not easy to make career moves across borders, and I reached out to several contacts to see what my options would be. Two people returned my calls – one was the late Michael Wilson, our former finance minister, and the other was Gerry McCaughey, former president and CEO of CIBC. I owe them both a great deal for helping me make the move back to Canada to keep building my career."
From day one as president and CEO of CIBC, he emphasized a clear message right across the bank – client focus. This cultural shift has led to higher client experience scores across the bank and growth in its client base over time. "When I took on the role, we were reaching a point in our evolution where it was time to turn the bank outward – to be more visible with our stakeholders, and more ambitious in our agenda to move our bank forward, and we've made tremendous progress on this strategic agenda thanks to our CIBC team."
Dodig is recognized as a CEO who walks the talk. His drop-ins at banking centres and CIBC's offices are frequent, mainly when he's on the road meeting clients and investors. Between meetings, he often has his eyes trained on his phone, replying to a client – and often, thanking a team member who made a difference. He recalls a recent interaction where a client reached out to him to recognize a team member who had made a real difference in her life following a divorce and shared that she was now on more solid footing financially as a result of the advice and guidance she's received at her local CIBC. Dodig wrote back personally, thanking her for her note, and then reached out to her advisor to thank them for their client-focused approach to their role. "Banking is a team effort, and whenever I can, I make the time to personally thank team members who are making a difference to clients. That's the business we're in. Everyone needs to understand how much it matters, and ow much it's appreciated."
He's also a leader in inclusion. As previous co-chair of the BlackNorth Initiative, and Chair of the Catalyst Canada Advisory Board, and current Chair of the CIBC Inclusion and Diversity Leadership Council, Victor has dedicated much of his time towards strengthening the inclusive culture across CIBC and supporting efforts towards accelerating progress for women while also using his voice to encourage others to do the same.
Dodig emphasizes the importance of collaboration. He leaves one piece of insight for aspiring leaders: "What I've learned is that you will leave a much greater mark in life if you work alongside others to make it happen. Nobody achieves their full potential on their own – even if they think they did."
Through his distinctive leadership approach and unwavering commitment to strengthening relationships with clients, employees and communities, Dodig breathed life into the bank, having a lasting impact on his organization, the banking industry and the communities it serves.
When reflecting on his time at U of T and what this recognition means to him, Dodig shares the following thoughts: "It's a great honour given the other distinguished alumni who have received this award, and knowing the depth of talent that have attended Rotman over the years. It's a moment to reflect with gratitude on those who've shared their knowledge and life experiences with me along my journey to help me develop as a leader and a person, and a reminder to carry those lessons forward as we continue to grow our bank."