U of T Entrepreneurship Week 2022: 10 alumni startups to watch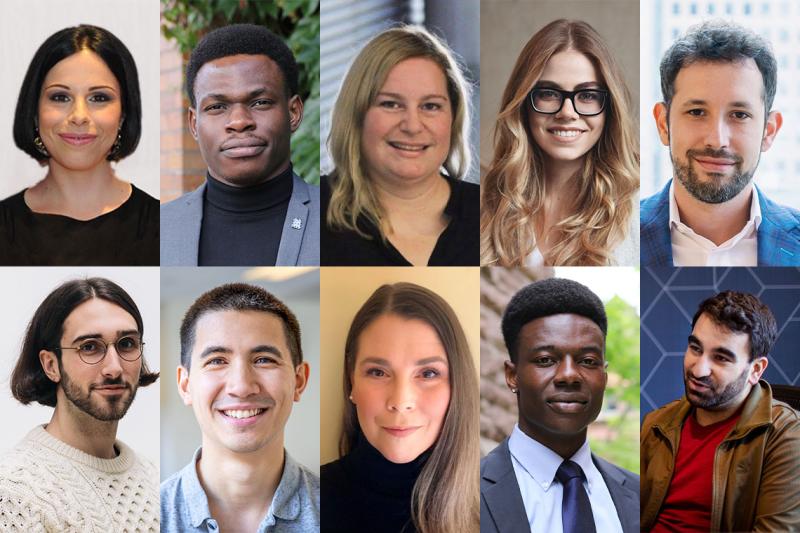 Clockwise from top left: Carolina Gorodetsky, Olugbenga Olubanjo, Helen Kontozopoulos, Katheron Intson, Liran Belenzon, Mina Mitry, Jeffrey Fasegha, Sarah Watling, Javier Romualdez and Aidan Gomez.
---
The University of Toronto is hub for startup activity – with more than 10 campus-linked accelerators and a community of entrepreneurs that has spawned over 600 companies and raised in excess of $2 billion over the past decade.
From AI-fueled drug discovery to low-cost space exploration and apps that connect Black hairstylists and barbers with clients, U of T founders are finding solutions to a wide array of challenges while creating jobs and strengthening the economy.
While some high-profile U of T startups are connected to faculty members, many more are launched by students and alumni.
With U of T's virtual Entrepreneurship Week kicking off today, here are 10 exciting U of T startups to keep an eye on in 2022:
---
JALI Research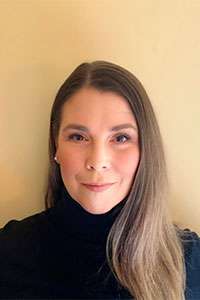 JALI Research works with AI and language to make video games cooler. The company's hyper-realistic facial animation technology is a standout feature of one of the world's best-selling video games in recent years: the dystopian action role-playing game Cyberpunk 2077.
Growing out of research in the department of computer science in the Faculty of Arts & Science and supported by the UTEST accelerator, JALI draws from AI and linguistics to develop tools that accurately map phenomes – the smallest isolatable elements of sound – to visemes, the corresponding mouth shapes we see on a person's face as they make those sounds. This allows video game characters in Cyberpunk 2077 to look and sound hyper-realistic across different languages.
What's more, JALI Research's tools can be scaled up at a relatively low cost, making them financially viable even for smaller gaming studios.
CEO Sarah Watling  (BKin 2016, MSc 2019) credited U of T's UTEST program with helping the company commercialize its research.
"The UTEST program is a great hybrid of courses – some of them through MaRS and others through partnerships with various mentors who support businesses in the startup life cycle, including IP law firms," Watling told U of T News. "You get to work closely with the leadership of UTEST on various aspects, whether it's thinking through your problem space or value proposition, or improving your pitch."
---
Reeddi
When Olugbenga Olubanjo (MASc 2019) was a graduate student at U of T, he regularly got on the phone to speak with family and friends in his native Nigeria – only for calls to drop due to frequent power outages back home.
So, he decided to do something about it.
With the help of the Entrepreneurship Hatchery in the Faculty of Applied Science & Engineering, Olubanjo built up a startup, Reeddi, that's dedicated to bringing clean and affordable electricity to energy-starved communities. Reeddi rents out portable and rechargeable batteries, powered by solar charging stations, to people in parts of the world that suffer from unreliable energy infrastructure. The batteries are rented at an affordable price, with customers incentivized to return them on time by earning credits toward future rentals.
Reeddi's mission has garnered the company attention and numerous awards, ranging from financial support from the Lo Family Social Venture fund in 2020 to, more recently, being named one of the 15 finalists of the inaugural Earthshot Prize.
However, Olubanjo says his priority isn't profit, but genuine social impact. "At the end of the day, it's not only about making money. Anyone can make money, but it's about the happiness that you give people," he told U of T News.
---
Varient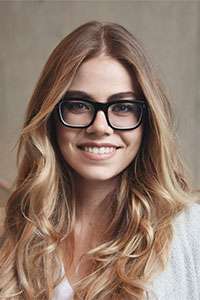 The Varient team has built an online platform that can collect and aggregate de-identified data on treatment for people living with rare genetic diseases.
While the app has not yet launched, Varient was one of five winning teams at the U of T Entrepreneurship Hatchery's pitch competition last year.
Founder Katheron Intson, who is completing her PhD in pharmacology and toxicology at the Temerty Faculty of Medicine, told U of T News that the pitch competition provided a valuable bridge between technology and business.
"I've been a scientist for my entire professional life, and the rest of my team are software developers," she says. "The business aspect of starting a company was a real blind spot to us. The Hatchery provided us with guidelines that helped us redefine where we focused our energy and effort."
---
 

Fyyne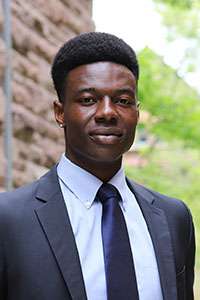 Fyyne, a startup that helps connect barbers and hairstylists who specialize in Black hair with potential clients, was one of the success stories of the RBC Prize for Innovation and Entrepreneurship pitch competition held during last year's Entrepreneurship Week – taking home the people's choice award in the early-stage startup category.
The company has since gone from strength to strength, raising pre-seed funding from Canadian and American investors in October, and launching its platform in both countries in January, as reported by BetaKit.
The brainchild of U of T alumnus and former Rhodes Scholar Jeffrey Fasegha (BCom 2020), Fyyne streamlines the process of booking hair services through an app that takes care of the entire process from finding hair artists to making reservations and payment.
Fasegha, the company's CEO, co-founded the company with fellow U of T classmates Olubanjo – of Reeddi fame – and Al-Ameen Ogundiran.
---
StarSpec Technologies Inc.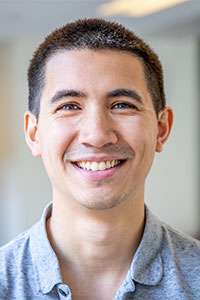 Javier Romualdez (PhD 2018), StarSpec's CEO and a former doctoral student at U of T, wants to break down significant barriers to accessing space. That's why he launched a satellite and space hardware company that aims to provide researchers and developers with cheap, highly functional gear.
"StarSpec is making space accessible through the availability of standardized sub-orbital technologies – satellites, hardware and software – that can allow researchers and technology developers to get access to space or near-space without the risk, cost and long development times associated with a typical space mission," Romualdez told U of T News in June 2021.
StarSpec is already contributing to a 2025 NASA project by providing a balloon-based suborbital research vessel that will house and control the mission's telescope. They've also been contracted to take part in several other NASA missions over the next few years.
The company's ultimate goal is to create a world where space projects are no longer limited to governments, giant corporations or billionaires.
---
ParkinSense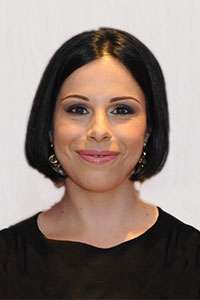 ParkinSense is another U of T startup that won in last year's Hatchery competition.
Carolina Gorodetsky, a master's student in the Temerty Faculty of Medicine and pediatric neurologist and movement disorder specialist at the Hospital for Sick Children, and her team created a medical monitoring system that uses wearables to provide real-time data on the symptoms of Parkinson's disease.
The goal is to expedite the treatment of Parkinson's patients by enabling more effective interactions with physicians.
There's also an app that can remind patients when it's time to take their medication, as well as track the effectiveness of those medications over time.
Gorodetsky told U of T News that the seed funding will help with the company's protype and volunteer testing plan. Her team includes alumni Akshata Puranik (MEng 2021), a graduate from the U of T Institute for Aerospace Studies, and Christopher Lucasius (BAScEng 2018, MASc 2020), a PhD candidate in electrical and computer engineering.
---
BenchSci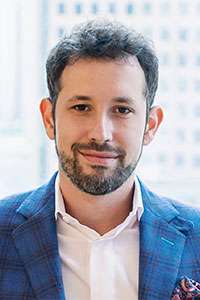 BenchSci uses AI and machine learning to help scientists speed up the process of drug development and experimental design.
The company's initial offering was a platform that helps scientists find and purchase antibodies for their experiments, but a recent injection of $63-million in Series C funding has the company poised to expand its services as it now looks to use AI to help scientists come up with hypotheses and make key experimental decisions. Its platform is already used by tens of thousands of scientists around the world, and clients include big-name pharmaceutical companies such as AstraZeneca, Moderna and Sanofi.
Founded in 2015, BenchSci received support from the Creative Destruction Lab at U of T's Rotman School of Management, having previously worked with the Entrepreneurship Hatchery and Health Innovation Hub (H2i).
In a 2019 interview with U of T News, CEO Liran Belenzon (MBA 2016) credited CDL in particular for giving the startup the tools "to connect business and technology and form a company around that."
---
Kepler Communications
One of a growing number of space technology companies to emerge from U of T in recent years, Kepler Communications is on a mission to build a satellite internet network in space.
Founded by alumni from U of T's Faculty of Applied Science & Engineering, the company has brought in nearly US$100-million in total since its founding in 2015.  
Kepler has 19 satellites operating in orbit to act as a testbed for its space-focused internet service, with a goal of putting more than 200 satellites into orbit and being fully operational by 2023.
CEO Mina Mitry (BAScEng 2012, MASc 2014), who has a master's degree in aerospace engineering from U of T, told CNBC that the company is "focused on providing communications to space stations, to other satellites, to allow them to bring their information back down to Earth in real time."
While the satellites are bult in the company's Toronto headquarters, Mitry told CNBC that Kepler is planning to expand internationally, including the addition of a U.S. office.
---
ODAIA
While BenchSci is engaged in using AI to help pharmaceutical companies create life-saving drugs, ODAIA is focused on helping the pharmaceutical sector use AI to boost their customer analytics, enrich commercial insights and drive informed sales prospecting.
Founded in 2018, ODAIA was spun out of research at U of T in collaboration with the University of Lausanne in Switzerland. The company's software taps into existing data sources, including lab records, medical data and demographic information, and uses them to provide pharmaceutical firms with actionable insights that help them refine their sales efforts.
ODAIA was co-founded by Helen Kontozopoulos, an adjunct professor of computer science and co-founder of U of T's DCSIL (Department of Computer Science Innovation Lab), who discussed her company's journey at the Scaleup Showcase during the 2021 Entrepreneurship Week. ODAIA also counts several other current and former U of T researchers among its core team, including co-founder Periklis Andritsos (MSc 2000, PhD 2004).
Earlier this month, the company announced that it raised $17.5-million in Series A funding.
---
Cohere AI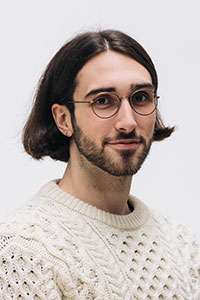 With human-machine interactions becoming increasingly common in modern society, Cohere is using AI-powered natural language processing to make it easier for people to talk to machines and vice versa.
The company, whose CEO Aidan Gomez is a protégé of deep learning pioneer and University Professor Emeritus Geoffrey Hinton, has created a software platform that helps companies infuse natural language processing capabilities into their business offerings using tools like chatbots.
The company recently raised US$125-million in funding and is preparing to open an office in Silicon Valley.
"For the first time, we've brought to market an effective NLP solution that is practical, accessible, and safe," Gomez said in a statement. "With the opening of our new Palo Alto office, we're continuing to scale in all directions, bringing aboard new talent and rapidly increasing our compute capacity to train our next generation large language models (LLMs)."