Smart farming and business sustainability: why Lulu Li wakes up motivated every day
By Tara Clemens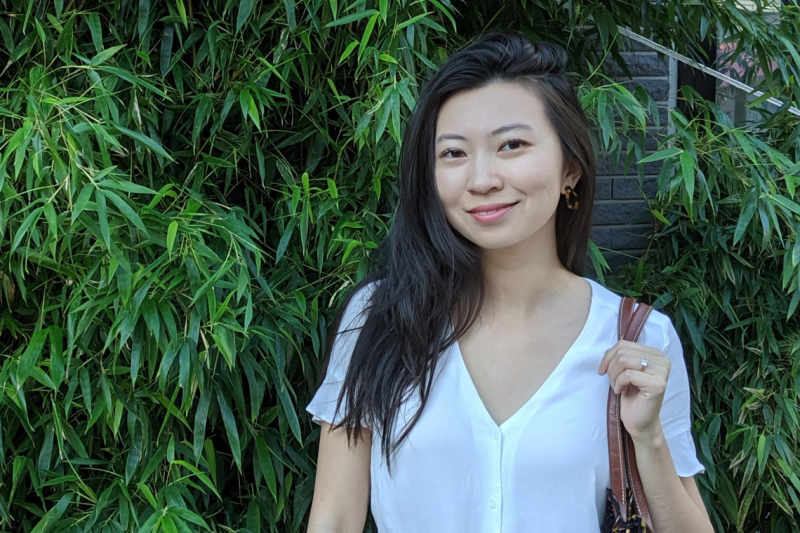 Lulu Li (MScSM 2016) at Residential Streets at Tokyo, Japan. Photo by Ken Li
---
A graduate of the first cohort of U of T Mississauga's Master of Science in Sustainability, Lulu Li (MScSM 2016) has focused her career on helping businesses incorporate sustainable practices into their growth strategies. Writer Tara Clemons talked to Li about Smart Farming and the impact that big data and technology will have on the future of Canadian agriculture.
You were part of the first cohort of Master of Science in Sustainability Management (MScSM) graduates in 2016. What drew you to a brand-new program like that?
Having worked for a few years, I knew I wanted to pivot my career and transition into a line of work that allowed me to leave positive impacts on our global community. With that in mind, I was looking for a masters' program that was designed with the need of society in mind. The MScSM program stood out to me because it's designed to help students understand the real issues in society and empower students with theoretical knowledge and practical skill sets to tackle those real-world issues.
I am genuinely motivated knowing the work I do has a positive impact on society
When I went through the program, it offered me more than what was promised. I had the technical and theoretical training I needed to succeed in the workplace, but the program also instilled the importance of following our hearts, doing the right thing, and loving what we do. In my current role, I am genuinely motivated and excited to wake up every day knowing the work I do has a positive impact on society. And that feeling of loving what you do and knowing you are doing the right thing is priceless.
In your current role, you aim to help businesses incorporate sustainability into their operations and business growth strategy. Can you talk a little about that?
To me, a sustainable business means the company can strike a balance between profit, environment, and society, while achieving its mission and vision. Having worked in both the public and private sector, it's essential to understand that each organization has its mandate and mission. Companies should consider including sustainability, or non-financial metrics, in annual and financial reports to measure sustainable performance. Non-financial metrics, many of which are environmental, social, and governance (ESG) related, will impact the organization's bottom line. Managing non-financial and sustainable risks is becoming more critical to a business today.
Smart Farming as a concept allows famers to make informed decisions, based on information generated from on-farm smart technology and real-time datasets, to increase crop yield and reduce overall costs. How do you feel that Smart Farming with a focus on sustainability can build collective change in Canada?
A study presented at the latest UN Climate Change Conference, COP26, identified that agriculture and ecosystem carbon storage could play a critical role in keeping a global temperature increase within 1.5C. Canada has so much land, and our land stores about a quarter of the world's soil carbon, which is about 384 billion tonnes of CO2e (Sothe et al., 2021). Through sustainable agriculture practices such as management of fertilizer use and technology advancements, Canada is well-positioned to manage and reduce GHG emissions.
Many companies are working directly with growers to reduce environmental impact while producing the best harvest yield. Companies like Farmers Edge use big data and technology to promote sustainable farming practices. For example, big data and sustainable and regenerative farming advice help growers understand how to use fewer resources (chemicals, water, seed) to produce the highest harvest yield, thus improving growers' return on investment.
Not only do growers and the environment benefit from sustainable practice, but the entire agriculture value chain benefits
Not only do growers and the environment benefit from sustainable practice, but the entire agriculture value chain benefits. Field-level data are collected to calculate carbon intensity of crop yield. This information is useful to help downstream value-chain, such as food producers and manufactures, to understand the scope 3 emission profile of their products.
Field-level big-data management combined with sustainable farming practices can offer businesses and nations value scope 3 data, improving measurement and reporting of global emissions.
What would you love the average person to care more deeply about when it comes to sustainability?
I always try to explain sustainability to someone who doesn't understand it as a mindset that aims to do the responsible thing by balancing the environment, profit and society. Regardless of whether you are looking at it from a personal perspective, a family budgeting perspective, or a business or national government perspective, it's always a balancing act. We need to understand our limitations and needs and then find a way to create that balance in order to promote long-term sustainability.
You moved to Calgary from Toronto recently – what has that experience been like for you?
Moving our family during the pandemic was not an easy task. But one thing the pandemic taught me was the importance of "act now" to prioritize what's important in my life. Family has always been important to me, and being the only child, that meant spending more time with my parents in Calgary. Instead of planning out a future where we can live in the same city, the decision came down to "move now," and the other pieces will fall into the right places.
One thing the pandemic taught me was the importance of "act now" to prioritize what's important in my life
Many of us are so focused on advancing our careers and exploring the world that sometimes we lose sight of what makes us happy and what's really important to us.
What message would you like to share with current students who are about to take the first steps in their careers?
Think twice before you say no to an opportunity. Each opportunity is unique and can lead to other possibilities that are still unknown to you! Life is interesting . . . sometimes, one door leads to another, which might open up a world of possibilities.