September 26, 2023 | Alumni
She Moves: reconnecting with exercise in university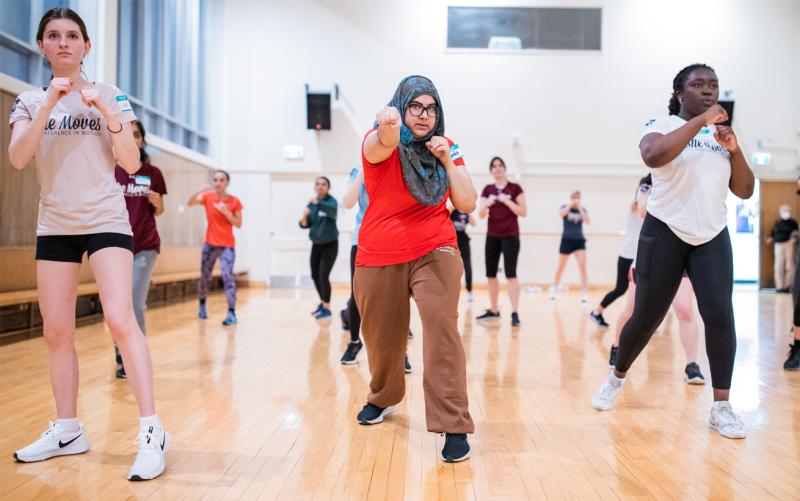 All photos by Matt Volpe
---
"I'm here commemorating International Women's Day!" says Tamara Vasquez. Taking a break after trying a U of T Sport & Rec IMPACT training workout, the MBA student smiles at a crowd of exercising women. "I wanted to be with just women for this one day."
It was March 8, International Women's Day, and the gym at U of T's Athletic Centre pulsed with energy. The Faculty of Kinesiology and Physical Education's Sport & Rec team had gathered Vasquez and others like her from across the university for a celebration focused on athleticism and fitness for women-identifying students.
The annual event, known as She Moves, receives support from alumni like you. When you use insurance services from U of T's affinity program partners, Manulife or TD Insurance, part of the proceeds support student and alumni programs, including She Moves.
Power up together! When you use U of T alumni insurance services, you get preferred rates and support She Moves. Get a deal on insurance
The women rotated from station to station to try out activities available at U of T: barre, boxing, impact training, seated volleyball, cardio dance and Bollywood dance. They also enjoyed a healthy meal while listening to a pair of motivational speakers: MSW student Alex Boross-Harmer (BKin 2015) and alumna Katie Jessop (MHSc 2003).
By making the event for women-identifying students only, She Moves directly addressed some of the factors that can make it hard for women to exercise. Join us on a tour of these stations of empowerment and learn how alumni like you are helping students build healthy lives and equitable, inclusive community.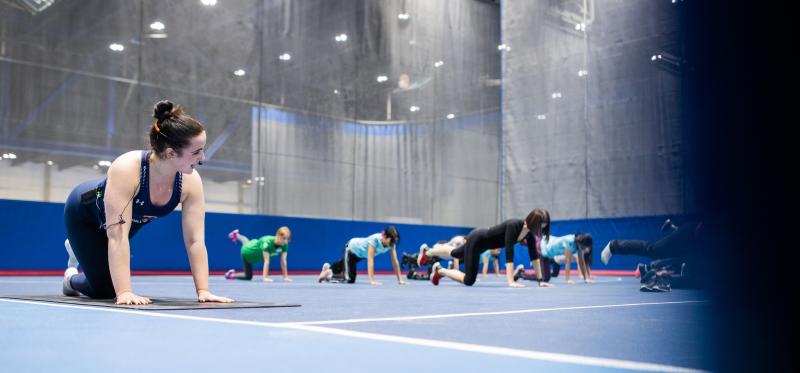 Finding a healthy balance
At the barre station, students tried this fitness technique that draws from ballet, yoga and pilates to stretch and strengthen the legs and core. To make time for exercise, students must root their lives in equilibrium, says Boluwatife Ogunniyi, a second-year student in global health and bioethics.
"It's so easy to have a routine of just school, library and home," she says, "and to be honest, that's not really balanced. To me, a balanced life looks like doing things that make me happy." She Moves hit the spot. "It was super fun!" she says. "The energy was up there."
"

Having a women's-only event makes fitness a lot more comfortable.

"
Overcoming judgment
At the boxing station, students stood tall and hit out with conviction. Society's toxic body judgments can make gyms an anxious space for women. "I feel it's not as easy for us," says Ogunniyi, "because we always feel self-conscious and we're always taught to criticize our bodies."
The She Moves participants said the event helped them associate exercise with acceptance instead of scrutiny. "Having a women's-only event makes fitness a lot more comfortable," says Emma Danniels, who is studying political science at University College. "You're not afraid of messing up. You're just here to have fun."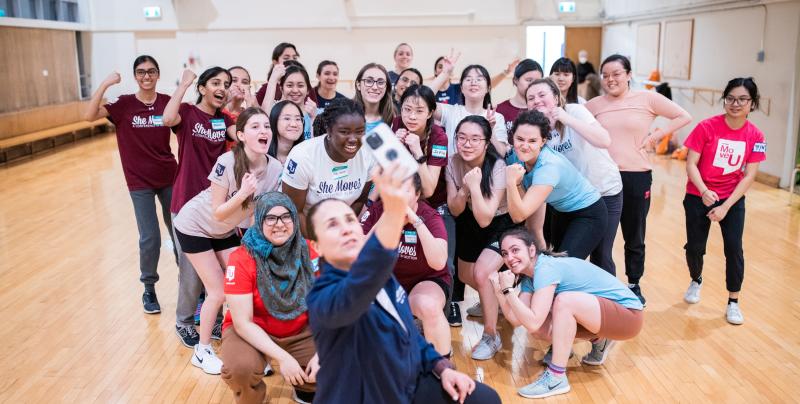 Finding your power
At the IMPACT training station, MBA student Angie Guerrero explored weight-bearing exercise for strength. It helped her find her power in another way, too. "I learned that things like this are not only for men," she says. "It was hard, but fun. It showed us everyone can do it."
"Having begun here," adds Vasquez, "I feel like it's going to be easier to actually start doing it in my life." Says Ogunniyi: "It used to feel like we needed permission to be in the gym when the truth is we're also allowed to take up space. We should celebrate each other instead of feeling like I am intruding."
"

I appreciated how the organizers integrated women from all different backgrounds. You can feel the energy when we get together.

"
Building inclusive community
At seated volleyball, the students shared in an activity designed for inclusion. Making sure women aren't left out is a big part of the She Moves ethos. Women-only hours are popular at gyms because they make the space feel like a community, a place to make friends.
It's important that She Moves feel safe and welcoming for all women. "The barriers that BIPOC women and LGBTQ2S+ individuals face in access to exercise are even worse," says Ogunniyi. "As an international student," says Lin Cheng, who is studying at OISE, "I just appreciated how the organizers integrated women from all different backgrounds. You can feel the energy when we get together."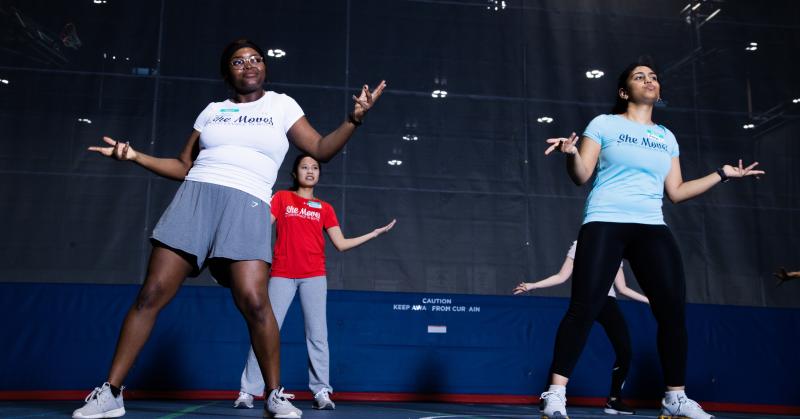 Celebrating women
At the two dance stations, students rocked to the cardio dance party and grooved to Bollywood moves taught by Samira Sunderji, a master's student in kinesiology. Getting active in an empowering community is something to celebrate," she says. "Girl power all the way!"
"

She Moves is the best way to say look at how far we've come

."
"International Women's Day, what better day to have it on," says Ogunniyi. "This is a way of saying that our bodies are OK, and the fight that women have done is worth it. Years ago, this was for men only. I feel like She Moves is the best way to say look at how far we've come."
"And let's celebrate women's day every day!" shouts a voice from the crowd, and the gym fills with cheers and laughter. "Because we are so special."
---
Alumni support makes She Moves happen.
When alumni use insurance services from Manulife or TD Insurance, these affinity partners give a portion of the proceeds to She Moves and many other U of T initiatives. Plus, alumni receive great preferred rates negotiated by U of T.