'Putting down roots': Eastern white pine tree planted at U of T in name of truth and reconciliation
By Perry King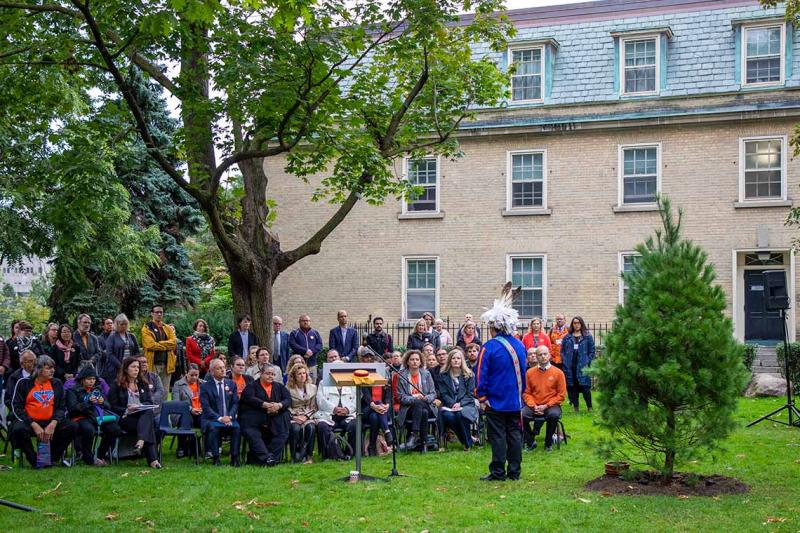 The ceremony marked the ongoing work being done by U of T and its Truth and Reconciliation Commission steering committee (all photos by Lisa Lightbourn)
---
The Eastern white pine planted in Sir Daniel's Quad at University College is a tree rich in symbolism and importance to the University of Toronto's Indigenous community and so to the entire University.
U of T celebrated the tree's planting with a ceremony marking the ongoing work being done by the University and its Truth and Reconciliation Commission (TRC) steering committee. Planting the tree is a response to the TRC's call to dedicate current spaces to the Indigenous experience.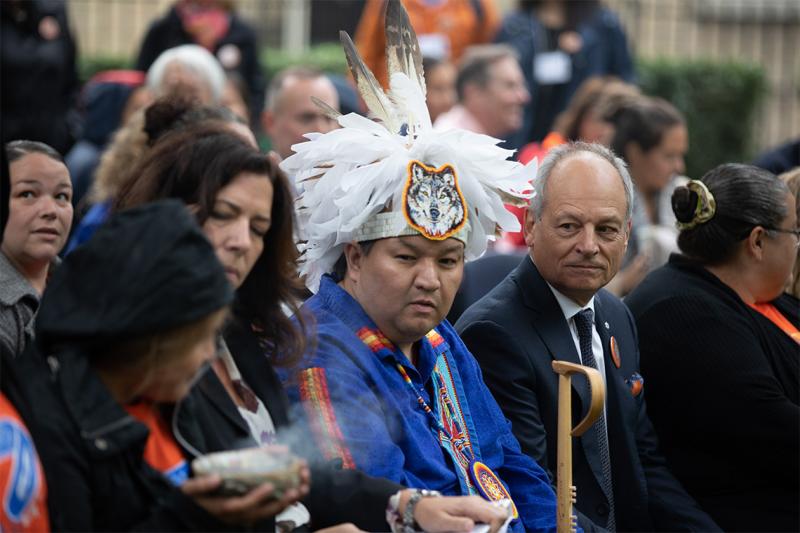 Associate Professor Susan Hill, who was recently appointed academic adviser on Indigenous curriculum and education to the vice-president and provost, told the ceremony that the white pine is a symbol of Indigenous knowledge and medicine – and also a reminder that, as stewards, we have a responsibility to take care of our environment and planet.
"I'm so happy that the University of Toronto is really acknowledging that the primary base of knowledge in this place is Indigenous"
"Here, at the University, our goal is to pursue knowledge and what I'm so happy to get to witness is that the University of Toronto is really acknowledging that the primary base of knowledge in this place is Indigenous," said Hill, who said she was honoured by the presence of survivors and Elders in attendance.
"We have a lot of work to do here, but I'm happy to have the opportunity to work with people inside the University and beyond."
U of T President Meric Gertler linked the tree planting to the ongoing process of reconciliation. "As the University of Toronto continues to build on the excellent work of our TRC steering committee, it's important that we pause to reflect on our progress, but also to rededicate ourselves to the work, the important work that lies ahead," he said.
"This morning's tree-planting ceremony affords us a wonderful opportunity to do so, with its very apt symbolism of putting down roots and its promise of future growth."
Faculty, staff and students from across the three campuses joined Indigenous members at the ceremony – with many passersby joining in.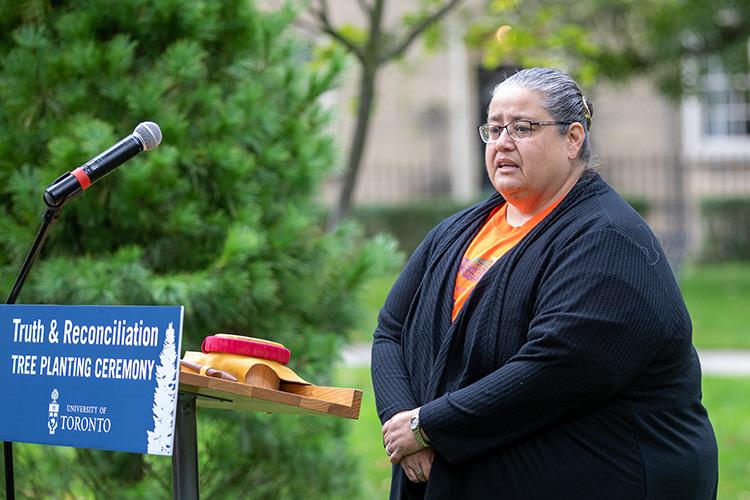 Kelly Hannah-Moffat (MA 1992, PhD 1997), vice-president of human resources and equity, welcomed the gathering and recited the land acknowledgement. 
"This tree symbolizes our commitment to continuing the healing process and serves as a reminder of our roles in this collective journey towards reconciliation," she said.
Skahendowaneh Swamp, chair of Indigenous knowledge at the Chanie Wenjack School for Indigenous Studies at Trent University and a Wolf Clan Faith Keeper of the Mohawk Nation, recited the Thanksgiving address to mark the beginning of the ceremony – one that offers gratitude to all of creation and gives thanks to the Earth. He also shared, while carrying a Condolence Cane that symbolizes unity for many First Nations of different regions, a story about the Peacemaker, which his family has been sharing at similar ceremonies for years.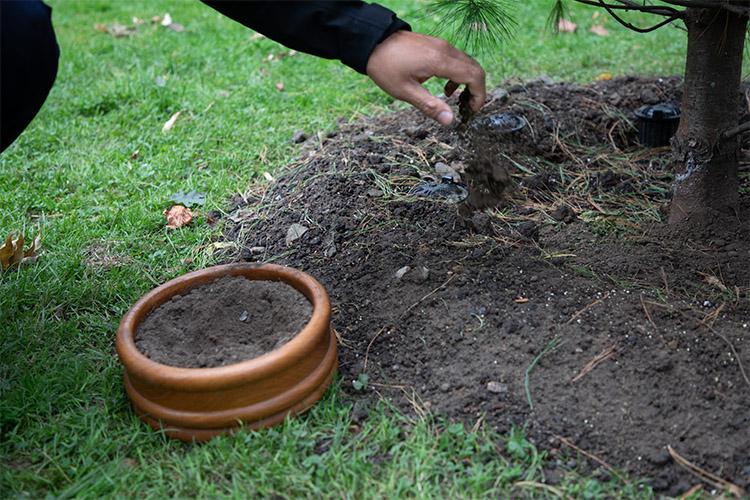 The story addressed a time of great darkness for Haudenosaunee Peoples – warfare, murder and violence – when the Peacemaker brought three teachings to the Earth: peace, a good mind and strength. These teachings, Swamp said, help us to understand how to respect, love and welcome one another. The Peacemaker story, he added, reminds us to be thankful and to treat each other as family – that all of creation is also our family.
Swamp's family sang a traditional Haudenosaunee song and Amasena (Emma) Delormier, an Indigenous studies and philosophy student at University College and the Crane and governance leader for U of T's Indigenous Students' Association, prepared and placed tobacco at the base of the tree. President Gertler and others were invited to take a handful of soil and place it over the tobacco to be buried with the tree.  
"The Peacemaker story reminds us to treat each other as family – that all of creation is also our family"
Swamp, speaking with U of T News after the ceremony, noted that there is so much more to the story, but sharing it is important to him as a Knowledge Keeper and as a parent. He heard these stories as a child and a "seed was planted," he said.
"I feel like, as I began to grow older, that the seed – similarly to how I mentioned how the tree was a sapling – it starts to mature, it takes hold and you start to become an embodiment of those experiences," said Swamp, whose wife and children were in attendance. "I find myself walking this path that was shown to me as a child and, without realizing it, they laid out a path for me and, unknowingly, I ended up following it.
"I wanted my children to come out and experience these same things so that maybe, some day, they will be walking this path and they're going to be the ones continuing on, carrying on these instructions."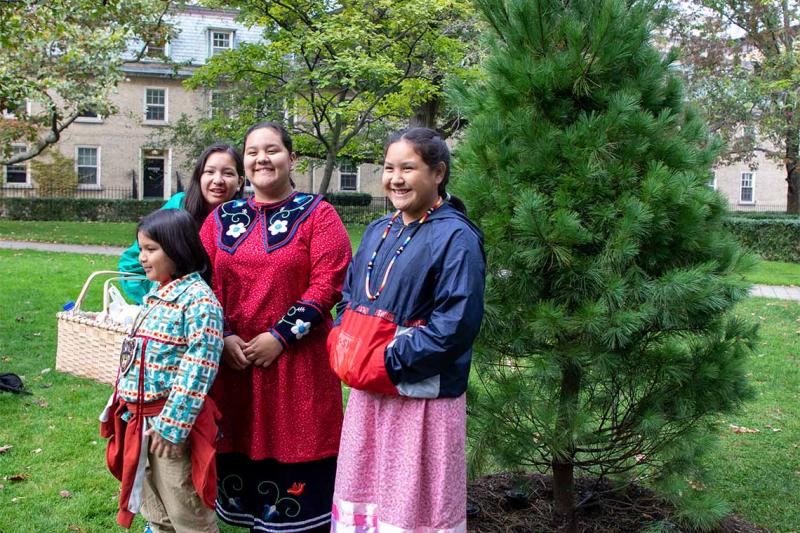 James Bird (BA 2018 UC), a master's student at the Daniels Faculty of Architecture, Landscape, and Design, said he was delighted to experience the tree-planting ceremony. Bird, a Knowledge Keeper from the Nehiyawak Nation and Dene Nation in the Northwest Territories, came to U of T after spending nearly 30 years as a carpenter and journeyman.
"Education was an opportunity for me to heal. It gives me a lot of hope when I see ceremonies like this"
A survivor of residential schools, Bird said his path to education and U of T has been about restoration. "Education was an opportunity for me to heal from that process," said Bird, who now sits on U of T's TRC steering committee.
To be witness to this tree-planting ceremony makes Bird feel "hopeful" for achieving reconciliation.
"When I see that tree in the ground, the Elders, the ceremony, it gives me a lot of hope – not just for the school, but for the country, when I see ceremonies like this," he said.