From Parliament Hill to Kim's Convenience, prominent Canadians congratulate U of T's class of 2020
By Sharmeen Abedi
Clockwise from top left: James Makokis (MHSc 2006), a participant in the reality television show The Amazing Race Canada, Governor General Julie Payette (MASc 1990, Hon DSc 2001), actor Paul Sun-Hyung Lee and Prime Minister Justin Trudeau were among those who congratulated the Class of 2020
---
Several prominent Canadians – from senior government officials to reality TV personalities – have extended their congratulations to U of T's graduates, noting the significance of their achievement amid the COVID-19 pandemic.
Governor General Julie Payette (MASc 1990, Hon DSc 2001), a U of T alumna, paid regard to the extraordinary circumstances in her congratulatory message to U of T's class of 2020.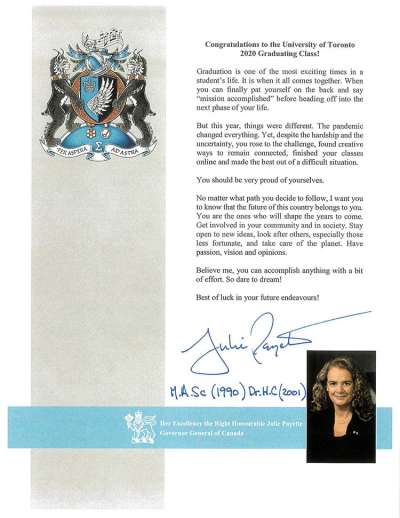 She pointed out the hardship and uncertainty faced by the graduating class, who "rose to the challenge, found creative ways to remain connected, finished classes online and made the best out of a difficult situation."
Payette attended U of T as a graduate student from 1988 to 1990. She told the 2020 class that they were the future of the country and urged them to get involved in their community and society.
"Stay open to new ideas, look after others, especially those less fortunate, and take care of the planet," she wrote in her message, a version of which also went to other schools.
"Have passion, vision and opinions."   
With restrictions on large gatherings during the pandemic, U of T held a virtual convocation ceremony for the first time in its 193-year history. On June 2, more than 15,000 graduates, hailing from 100 different countries, including Canada, received their degrees in absentia – and tuned in from around the world to be part of the shared moment.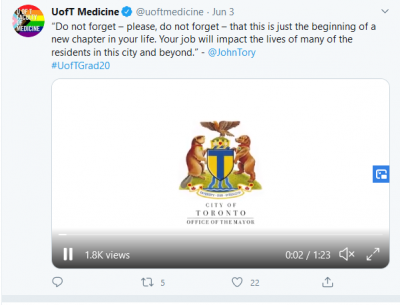 Payette wasn't the only senior government official to reach out to U of T grads in recent weeks. Prime Minister Justin Trudeau congratulated U of T's Faculty of Medicine 2020 class in a video address in which he spoke about the gravity of the current situation and told graduates "you will face one of the greatest challenges of our time."
While Trudeau noted that the last two months have not gone by as expected, he told the graduates "it is still your moment."
Mayor John Tory (BA 1975 TRIN) also congratulated the faculty's graduates, saying in a video that "all 260 of you are joining the ranks of some of the most vital workers in our country."
Alumni show their pride in the Class of 2020
Well wishes and words of encouragement also poured in from U of T alumni.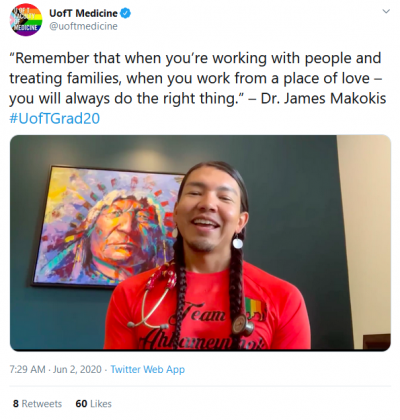 James Makokis (MHSc 2006), a participant in the reality television show The Amazing Race Canada and a physician who works with the trans community and two-spirit people, reached out to stress the importance of love and acceptance.
"Remember that when you're working with people and treating families, when you work from a place of love – you will always do the right thing," he said. 
Makokis is a member of the Saddle Lake Cree Nation and has worked within his community. He received a Master in Public Health from U of T in 2006, and then went on to attend medical school.
Other distinguished alumni who congratulated U of T's 2020 class include Ed Clark (BA 1969 UC, Hon LLD 2012), the former CEO of TD Bank, and Bill Davis (BA 1951 UC, Hon LLD 1967), the former premier of Ontario.
Mississauga Mayor Bonnie Crombie (BA 1982 SMC), a graduate of St. Michael's College, praised grads for making it through despite the limitations brought on by the pandemic.
 "This is a huge milestone, and you should all be very proud of yourselves," Crombie said before highlighting the role played by faculty and staff.
 "I would also like to say a special thank you to the teachers, professors, and the staff who adapted their teaching styles and pushed through the school year."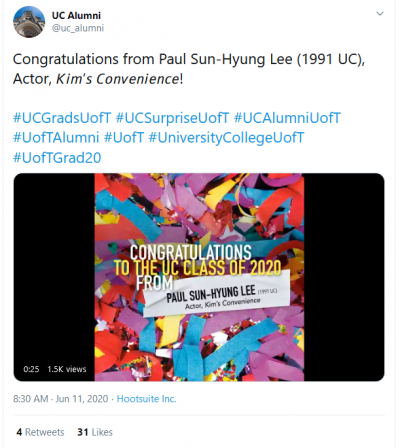 Kim's Convenience actor Paul Sun-Hyung Lee, who attended University College in 1991, noted the extraordinary circumstances in his congratulations to the University College 2020 class.
In his video message posted on Twitter, Lee said, "it gives me great pleasure to congratulate you, the 2020 class of University College, on your graduation."
He also noted that graduation is the brightest part of the year and ended his message by reminding grads to "take care of yourself, wash your hands – and stop touching your face."
---
VIRTUAL HUGS FOR THE CLASS OF 2020
Congratulations 2020 graduate! Your new alumni community welcomes you with open arms.
Your relationship with U of T doesn't have to end with graduation. It's actually a lifetime resource of ideas, networks, connections and support.