Alumni-founded company Cast Connex collaborates to build world's largest sphere
By Phill Snel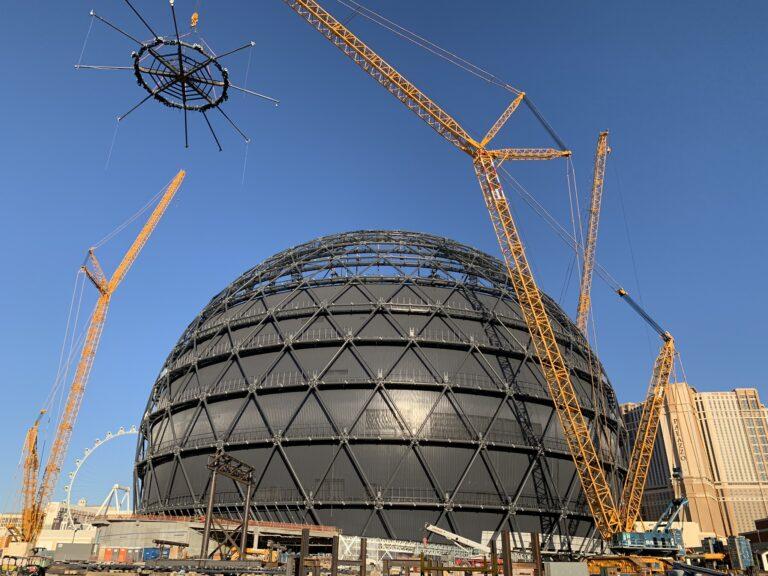 The top of the MSG Sphere at The Venetian is lifted into place in Las Vegas. The Madison Square Garden Entertainment Corp. project, including collaboration with Cast Connex to create 368 cast steel nodes and nearly 10,000 Diablo Bolted Splices, is the world's largest sphere. (Courtesy Cast Connex)
---
A 366-feet-tall (111 metres) sphere is gaining attention as it quickly becomes a noticeable part of the Las Vegas skyline. The construction of the largest sphere on Earth involves U of T Engineering alumni from the Department of Civil & Mineral Engineering, who played an integral role in the design and construction of the exosphere for this enormous and complex undertaking.
The co-founders of Cast Connex Corporation, President and CEO Carlos de Oliveira (MASc 2006) and Executive Vice-President Michael Gray (BASc 2005, PhD 2012), sat down virtually to chat about the project, sharing perspective on its scope and objectives.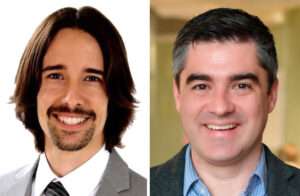 The MSG Sphere at The Venetian, a Madison Square Garden Entertainment Corp. project, is scheduled to open late 2023. "It has developed an entirely new way of sharing and creating media," offers de Oliveira. "The Sphere being constructed in Las Vegas is the first of what they suggest will be many to be built worldwide."
It is to be the most technologically advanced entertainment venue ever built; with surrounding screens completely enveloping both exterior and interior surfaces. Covering about 580,000 square feet of LED panels, it will be the largest LED screen in existence. An astoundingly detail-rich 14K uninterrupted interior screen will give visitors a sensory-laden experience.
"It's a complete wrap-around 14K ultra-high resolution LED screen. Everywhere you look is an immersive surface – everyone will be completely enveloped in the show," expresses de Oliveira. "Additionally, they will have audio technologies that will enable incredible control of audio perception of everyone in this venue."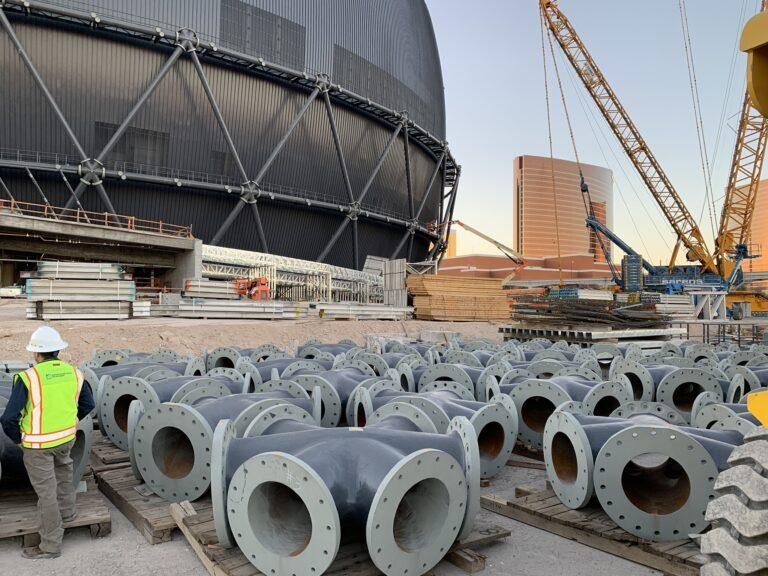 The ability to divide audio feeds to various audience areas, via its 164,000 speakers, will allow for the tailoring of specific content. Astoundingly, different groups could be seated quite close to each other but not experience interference from the other's custom audio feed. Explains de Oliveira, "In other words, they could have a block of seats over here with someone speaking in English and another block of seats, just a few seats over, hearing a different language."
Getting to the technical aspects of constructing the sphere, Gray says, "The outside of the Sphere is also covered with an LED array, so they can project anything onto it. If you're going to have the world's biggest curved screen on the inside and the outside, then it needs to be dimensionally controlled. All of the LED panels have to match exactly, and the only way the constructors could figure out how to reliably pull this off was to come to Cast Connex."
"The build is created with unique cast nodes at every location, so the constructor can just put straight members between, locking in the proper geometry," continues Gray. In all, some 368 cast steel nodes, fitting like X-intersections in the design, are being used in the exosphere.
Giving scope to the immense project, Toronto's Ontario Place Cinesphere, a 35 m (115 ft) wide dome with seating for up to 614, would fit many, many times over inside the MSG Sphere. For some perspective, the new venue will have 17,500 permanent seats, with an additional 2,500 retractable seats, bringing maximum seating capacity to 20,000.
Cast Connex has a U of T origin story
A chance meeting, while both Gray and de Oliveira were on a work term, led to them both attending U of T, working together, then founding their company. While student work colleagues, Gray persuaded de Oliveira to not pursue graduate studies at a U.S. institution but choose U of T instead. He raved about the professors and CivMin's resources, especially the Structures Lab.
"With my research we were looking at the use of steel castings to simplify the fabrication and improve the performance of seismic resistant connections for steel structures; particularly bracing connections," recounts de Oliveira. While he completed his MASc in 2006, it was suggested to him his research continue with, ironically, someone who was already a friend, "We found a perfect student to continue your work. His name is Michael Gray and he's really intelligent."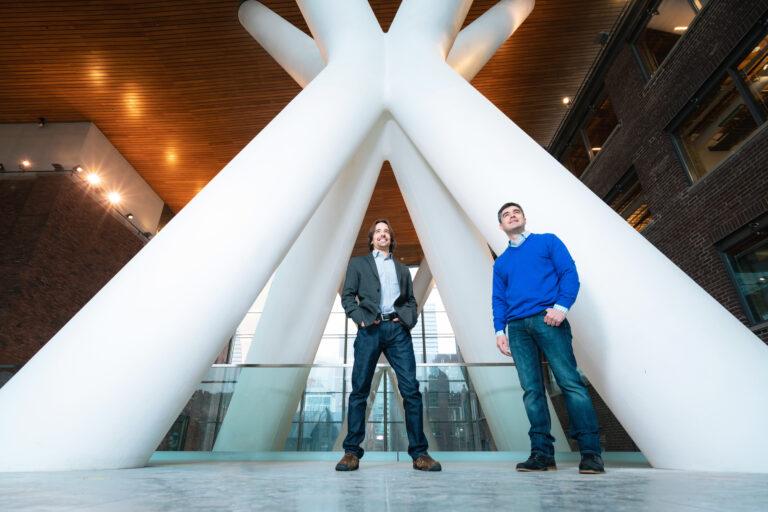 Gray was persuaded to move on from his MASc thesis and go directly to a PhD with this work. "Michael's research continued to establish and broaden our understanding of casting manufacturing and to improve the performance of connections and structures that have to resist earthquakes," says de Oliveira. The work proved so demonstrably effective, their thesis supervisors suggested the methods were patentable. With this encouragement, provisional patents were filed and a fledgling new niche industry was created.
The pair had not originally thought to strike out on their own, thinking their work might be something woven into roles at larger companies.
"A key part of our success was the founding of Cast Connex to be the vehicle to commercialize our technologies," de Oliveira recounts, "and that action was linked to my having been selected for a Heffernan Commercialization Fellowship at U of T. It provides a sum to cover costs over two years to help a grad student develop a business plan. If not for this grant, I don't think we would have really taken that big step; this was a big part of getting the momentum to create the business and start growing it."
Cast Connex, spawned from collaboration at U of T, continues to forge strong bonds with CivMin research. Ongoing relationships with past Professors Constantin Christopoulos, Oh-Sung Kwon and Jeffrey Packer have led to long-term collaborations in research too. Current PhD candidate Pedram Mortazavi has continued the work on cast steel replaceable links with eccentrically braced frames (EBF).
The company continues to employ many U of T Engineering alumni, with five in the Toronto office of ten employees.
Asked if the Sphere project is in metric, as most Canadian and international designs might be, the reply from de Oliveira brings a humorous, but diplomatic response, "This project is entirely designed in U.S. Standard, even inches, but it's okay … we're bilingual."
Originally published by the Department of Civil & Mineral Engineering