Atefeh Mohammadi wins 2022 Three Minute Thesis: could a watermelon compound help babies with lung disease?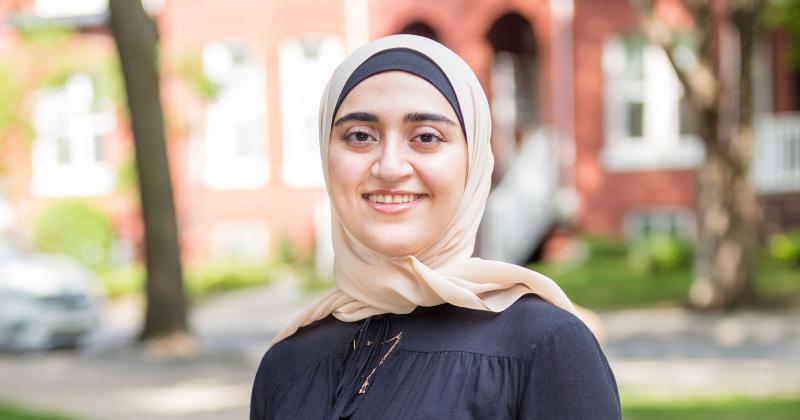 ---
As an undergraduate student, Atefeh Mohammadi (BSc 2019 WDW) used to attend the Three Minute Thesis (3MT) competition with a friend – "for funsies," she says with a laugh – and watch in awe as the competing graduate students tried to present their research in just three minutes. "I thought it was so fun and so cool," she says, "and of course, so challenging."
At the time, Mohammadi wasn't sure she wanted to pursue a graduate degree, or if she even liked research very much. But earlier this month, the second-year MSc student from the Temerty Faculty of Medicine's department of Laboratory Medicine and Pathobiology placed first in U of T's 3MT final, taking home the top prize at the annual competition for her presentation on neonatal lung disease.
It's every grad student's dream to get a platform to talk about what you do. I believe everyone should make their research accessible.
"It's every grad student's dream to get a platform to talk about what you do," she says about her decision to enter this year's competition. "And the other thing is that I love science communication. I believe very strongly that everyone should make their research accessible to the public. What's the point of doing what you're doing and arriving at your findings if you're not going to communicate that to the people who can use them?"
Mohammadi was one of nine finalists in this year's competition, which challenges participants to present the complexities of their research to a generalist audience in just three minutes, using only one static slide. The global higher-education event has been one of the signature programs of the Centre for Graduate Professional Development since 2013 and encourages graduate-student researchers to develop their public engagement skills.
Judges assess the presentations for clarity, comprehension, and engagement, rather than the quality of the research. The winner of the U of T final receives a $1000 cash prize, as well as the opportunity to compete in the Ontario-wide final featuring winners from other universities in the province.
Could a compound found in watermelon help premature babies with lung disease?
Mohammadi's presentation focused on how citrulline, a compound occurring naturally in watermelons, can help treat bronchopulmonary dysplasia (BPD) – a common lung disease in premature babies that causes tissue damage in the grape-like alveoli (air sacs) of the lungs. Existing courses of treatment for BPD produce inconsistent results and have many side effects. But if Atefeh can confirm that the substance does indeed help alveolar cells (specifically, the Type I cells) fight off inflammation, her findings may pave the way forward to a safe and inexpensive treatment.
As with her research protocol, the hardest thing about the 3MT was figuring out where to start. She admits that she "had no idea" what she was doing for the first round, and worried that offering too many details about her work would scare off her audience. But the feedback she received after each round encouraged her to include the details of her research and learn to trust her audience.
There's a real need to break down that barrier between scientists and the general public. Building that trust has become so important.
Finding that balance between scientific sophistication and accessible communication is something Mohammadi considers a lot in the course of her work. For the past three years, she has been a show host as well as the social media and promotions lead for Raw Talk Podcast, a student-led project from the Institute of Medical Science that aims to bring medical science innovation to the general public in an accessible, engaging format.Next year, Atefeh will move into a new role as one of the podcast's executive producers.
(Now in its sixth season, Raw Talk has tackled a variety of topics, ranging from underrepresentation in STEM to refugee health-care in Canada and the science and ethics of organ donation. Did you know? When you use U of T alumni financial services, you get preferred rates and support Raw Talk Podcast.)
A lot of the time, Mohammadi says, she feels like there's a wall with scientists on one side and the public on the other. "But especially now with the pandemic happening and the spread of misinformation, there's a real need to break down that barrier between scientists and the general public. Building that trust has become so important. And social media is where it all happens."
She's also glad to note that senior academics and faculty members are starting to recognize the importance of non-traditional methods for disseminating student research. "For some people, it's a complete shift. In the past, they might have thought it a waste of time – 'You could be doing research instead, or publishing' – but that attitude is changing."
As for other graduate students who might be considering the competition, Mohammadi has no reservations in encouraging them to sign up. "I can't think of a reason why you shouldn't do it!" she exclaims. "3MT will help you understand for yourself the most important aspects of your work, and also what aspects need to be translatable to make its value known. I went into it with no pressure on myself, which I would recommend to everyone. It's the perfect challenge for graduate students."
This year's winners also included Shivam Sharma (Faculty of Dentistry), who won both second place and the People's Choice Award for his presentation on wound-healing in diabetes patients, and Melanie Wheatley (Institute of Forestry and Conservation) who won third place for her presentation on fighting forest fires from the sky.