November 8, 2019 | Alumni
'Anything is possible through passion, perseverance and hard work,' says wheelchair athlete and U of T grad
By Jelena Damjanovic
Erica Gavel (MESc 2019), who graduated this week, became a wheelchair athlete in basketball after tearing the articular cartilage off of her femur and tibia. She doesn't use the wheelchair in her daily life (photo courtesy of Erica Gavel)
---
For Erica Gavel (MESc 2019), earning a master's degree in exercise science at the University of Toronto's Faculty of Kinesiology & Physical Education (KPE) was a labour of love that could end up helping her when she takes part in the 2020 Paralympic Games in Tokyo.
Gavel's research focused on environmental physiology and the 2020 Tokyo Olympic Summer Games. For her project, which was a collaboration between U of T, the Canadian Sport Institute Ontario and Ontario Tech University, she researched and developed a method that could potentially help athletes at the Games deal with hot weather conditions.
"While we were going through the literature, my committee and I came across the menthol mouth rinse," says Gavel. "Essentially, menthol increases activity among the reward centres of the brain and has been shown to translate to an increase in motor output or performance."  
Menthol mouth rinsing has only been used by men, so Gavel and the team of researchers decided to try it with women.
"From an athlete standpoint, this was palatable as menthol can be purchased from the local supermarket, it's low in cost and easy to transport," says Gavel.
"From there, we replicated the 2020 Tokyo Olympic environmental conditions of 30 degrees C, 70 per cent relative humidity and 12 km/h wind speed and used the Olympic time trial distance for females, which is 30 km. Our research showed a 2.3 per cent increase of performance, which is huge from an Olympic placing standpoint— the difference between first and fourth place is 0.88 per cent and the difference between first and eighth place is 2.5 per cent."
Earlier this year, Gavel was recognized with the Own the Podium Dr. Gordon Sleivert Young Investigator Award, given to students committed to performance sciences, research and innovation.
Her award-winning research will benefit Gavel and her teammates on Team Canada's women's wheelchair basketball Paralympic squad
Her research will benefit her personally when she travels to Tokyo for the 2020 Paralympic Games as part of Team Canada's women's wheelchair basketball team. She used to play basketball with the University of Saskatchewan Huskies, but suffered a career-ending injury when she tore the articular cartilage off of her femur and tibia.
"Luckily, my university coach Lisa Thomaidis was also one of the coaches on the Olympic team. It's a little ironic, but I actually called her about my knee while she was coaching at the 2012 London Olympic Games. When she came back, she and a sport scientist, Bruce Craven, encouraged me to get involved with wheelchair basketball. Initially, I thought they were crazy, but we stuck with the process and I made the team."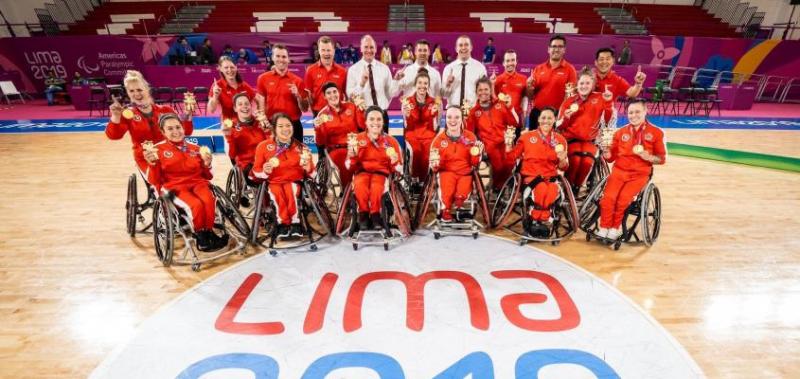 Gavel credits Heather Logan-Sprenger, an assistant professor at the Ontario Tech University and a member of her thesis committee, for showing her the tricks of travelling the world and hitting deadlines.
"She was the best role model and mentor that I could ever ask for," she says of Logan-Sprenger, who earned her PhD while competing on both the national hockey and cycling teams.
"All my mentors inspired me to believe that anything is possible through passion, perseverance and hard work"
"Professor Scott Thomas, my supervisor at KPE, Professor [and Dean] Ira Jacobs, who was a member of my committee, and Michael Frogley, my basketball coach, have also been the most amazing when it comes to accommodating my training and academics. I am so grateful for all of them." 
Gavel is also thankful for the mentorship she received from KPE Assistant Professor Jenna Gillen, who helped her with the research process and was always available to answer questions.
"All of them have inspired me to pursue research and to believe that, just like in sport, anything is possible through passion, perseverance and hard work."

Gavel will next pursue a PhD at the Ontario Tech University and the Canadian Sport Institute Ontario.
"It's pretty funny, but the idea behind my PhD project came from a class assignment I did for Professor Jacob," she says. "Essentially, we're working with an engineer in the development of an ergogenic aid for Paralympic athletes."