October 26, 2019 | Alumni
With alumni support, U of T students build a working Formula One-style car—and get their careers off to a racing start
The Formula SAE competition teaches invaluable hands-on lessons in everything from parts design to project management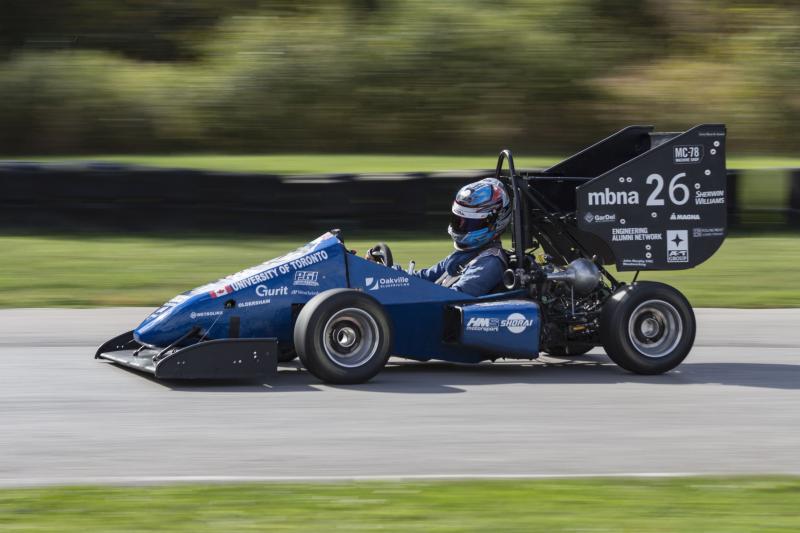 Some students spend their holiday break relaxing. Not the members of the University of Toronto Formula Racing Team. While others were skiing or sipping eggnog, third-year student Jonathan Libby (now in his professional experience year) and his teammates were pulling all-nighters in the machine shop, building car parts they'd designed themselves.
"It's well into thousands of hours," says Libby, who is currently starting his final year at Trinity College, where he majors in computer science. He is also the business lead of the racing team, who design, build and race a Formula One-style car every year in the student Formula SAE competition series.
It takes dedication, smarts, hard work—and a helping hand from alumni who use the U of T MBNA credit card, or insurance from Manulife or TD Insurance. The U of T affinity partners behind these financial offerings for alumni help support the racing team when alumni use their products.
"In terms of design, it's absolutely evolutionary."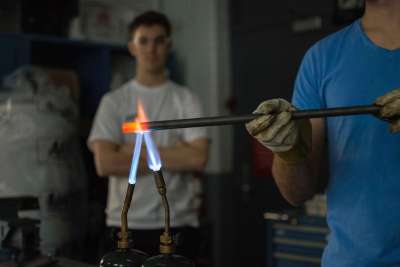 "We like to build things," says Libby. The tight-knit, 20-strong team begins work in July, evaluating last year's performance and deciding on this year's design innovations. "It will be a brand new car physically, but in terms of design, it's absolutely evolutionary," he explains.
Come September, the design is set and the team sends out the requests for the parts to be manufactured by sponsors at a discount or for free. Meanwhile, the students spend the fall and winter constructing the chassis and machining countless smaller parts. "We usually have an actual running car sometime in March," says Libby. He then takes the wheel for eight weeks of testing and tweaking. In May, competition season begins, with their first big event at the Michigan International Speedway.
Did you know? When you use U of T alumni financial services, you get preferred rates and support the Formula SAE team. Learn more
"The alumni who use the affinity financial services contribute a significant piece," says Libby. He's grateful for both the tangible aid and its incredible spinoffs in terms of connections and practical learning. "If I could," he says, "I would thank the alumni for the experience that they have given all of us. I'd thank them for how that's really defined my undergrad degree."
The competitions evaluate racing parameters such as acceleration and performance over time, but also the quality of the design and project management. "We compete in an engineering design evaluation by professional engineers practising in the automotive and racing industries," says Libby. "We also compete in a business plan presentation, for manufacturing and selling a car as if you were starting a company to do it. We came second place out of 100 teams in the business plan this year. That was great!
"Having a major role on the team is a lot like running a small company."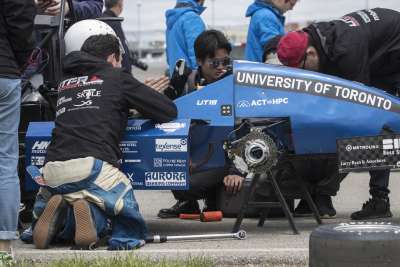 "The most transformative part of it," he adds, "is that having a major role on the team is a lot like running a small company." As business manager, he learned things about finances and people management that helped him land summer jobs, including one with a startup that went on to be acquired.
On the technical side, Libby's engineering colleagues benefit from practical design experiences that can't be conveyed in class. "We see that our students have a very easy time landing placements in their professional experience years, and after they graduate," he says. Fourth-year student Tyler Turnbull did a professional experience year with a NASCAR team last year, and fourth-year student Ben Sprenger is working for a Formula E team in the new electric racing professional series.
"They are just two examples of students who have had opportunities because of their role on the team," says Libby. "Tyler actually met the person who hired him at one of our competitions. That's the kind of exposure to industry professionals that's missed in purely academic settings."
"It's an incredible feeling to watch something develop from on paper to little parts here and there to an entire car."
Tight working bonds between old and new members is a must for the racing team, because each year's designers build on the work of previous years. These relationships continue even after graduation.
Like many, Libby joined the team in his first year. "I always had an interest in cars and racing," he says. "When I saw the car out on Front Campus at Orientation, I immediately went over and started chatting with the team. I spent a whole lot of time in first year getting involved."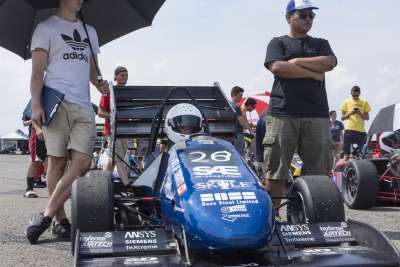 Libby says recruiting first years and ensuring strong relationships with them means that by the time they graduate, their friends from the team are already well established in their careers and can connect them to opportunities. "We also have alumni from many years ago who continue to be part of the community. For example, one alumnus has been at Toyota for 10 or 12 years, and a fourth-year students is now doing a professional experience year at Toyota thanks to him."
Alumni who use U of T financial services support a complete package for these students: learning, experience, achievement, and a leg up into an impactful career. As climate change forces us to rethink our transport systems, and self-driving and electric vehicles hit the road, these students will be on the cutting edge of the next innovations.
"It's an incredible feeling to watch something develop from on paper to little parts here and there to an entire car," laughs Libby. "You've made it happen, but it's still pretty incredible to see just how far you've come. And then when you hop in the car and drive it… that is something else altogether."
---
U of T's Formula SAE team couldn't operate without alumni support.
When alumni use financial services from Manulife, MBNA and TD Insurance, these affinity partners give a portion of the proceeds to U of T's Formula Racing Team and dozens of other U of T student and alumni initiatives every year. Plus, alumni receive great preferred rates negotiated by U of T.