Alumni Reunion welcomes thousands of U of T grads back to campus
U of T's biggest annual alumni gathering was a record-breaking success, welcoming thousands of graduates back to campus to celebrate their university days, reconnect with old classmates, and create new friendships and memories. This year, over 10,000 alumni and guests registered to attend more than 130 flagship and divisional events across each of our three campuses.
Alumni Reunion kicked off with a splash with a sold-out event at Ripley's Aquarium. More than 1,000 young alumni had exclusive access to the aquarium for an evening of mixing, mingling and getting up close and personal with 20,000 aquatic animals. The party also featured a DJ, food stations and all the exhibits Ripley's has to offer, including live interactive dive shows.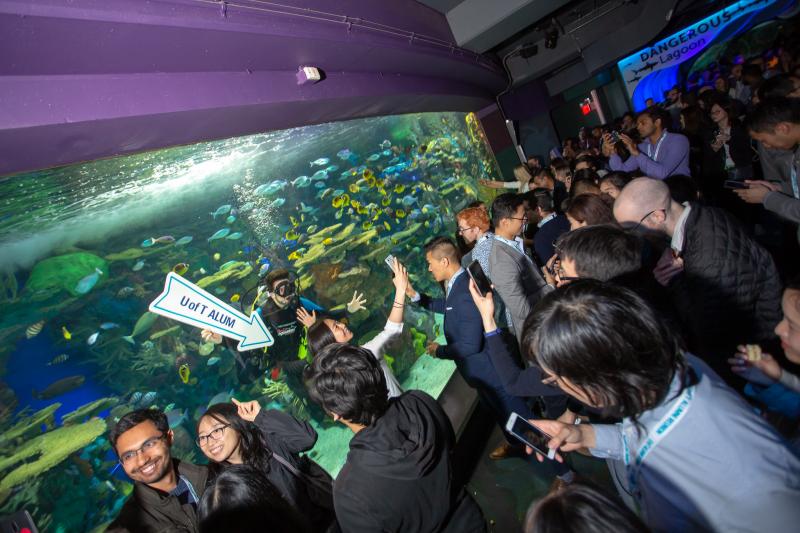 President Meric Gertler was on hand Thursday night to welcome alumni and friends to the LGBTQ+ Spring Soirée, the University's annual kickoff to Pride month. "One of the ways to increase visibility and diversity on campus is to come together and celebrate nights such as this one," Gertler said to the sold-out crowd at Kōst—located on the 44th floor of the Bisha Hotel. "As the LGBTQ+ community has demonstrated time and again, celebration can also be a political statement."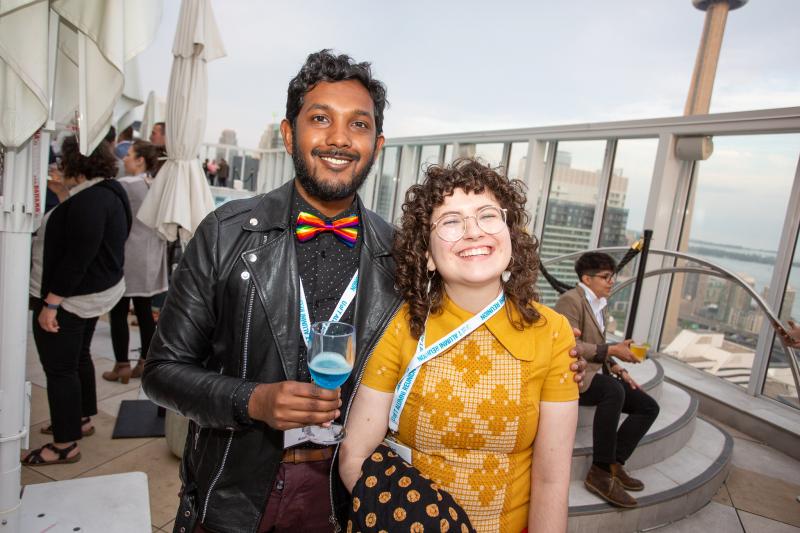 The 50th Anniversary Ceremony and the Chancellor's Breakfast for 55th to 80th Anniversaries were particularly memorable occasions this year. The Chancellor's Breakfast was held in the Great Hall of Hart House, which is celebrating its 100th anniversary in 2019. The launch of the centenary was timed to coincide with Alumni Reunion and included a sold out panel discussion "Echoes of Northrup Frye @ Hart House."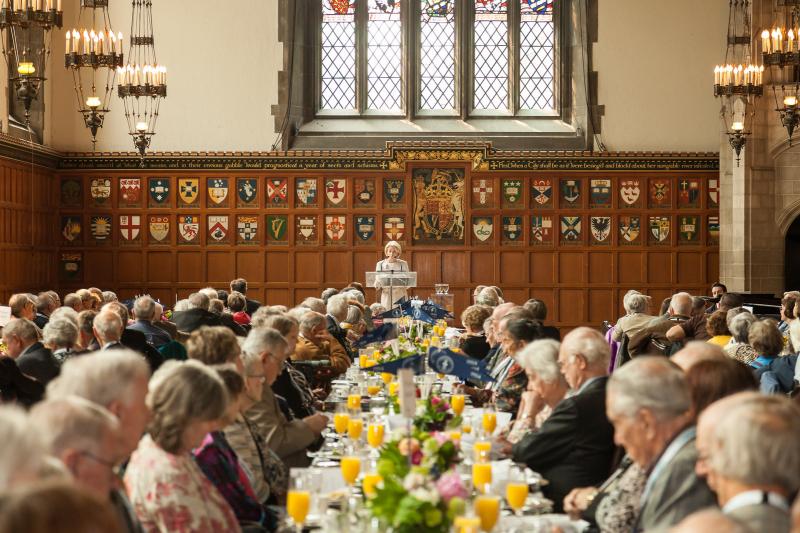 Alumni of all ages eagerly returned to the classroom for the weekend. The Stress-Free Degree Lecture series featured more than 20 engaging talks by noted U of T professors on topics ranging from Ontario's controversial sex ed curriculum to cutting-edge pediatric heart research to the global spread of beer.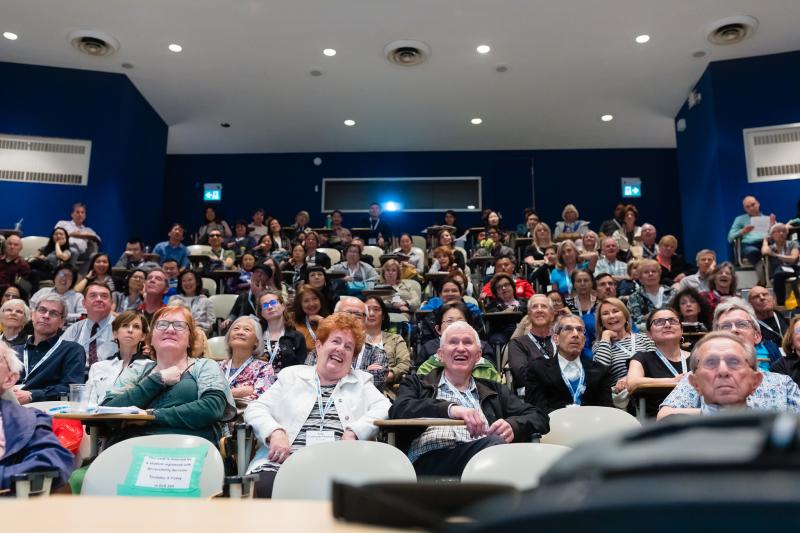 Watch one of our popular Stress-Free Degree Lectures "You're as old as you feel about aging" by Professor Alison Chasteen:
Bright and early on Saturday morning, children and their families paid a visit to more than a dozen destinations around St. George campus. Kids' Passport in hand, intrepid young travellers learned about Indigenous culture, "blasted off" on a guided tour of the solar system, panned for gold, journeyed back to the age of dinosaurs, and much more!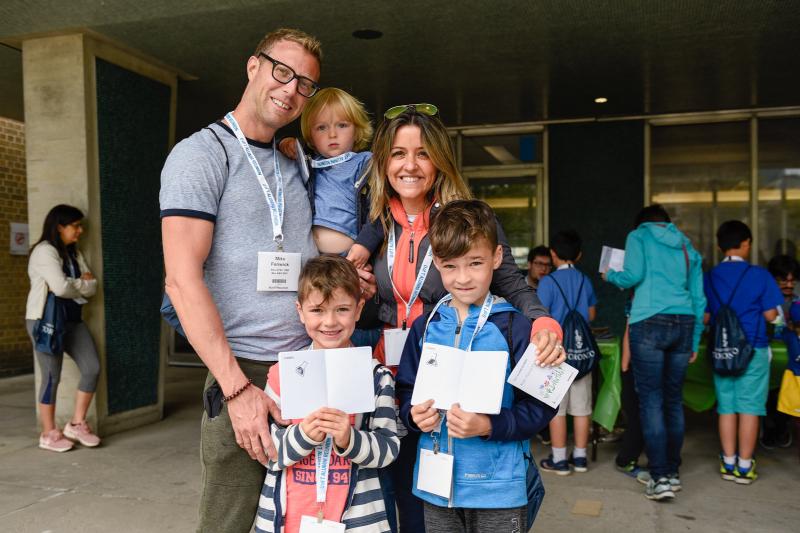 Other weekend highlights included the U of T Alumni Association (UTAA) Annual General Meeting, which featured a keynote address by best-selling author and philosophy professor Mark Kingwell, who asked the timely and thought-provoking question: Should sentient AIs have rights? The meeting included award presentations to Dr. Glen Sharpe, recipient of the Carl Mitchell Award for Community Engagement, as well as Supreme Court Justice, the Honorable Rosalie Abella, winner of the Rose Wolfe Distinguished Alumni Award. Following the AGM, alumni were treated to the annual BBQ and invited to post their most memorable U of T moments to the Alumni Reunion Experiential Wall.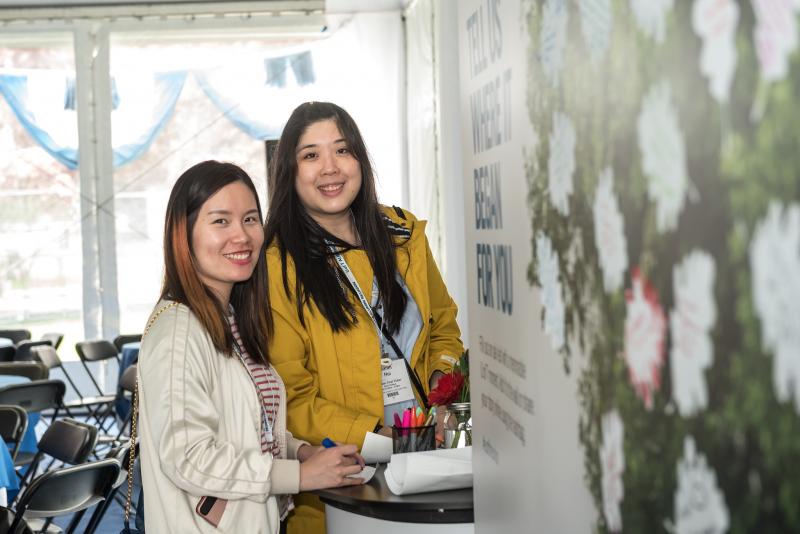 "Alumni Reunion is an opportunity for our graduates to share their stories and reminisce with friends and family," says Barbara Dick, Assistant Vice-President, Alumni Relations. "But this is just part of the experience. Alumni Reunion is also about creating new memories and connections with our community as well as celebrating the impact of our graduates' involvement with U of T today and in the future."   
"Being here is bringing back all sorts of wonderful memories," said Nora Robinson (OT '39), who will celebrate her 100th birthday in July. "When I graduated in 1939, King George and Queen Elizabeth were on campus for convocation. It was very, very exciting! I'm thrilled to be at Alumni Reunion and very honoured to receive my 80th-anniversary medal."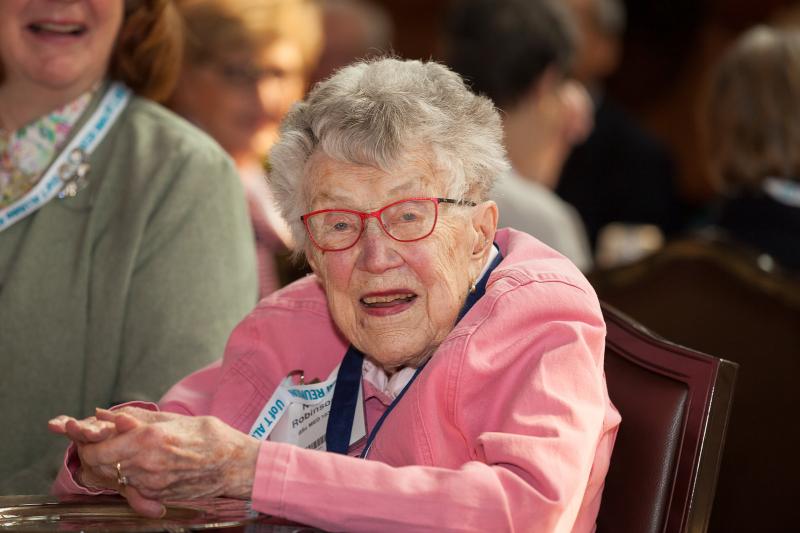 View more event photos from Alumni Reunion 2019.