Faculty of Kinesiology & Physical Education | St. George
U of T Sports Hall of Fame Induction Ceremony
***POSTPONED UNTIL MAY 2021***
Light refreshments provided
Host bar
Business casual
Children welcome!
The health, safety and well-being of our alumni and friends are very important to us. We regret to inform you that owing to the current situation with COVID-19, the U of T Sports Hall of Fame Induction Ceremony has been postponed until May 2021. We look forward to celebrating the 2020 inductees at next year's ceremony.
The University of Toronto Sports Hall of Fame was established in 1987 as part of an ongoing effort to preserve and display the records relating to the outstanding historical tradition of athletic, academic and community leadership fostered by the University of Toronto.

Join the Faculty of Kinesiology and Physical Education on Thursday May 21, 2020 as we salute U of T's outstanding athletic legacy and induct the newest slate of athletes, teams, and builders into the Sports Hall of Fame. The event is hosted in the Goldring Centre for High Performance Sport, a stunning and state-of-the-art athletic facility, which features the digital interactive Hall of Fame display in the atrium.
6 pm - Reception
7 pm - Induction Ceremony
Tickets
Adults: $40
Children 12 and under: Free
2020 Inductees: Free plus one guest (contact Samantha Barr for details)
The U of T Sports Hall of Fame induction ceremony and the production of our permanent interactive display are made possible by the generous support of our donors. Donations to support this proud tradition are encouraged.  Please click here to make your gift.
2020 Inductees
Will be announced and recognized at the ceremony next year. Please note that there will not be second slate of inductees selected for 2021.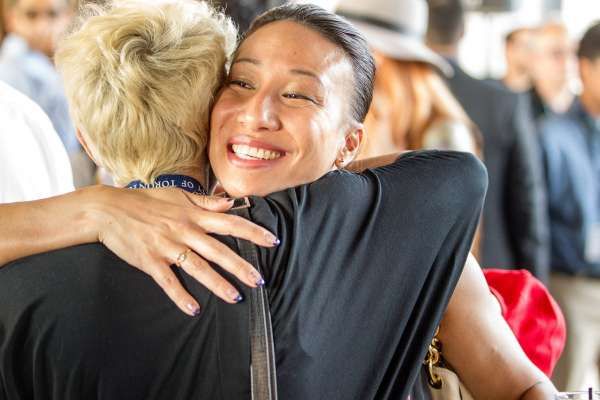 Alumni Reunion
Alumni Reunion
Every year, U of T is proud to honour our alumni. Come reconnect with old friends and make new ones during a weekend of fun events and fascinating lectures.
Visit the website