Faculty of Kinesiology & Physical Education | St. George
U of T Sports Hall of Fame Induction Ceremony
Presented by the T-Holders' Association
Light refreshments provided
Host bar
Business casual
Children welcome!
The University of Toronto Sports Hall of Fame was established in 1987 as part of an ongoing effort to preserve and display the records relating to the outstanding historical tradition of athletic, academic and community leadership fostered by the University of Toronto.

Join the Faculty of Kinesiology and Physical Education on May 23, 2019 as we salute U of T's outstanding athletic legacy and induct the newest slate of athletes, team, and builders into the Sports Hall of Fame. The event is hosted in the Goldring Centre for High Performance Sport, a stunning and state-of-the-art athletic facility, which features the digital interactive Hall of Fame display in the atrium.
6 pm - Reception
7 pm - Induction Ceremony
Tickets
Adults: $40
Children 12 and under: Free
2019 Inductees: Free plus one guest (contact Samantha Barr for details)
The U of T Sports Hall of Fame induction ceremony and the production of our permanent interactive display are made possible by the generous support of our donors. Donations to support this proud tradition are encouraged.  Please click here to make your gift.

2019 Inductees
Builders
James Barton, Administrator
Athletes
Dr. Donna Roach Mathieu, BSc 8T9 NEW, MA 9T4 OISE, PhD 9T8
Volleyball

Jolan Storch, BA 9T2 UC
Volleyball

Karen Spence, BPHE 8T9
Hockey

Brent Elsey, 7T6 TRIN, MD 7T8
Football

Mark Bragagnolo, BA 7T7 SMC
Football

Bill Bewley, BPHE 5T3
Football, Hockey, Squash

James Clayton Snyder, 4T2 TRIN
Badminton, Football

Paul Edward Snyder, 3T9 TRIN
Badminton, Tennis
Teams
1974 Football
Yates Cup Champions

1988-89 Women's Volleyball
OWIAA Champions
 
Planning Your Experience
Hotel Accommodation
The Chelsea Hotel has a special rate available for those interested in attending the Hall of Fame. Click here for booking information.
Parking
Parking is available in the underground lot at the OISE building accessible via 71 Prince Arthur Ave. Alternative parking is available at 1 Bedford Rd.
Directions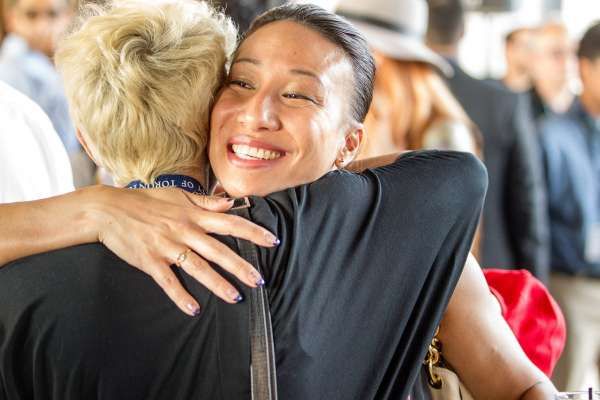 Alumni Reunion
Alumni Reunion
Every year, U of T is proud to honour our alumni. Come reconnect with old friends and make new ones during a weekend of fun events and fascinating lectures.
Visit the website