Indo-Canadian Entrepreneurship Exchange 2021 Speaker Series
Alumni interested in entrepreneurship opportunities across the Indian and Canadian innovation ecosystems are invited to the first session of a four-part speaker series, celebrating the launch of the Indo-Canadian Entrepreneurship Exchange (ICEE) program. ICEE is a partnership between the University of Toronto and the Society for Innovation and Entrepreneurship, IIT Bombay. It will support students and early stage start-up founders to:
Understand the Indo-Canada Business Corridor
Interact with students from the other economy
Meet experts in doing business across the corridor   
---
Panelists:
Arbinder Pal
Trade Commissioner
High Commission of Canada, New Delhi
Arbinder Pal (B.Com Accounting, University of Mumbai; MBA Aviation, Concordia University Montreal) is a business development professional with over eighteen years of experience in developing international businesses and driving marketing & sales in Canada, India and USA. She has cross-sectoral experience in aviation, transport, supply chain, digital industries, education and government affairs. Currently she is a Trade Commissioner with the High Commission of Canada in New Delhi and is responsible for Infrastructure and institutional investments.
Devashish Sharma
Country Head (India)
Wattpad
Devashish is the Country Head for Wattpad – a global entertainment company with over 90 million monthly users around the world. Originally from India, Dev is a Computer Engineering graduate from University of Waterloo and an alumnus of the prestigious Next36 Program. His professional experience ranges across diverse technology companies in North America and India. Outside of work, Dev loves to engage in the entrepreneurial ecosystem as a mentor and investor.
Devdatt Shah
Investor and Advisor
Unicorn India Ventures
Devdatt Shah is an early-stage investor, board member and mentor to startups with scale-up potential in emerging markets. Shah has worked in investment banking for over 25 years in firms based in New York, London, Toronto, Singapore, and Mumbai. He has held senior-level positions with Brookfield Asset Management, ICICI Securities, and J.P. Morgan. Shah also co-founded Cindus Advisors to develop and invest in business ventures between Canada and India and is currently a volunteer advisor for startups at MaRS and a mentor for IIT alumni.
Ajay Ramasubramaniam
Co-founder and CEO
Startup Réseau 
Ajay Ramasubramaniam is a seasoned executive with 16 years of experience in setting up, operating, and growing businesses, across diverse geographies such as East Africa, Canada, India and Vietnam. Currently, Co-Founder & CEO of Startup Réseau, Ajay has been active in the Indian startup ecosystem for the past 8 years and has built India's top meta startup accelerator – through which he has set up over 30 corporate accelerator and innovation programs.  In the past, Ajay has led the India business for a Canadian ed-tech startup, as well as represented the Canadian Government in India for 5 years.
Terrie Romano (Moderator)
Senior Advisor
National Research Council of Canada
Dr. Terrie Romano is Senior Advisor, International Relations, at the National Research Council Canada, supporting excellence in research and innovation. A former Director of Ontario's International Missions Secretariat, Dr. Romano was stationed in India for two and a half years as the government of Ontario's representative, heading offices in New Delhi and Mumbai. Dr. Romano also spent a decade in Germany, leading the Ontario office in Munich. In her roles Dr. Romano led teams representing Ontario's trade and investment interests by attracting investments, generating new business opportunities for Ontario companies, fostering research collaboration and raising Ontario's profile. Fluent in English, French, German, and Italian, Dr. Romano holds an M.A. from the University of Toronto and a Ph.D. from Yale University.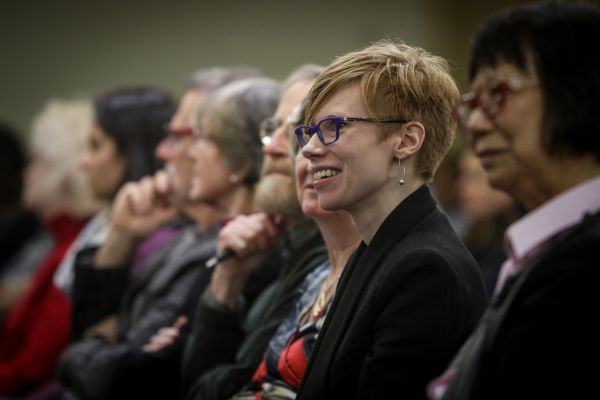 U of T Where You Are
U of T Where You Are
U of T's popular lecture series comes to where you live and work, in cities around the world. Stay informed, get inspired!
More about this lecture series