The Rose Wolfe Distinguished Alumni Award
about
About the Award
The Rose Wolfe Distinguished Alumni Award recognizes exceptional individuals who demonstrate outstanding achievement in their professional lives, dedication to civic, charitable and social causes, and extraordinary service to the University of Toronto, in a way that enables or inspires others to reach their full potential.
This award is among the highest honours the University of Toronto and the University of Toronto Alumni Association bestow on individuals whose extraordinary contributions and achievements embody the values and principles championed by Dr. Rose Wolfe and the ideals of the University of Toronto.
The nomination process will open annually in the fall and close in early December. This year's nomination deadline is listed below. Note that the nomination deadline will be determined on an annual basis and may vary from year-to-year. One award winner will be selected from among the pool of candidates and will be announced on this website in the spring.
bio
About Dr. Rose Wolfe
The award is named for Dr. Rose Wolfe who served as Chancellor of the University of Toronto from 1991 to 1997.  She was a two-time U of T graduate (BA 1939 UC, Diploma in Social Work 1940) and an exemplary volunteer for the University she dearly loved. In addition to her contributions to U of T, Dr. Wolfe was active in many community organizations including serving as Officer of the Canadian Jewish Congress, and serving on the board of Mt. Sinai Hospital and the McMichael Canadian Art Gallery. 
Throughout her life, Dr. Wolfe was honoured with many awards for her achievements.  Her strength of character and determination, together with her enquiring mind and sense of humour, enabled her to meet people from all walks of life and put them at ease.  She used these attributes to improve the quality of life in the community around her and to inspire others to reach their full potential. 
By creating this award in her honour, the UTAA ensures that the values and principles that guided Dr. Wolfe's work and remarkable volunteer contributions continue to be valued and recognized in U of T alumni.
recipients
Award Recipients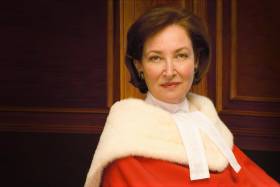 2019: ROSALIE ABELLA
Supreme Court Justice Rosalie Abella (BA 1967 UC, LLB 1970, Hon LLD 1990) is a leading voice for equality and human rights whose groundbreaking work has influenced jurists and helped vulnerable groups across Canada and internationally.
nominate
Nominate An Outstanding Community Volunteer
The Selection Committee for the Rose Wolfe Distinguished Alumni Award will select one award recipient from among the pool of candidates received. Please see below for information on the selection and eligibility criteria, as well guidelines on what to include in your nomination package.
Complete packages should be received by the selection committee via email at RoseWolfeAward@utoronto.ca by the nomination deadline. The deadline for nominations is Monday, December 2, 2019. Late nominations will not be accepted.