October 8, 2019 | Volunteer & Awards
Human rights champion Rosalie Abella wins the Rose Wolfe Distinguished Alumni Award
Justice Abella honoured by U of T and UTAA for 'unwavering commitment to human rights and equality'
By Richard Blackwell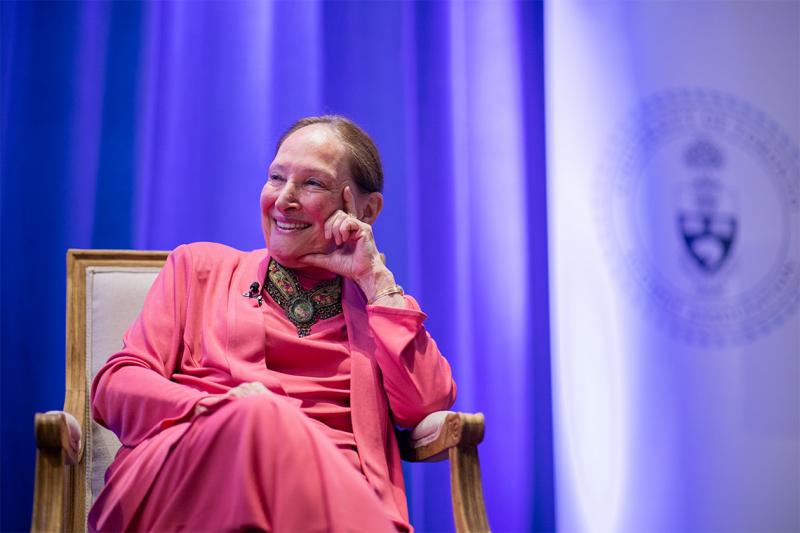 Supreme Court Justice Rosalie Abella on stage at the Jackman Law Building: U of T, she said, "allowed me as a young woman to luxuriate in the prospect that anything was possible" (all photos by Nick Iwanyshyn)
 

Supreme Court Justice Rosalie Abella (BA 1967 UC, LLB 1970, Hon LLC 1990), a champion of human rights and social justice, was presented with the Rose Wolfe Distinguished Alumni Award for 2019 at a heartfelt ceremony witnessed by about 200 of her friends, colleagues and family.

Abella, a University of Toronto alumna who has served for 15 years on Canada's highest court, is an expert on equality and discrimination who has been instrumental in extending legal protection to women, refugees and same-sex couples.

The presentation of the award was made in a venue that was named in honour of the judge herself – the Rosalie Silberman Abella Moot Court Room and Atrium in the Jackman Law Building. Before the ceremony, Abella visited with about two dozen law students at an informal reception, answering their questions and chatting about legal issues and principles.
At the formal presentation, U of T President Meric Gertler noted that the award – named after Rose Wolfe (BA 1938 UC DCSW 1939, Hon LLD 1998, Hon DSacLt 1998 TRIN), the late chancellor who served from 1991 to 1997 – is presented to "the U of T graduate who stands out for their professional achievements, dedication to charitable and social causes, and service to the university."
President Gertler said that Wolfe "will always be remembered for her generosity and compassion, as well as her deep commitment to education, the arts and social justice," and "there are few people who embody these values more fully than Justice Rosalie Abella."

Abella "is a passionate champion of human rights for all, including those who may be marginalized by public opinion or majority rule," President Gertler said. Her public service "has made an impact across the country and indeed on jurisprudence around the world. Her life and work are an inspiration to all of us."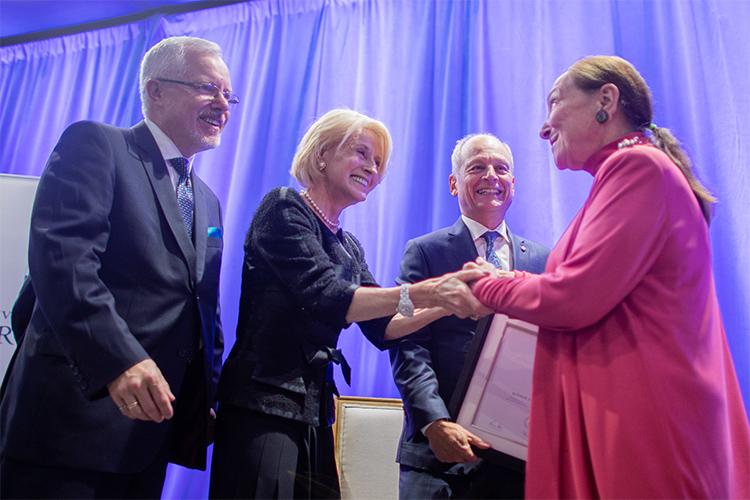 Abella was born in a Displaced Persons camp in Germany in 1946, and came to Canada as a refugee in 1950. She graduated from University College in 1967 and received her law degree from U of T in 1970. She then practised civil and criminal law and was appointed a Family Court judge at the age of 29. She was named to the Ontario Court of Appeal in 1992, and was appointed to the Supreme Court in 2004.

Tye Farrow (BArch 1987), president of the U of T Alumni Association, noted that Abella has held many key positions over her long career, including chair of the Ontario Law Reform Commission and chair of the Ontario Labour Relations Board. He pointed out that she was also the first sitting judge to be elected as a fellow of the Royal Society of Canada, has received 39 honorary degrees and is a graduate of the Royal Conservatory of Music in classical piano.

Overall, Farrow said, "her impact on the Canadian legal system, and her unwavering commitment to human rights and equality, is extraordinary, as is her profound humanity."
He told her the Alumni Association "is very honoured for this opportunity to recognize your outstanding contributions to the University of Toronto, Canada, and in fact, the world."  
In accepting the award, Abella praised U of T as "home," saying the University "allowed me as a young woman to luxuriate in the prospect that anything was possible." She and her fellow students, she said, "all believed in the perfectibility of the human condition...absolutely nothing felt beyond remedial attention. Over all, "we genuinely believed that the joint application of talent and hard work would open any door.
"We graduated positive, hopeful, feisty and somewhat ingenuous."
Watch Justice Abella's acceptance speech:

When she started practising law in the early 1970s, she said, she didn't know what a feminist was, "let alone how to be one." Indeed, she said, she didn't question whether there were objective barriers for women and never wondered why there were only five women in her law school class of 150 students.

Since then, Abella said, she has seen remarkable change, including the implementation of the Charter of Rights and Freedoms, a revolution in expectations between men and women, and demands by minorities, Indigenous Peoples, persons with disabilities, and those with different linguistic and sexual identities "for a revised social contract and consciousness."  

There has also been a discouraging backlash to some of these changes, she noted, but she remains confident that "change will continue in the right direction."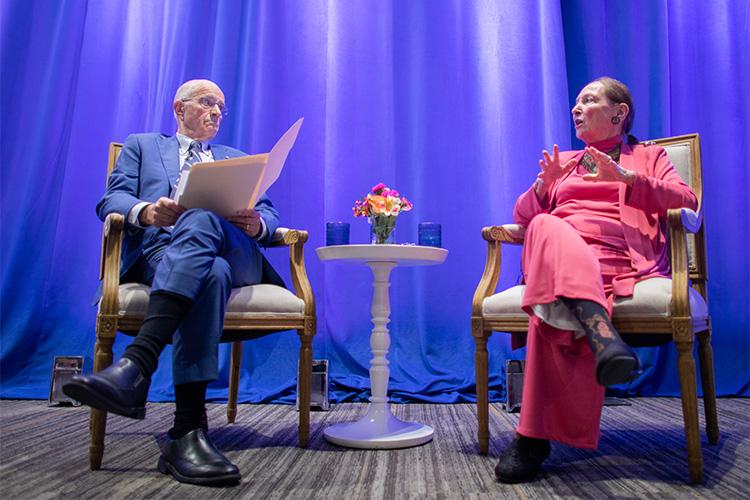 After the presentation, Abella sat on stage with Frank Iacobucci (Hon LLD 1989, Hon DSacLt 2005 TRIN, Hon DHumL 2015 VIC), former dean of U of T's Faculty of Law, former interim president of U of T and former justice of the Supreme Court, for an informal chat about her personal background, and her views of the law.

Abella talked about her parents, and their harrowing experience being separated during the Second World War. Her father, who had trained as a lawyer in Poland, was not able to practise when he arrived in Canada because he was not yet a citizen. Abella said that when he told her this – she was four years old – she blurted out: "Then I'm going to be a lawyer."
Watch Justice Abella's fireside chat with the Hon. Frank Iacobucci:
Abella also talked about meeting her future husband, historian Irving Abella (BA 1963 UC, MA 1964 PhD 1969), while at U of T and pursuing him for three years before they married. He was "smart and delicious," she said, and shared responsibility for looking after their two sons. At the age of 29 she was the first pregnant woman to be appointed to the bench in Canada.
Abella said one of the most controversial projects she took on during her career was chairing the Royal Commission on Equality in Employment in the early 1980s. Instead of adopting the U.S. approach to equality – that everyone be treated the same – she recommended acknowledging and accommodating differences so people could be treated as equal. Employment equity legislation later adopted this approach so that women, Indigenous Peoples, people with disabilities and members of visible minorities would get fairness in the workplace.

Overall, Abella said, she takes the Canadian "living tree" approach to the law, where the constitution is interpreted in a way that takes into account changing social realities.

The rigid "originalist" view – held by conservative U.S. jurists – that legal principles are set by those who write a constitution and are therefore immutable, is a problematic approach, Abella argued. "To me that is an anemic and sclerotic approach to something that should be a living, breathing document that grows with the times."  

In summing up the event, U of T Chancellor Rose Patten (Hon LLD 2009) said it was fitting that Abella receive an award named for Rose Wolfe, who was beloved at the University and beyond for her commitment to social justice and education. The award is one of U of T's highest honours, she said, and it was deservedly presented to someone who has "made Canada and the world more equitable and more just."