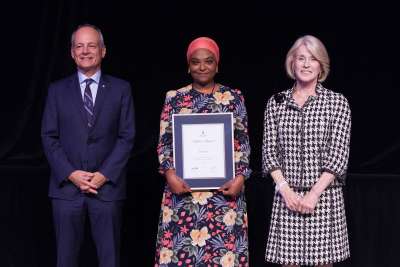 Exceptional volunteers – thank you, alumni and friends
Our volunteers personify the very best attributes of the University's motto, Velut Arbor Aevo – "May it grow as a tree through the ages." Their work represents both our roots and our branches, which have served to anchor our traditions and spread the mission of this University – to meet global challenges and prepare global citizens.
The Arbor Award can be granted for contributions to specific academic units, such as faculties, colleges or institutes, or to the University at large. Sponsored by University Advancement, the award ceremony takes place each September.
We are proud to honour and celebrate the contributions of these exceptional volunteers.
The 2018 Arbor Award ceremony was held on Monday, October 15, 2018 at the Carlu at 444 Yonge Street.
Since 1989, more than 2,400 alumni and friends have received Arbor Awards for their tremendous generosity and contribution to the experience of U of T students, faculty, staff and alumni.