How U of T works for you in the working world
Whether you're a new grad seeking help landing a job or an established worker interested in keeping your skills fresh, U of T can be your lifelong resource for ideas, connections, credentials and support.
Career resources for recent graduates
If you're approaching graduation or have graduated within the last two years, check out the conferences, programs and resources we offer to help you launch into working life.
CAREER RESOURCES FOR ALL ALUMNI
U of T can be your lifelong resource for ideas, exploration, connections, and credentials.
Alumni Networks
You can tap into your peer alumni community in many ways - the U of T community wants to know what you've got brewing!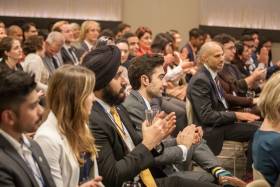 Global Alumni Networks
Tap into our 500,000-strong alumni network and connect with your old classmates plus new friends in your field.
Ten Thousand Coffees
You cab use this free flash mentorship service to create connections with U of T students seeking a mentor.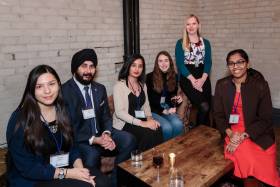 U OF T ON LINKEDIN
Search fellow alumni by study major, region, employer, title, skills and even degrees of separation.
Career development lectures and workshops