The Soldiers' Tower: Resources
Help for students and researchers
Find the facts you need about the history of the Soldiers' Tower and U of T's contributions in the First and Second World Wars.
All about the Soldiers' Tower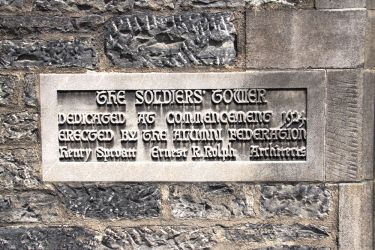 Features of Soldiers' Tower
Take a virtual tour, from the memorial wall and memorial arch to the portraits, books and inscriptions in our museum.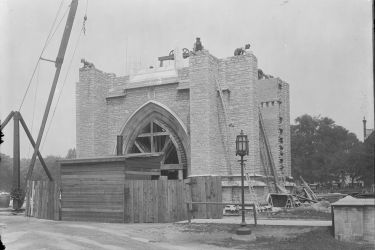 The story of the Soldiers' Tower (pdf)
This essay by Gordon MacKinnon, a member of the Soldiers' Tower committee, reviews the University's military history and relates how the Tower was funded and built to serve as an eternal memorial.
The story of U of T in wartime
* Published in 1921. Researchers might also wish to consult the Canadian Virtual War Memorial for the latest information. The Roll of Honour for those killed during the Second World War is not yet available online, but we are working towards that goal. In the meantime contact us directly for further information.
Stories from U of T Magazine's archives
Archival photos:
In Memoriam Graduates and Undergraduates of the Faculty of Forestry killed in Action in the War of 1914-1918. Courtesy U of T Archives A1972-0025/006 [P006.101].
Harold Reid Wilkonson, killed in action in 1917. Photo courtesy U of T Archives A1973-0026/515P (03).