Joan Johnston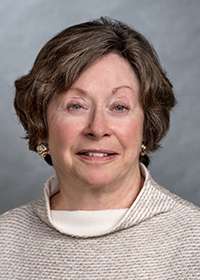 Joan Johnston was first elected by the College of Electors on July 1, 2019; she is currently serving from July 1, 2019 to June 30, 2022.
Joan Johnston is Managing Director, J.M. Johnston & Associates Inc., where she has been involved in strategic planning and governance across a range of clients. Several, including the Canadian Institute for Advanced Research, The Banff Centre, and the Aboriginal Institutes Consortium, focused on advancing research and education. This followed careers in consulting with Ernst & Young and banking at Bank of Montreal.
Ms. Johnston has been actively involved at the University serving on the St. Michael's College Alumni Board and the SMC Collegium. In addition, she was president of the University of Toronto Alumni Association (UTAA) and received an Arbor Award for her service to the University. Ms. Johnston was also privileged to spend six years as Board member and Chair of Sheridan College.
Ms. Johnston holds an honours BA (St. Michael's College), a Diploma in Business Administration from Rotman, and an ARCT from the Royal Conservatory of Music.