September 19, 2022 | Volunteer & Awards
Engineering alumna Yimu Zhao recognized with Royal Society of Canada award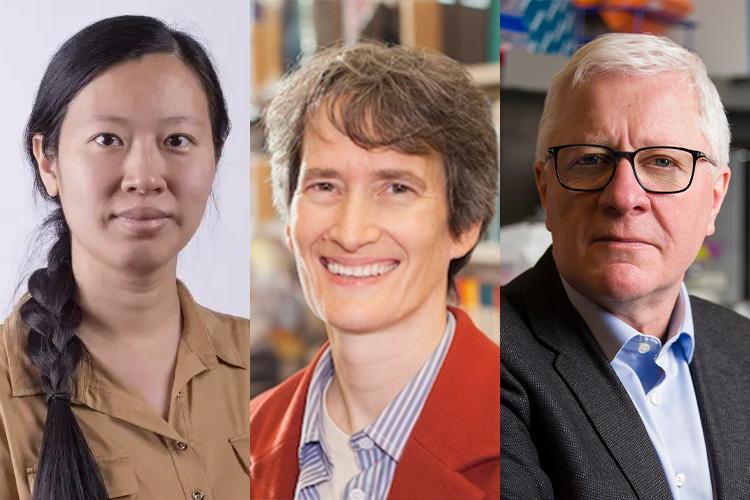 Three U of T community members are being honoured by the Royal Society of Canada: (left to right) Yimu Zhao, Kimberly Strong and John Dick
---
University of Toronto Engineering alumna Yimu Zhao (PhD 2019), along with faculty members Kimberly Strong and John Dick, has been recognized by the Royal Society of Canada for outstanding achievements in advancing knowledge.
Zhao, who earned her PhD studying with Professor Milica Radisic of the Faculty of Applied Science & Engineering and conducted post-doctoral studies with the Toronto General Hospital Research Institute, University Health Network and Columbia University, received the Alice Wilson Award.
Awarded to early-career academics with outstanding academic qualifications, the award is named after Alice Evelyn Wilson (BSc 1911 VIC), the first woman ever elected to the Royal Society of Canada. Zhao's research is focused on developing a heart-on-a-chip for understanding how our hearts function, and how treatments affect the heart.
Strong, who is the chair of the Faculty of Arts & Science's department of physics and a leading authority in global atmospheric research, received the prestigious 2022 Willet G. Miller Medal for outstanding research in a branch of the Earth sciences.
A renowned stem cell biologist, Dick is a University Professor in the Temerty Faculty of Medicine and a senior scientist at Princess Margaret Cancer Centre, University Health Network. He received the McLaughlin Medal for important research of sustained excellence in medical science.