U of T Mississauga's valedictorian credits her success to the "community-driven" campus
By Kristy Strauss
Thaisa Tylinski Sant'Ana hopes to use her biotechnology degree in the sustainability space. Photo by Nick Iwanyshyn.
---
Thaisa Tylinski Sant'Ana is ending her university career feeling excited and optimistic. She's receiving her honours bachelor degree in biotechnology, and on June 13, has the honour of serving as this year's valedictorian for University of Toronto Mississauga's class of 2023.  
But when she looks back at the beginning of her academic career four years ago, she recalls having very different feelings. Like most incoming students, she was stressed out, overwhelmed, and filled with doubt. As an international student from Brazil, she also had a long to-do list. She had to figure out her health care. Open bank accounts. Switch phone plans. 
She had also arrived at UTM on a Lester B. Pearson International Scholarship, which brings exceptional students from around the world to study at U of T. "I was wondering, is this the place for me? Did they make a mistake in giving me the scholarship? It was just so much all at once," Tylinski Sant'Ana remembers. But when she turned to her fellow international students, as well as the wider UTM community, Tylinski Sant'Ana knew she was in the right place – and felt surrounded by kindness and support.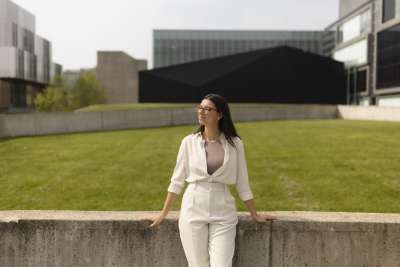 Inspired by UTM's welcoming atmosphere from the very beginning, she gave back to the university herself over the next four years – working in several roles on campus including as a residence services assistant (RSA) at Student Housing & Residence Life, international student support team lead at the International Education Centre, and U of T airport welcome staff for the Centre for International Experience.  
Academically, Tylinski Sant'Ana was also involved in enriching research experiences both inside and outside the classroom – working as a research student at UTM's Currie Lab led by Assistant Professor Mark Currie, and as a medical biophysics summer research student at the Princess Margaret Cancer Centre. 
"During my time at UTM, I was exposed to so many opportunities for growth," she says, adding that these roles gave her new, valuable experiences. "U of T provided me the freedom to explore a nonlinear path and to grow as a person, and in different areas of my life." 
She adds that these experiences also helped her form close connections with others, which helped her through the worst of the COVID-19 pandemic. "I was back at work for my RSA job, and I still saw some of my same friends from first-year who were also working in residence. We were able to have that community, and live in this little bubble, during the pandemic. It was really important," she says. 
Community, she adds, is what she feels is most special about UTM. She noticed it immediately when she visited campus for the first time as a high school student, and was welcomed by a friendly and helpful residence tour guide. It helped her through her first few weeks as she adjusted to university life. And, she relied on it during a global pandemic when connecting with others felt impossible.  
The valedictorian, who represents the entire graduating class at UTM, provides a valedictory address each year at a grad reception attended by grads, family, friends and campus community members. When she gives her address at the UTM Class of 2023 Graduation Celebration, Tylinski Sant'Ana hopes to communicate the importance of UTM's strong sense of community to her fellow students. 
"I want to be able to highlight this sense of kindness, and being supportive of each other. And, emphasize how lucky we are to have been in an institution like UTM that is so community-driven and tight-knit," she says, adding that she has also been invited to a reception for the Pearson Scholars who have completed their studies.  
As she looks to the future, Tylinski Sant'Ana hopes to use her biotechnology degree in the sustainability space. For the past eight months, she has been working on a project with U of T's Reach Alliance and recently spent time in Kenya conducting research on a mangrove conservation initiative. "I'm taking the year to work and explore different options, explore different spaces, and eventually go back for a master's degree that will really enhance my knowledge in this space," she says.