September 14, 2023 | Alumni
U of T Mississauga alumni recognized for their entrepreneurial leadership
By Patricia Lonergan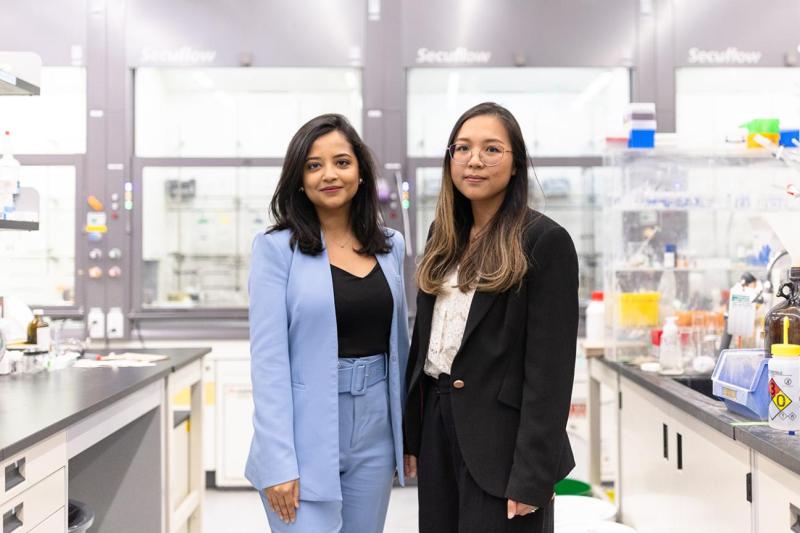 U of T Mississauga alumni Nabanita Nawar and Pimyupa Manaswiyoungkul, co-founders of HDAX Therapeutics, are developing the first-ever disease-modifying therapy for peripheral neuropathy. Photo by Nick Iwanyshyn.
---
From developing a cure to a disease that plagues millions to promoting authenticity and inclusivity in the arts, three U of T Mississauga alumni have been recognized for their leadership within Toronto's business community. Named to the inaugural Forbes' 30 Under 30 Local Toronto, these entrepreneurs are making a significant impact in the fields of science and fashion.
HDAX Therapeutics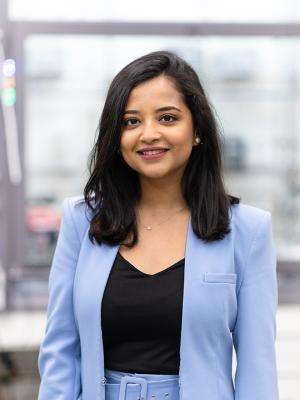 Nabanita Nawar (BSc 2017 UTM, PhD 2022) and Pimyupa Manaswiyoungkul (PhD 2021) are developing the first-ever disease-modifying therapy for peripheral neuropathy, a nerve-damaging disorder that can leave patients with anything from tingling pain to paralysis, affecting 30 million people worldwide.
"Neuropathy is when your nerves become damaged and usually it starts in the periphery – like fingers, toes and limbs," says Nawar, explaining that it can happen for a range of reasons, including chemotherapy, diabetes and genetics.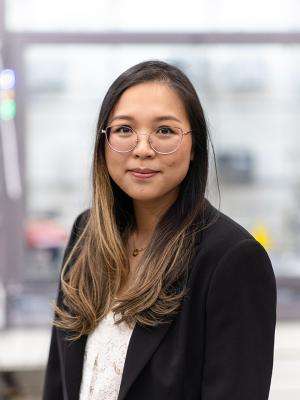 "The sad part is there is actually no cure," Manaswiyoungkul says. Patients receive physiotherapy or painkillers to manage the symptoms. In some cases, the pain is so severe they are prescribed opioids, which can lead to addiction. Current treatments don't slow, halt or reverse the disease's progression. "That sparks the reason why we want to develop the first curative treatment by tackling the root of the disease."
The two have been working together since 2017 – first as lab mates at UTM while working toward their doctorate, and now as co-founders of HDAX Therapeutics, which spun out of their research at UTM officially in August 2021.
"This was Nabanita's PhD project and was a side project of mine," says Manaswiyoungkul. "She was the one making the molecules and I was the one evaluating them."
Nawar has seen first-hand how peripheral neuropathy can affect someone. Neuropathy accompanied cancer for several people in her family, including her grandfather and aunt.
"Sadly, this is a problem almost every family has seen," she says, explaining that issues arising from cancer treatment can include numbness, not being able to move and brain fog. "A lot of patients end up pausing their cancer treatment because they cannot handle the neuropathy that's happening."
And often the neuropathy doesn't end with cancer treatment, she says, because the nerve damage can be permanent.
A lot of people focus on cancer and its treatment because it is the cancer that is the main issue, but there is not as much emphasis on the side effects and symptoms of the treatment itself, says Manaswiyoungkul.
She says that throughout the development process, HDAX has been engaging with clinicians to ensure the development of their treatment is in line with clinical needs. The team is exploring treatment options, with latest data showing reversal of damage in pre-clinical studies. The long-term goal, though, is to create a preventative agent that can be given before or alongside chemotherapy to ensure the patient never has to experience neuropathy.
HDAX is on track to dose patients as early as 2025.
Today, the women-led start-up has four full-time and four part-time staff along with several collaborators and a full network of mentors. Nawar says she and Manaswiyoungkul are focused on utilizing science to benefit real patients.
Lesley Hampton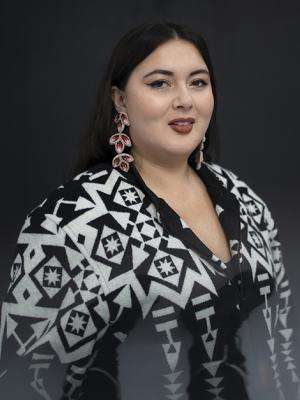 Anishanaabe artist, designer and model Lesley Hampton (BA 2015 UTM) is focused on body positivity and authentic representation in fashion and the arts. The founder and creative director of the brand that bears her name has received a lot of attention since its inception in 2016.
In 2020, one of her gowns turned heads at the Golden Globes. The dress, worn by etalk host Lainey Lui, was featured on various best-dressed lists. Her brand has since been worn by singer Lizzo and Reservation Dogs star Kawennáhere Devery Jacob, and Vogue Magazine called Lesley Hampton the "number one Canadian brand to keep your eye on."
"My interest in fashion began by watching Jeanne Beker on Fashion Television. At the time I was living in Newfoundland and that was really the only way to reach the fashion industry," Hampton previously told UTM. "But then being an Indigenous person, I never really saw myself being a part of that world.
"I feel like I just gave it a shot and it seems to have worked out so far."
For more about Hampton, her philosophy and her work, please see Advocacy and authenticity: Q&A with fashion designer Lesley Hampton