July 14, 2021 | Volunteer & Awards
University of Toronto alumni win magazine awards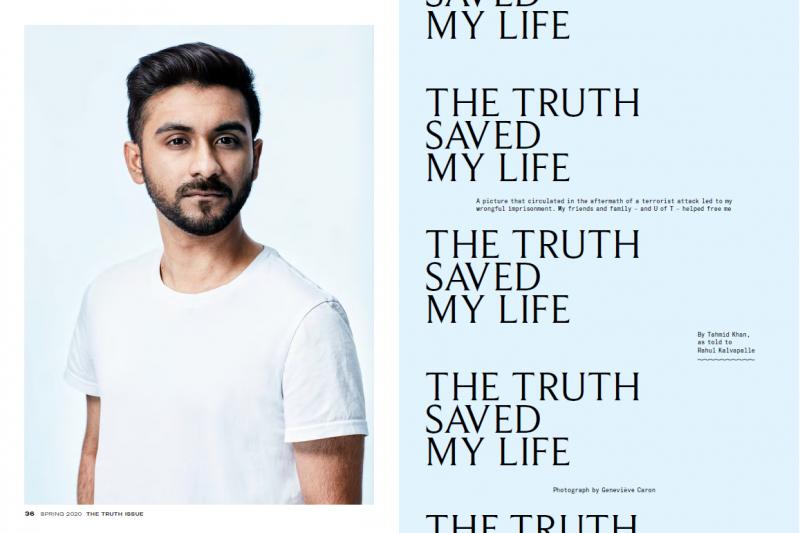 University of Toronto Magazine's story "The Truth Saved my Life", by Tahmid Khan (BSc 2019 SMC) as told to Rahul Kalvapalle, won multiple awards this year.
---
University of Toronto alumni have been recognized by the 2021 National Magazine Awards and the Council for Advancement and Support of Education (CASE)'s  2021 Circle of Excellence Awards.
Two University of Toronto Magazine articles won silver in CASE's feature writing category:  "The Truth Saved My Life" by alumnus Tahmid Khan (BSc 2019 SMC), as told to Rahul Kalvapalle, in the spring 2020 edition and "Out of Action, Comes Hope" by Raquel Russell (BA 2017 UTSC) in the winter 2020 edition.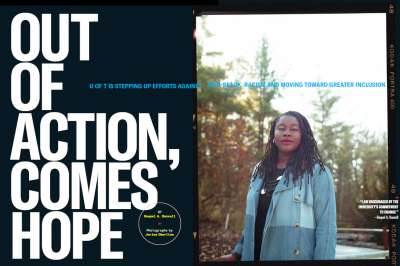 Russell's powerful piece on the University's anti-racism efforts made an eloquent plea for the importance of listening to Black voices. "Good use of the author's personal experiences to humanize what is a societal and systemic issue," wrote the CASE judges. "It was an ambitious work, and largely delivers on a touchy and timely subject."
The vivid prose is arresting; you can't stop reading this feature
"The vivid prose is arresting; you can't stop reading this feature," the judges added in describing Khan's story, written with U of T News writer Kalvapalle. The piece described how social media run amok—and getting the story wrong—nearly ruined Khan's life after he was taken hostage in Bangladesh. The piece was part of the magazine's spring 2020 cover story, The Truth Issue, which also won the Grand Prix Silver at the National Magazine Awards for its cover and honourable mentions for portrait photography and best editorial package.

Also at the National Magazine Awards, the Grand Prix Gold for best cover went to the  Maclean's magazine June 2020 cover. Dawn Lim (BSc 2000 UTM, MD 2005, PGMT 2010), who is a UHN emergency physician and assistant professor in the Temerty Faculty of Medicine, photographed the pandemic from the frontlines.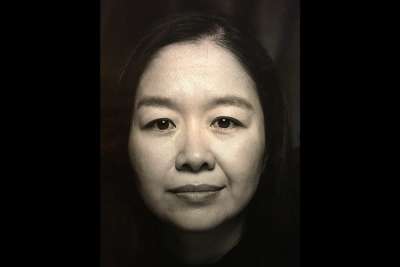 "I believe we all remember events better through stories. The feelings we all felt then were overwhelming and scary," Lim says. "When I look at this cover, I remember the tension as the team got ready to intubate. I remember nurses and doctors telling me that they were so glad I was photographing their lived experiences during the first wave. These are precious memories of our hospital coming together in a time of incredible vulnerability. Medicine is full of stories. I'm so pleased that my work as a clinician and as a photographer collided in this moment."
I believe we all remember events better through stories
Other U of T alumni who won writing gold at the National Magazine Awards include Pacinthe Mattar (BA 2008 UTM) ("Canadian Media's Racism Problem"), Katrina Onstad (MA 1999) ("The Woman Who Built Queen West"), Hadiya Roderique (MA 2008, JD 2008, PhD 2020) ("Black in the Ivory Tower") and Caroline Aksich (BA 2009 VIC) ("The Best New Takeout").
Téa Mutonji (BA 2020 UTSC) ("To Love Again: A Natural Hair Journey") and Joshua Wales (PGMT 2013, 2016) ("Water Signs") both won silver awards for their writing, while current student Jadine Ngan, who is the The Varsity features editor, received an honourable mention for best emerging writer.
Napatsi Folger (BA 2016 UTSC) was part of the team that won gold for Inuit Art Quarterly's award-winning editorial package, "Threads". Michelle Shephard (BA 1994 SMC) won silver for Brainwashed, the podcast she hosts, while Christine Dewairy (BA 1995 UC and Daniel Neuhaus (BA 2012 UC) won silver for art direction of a piece on "The Best New Restaurants." Alumni Malcolm Johnson (BA 2007 TRIN) and Hamutal Dotan (BA 2001 INNIS) received multiple nominations as handling editors.
Did we miss anybody? If you know of an NMA or CASE honouree with ties to U of T who was honoured but isn't mentioned above, please let us know: alumni.relations@utoronto.ca