October 2, 2018 | Volunteer & Awards
U of T's African scholars, community leaders celebrated at awards ceremony
By Romi Levine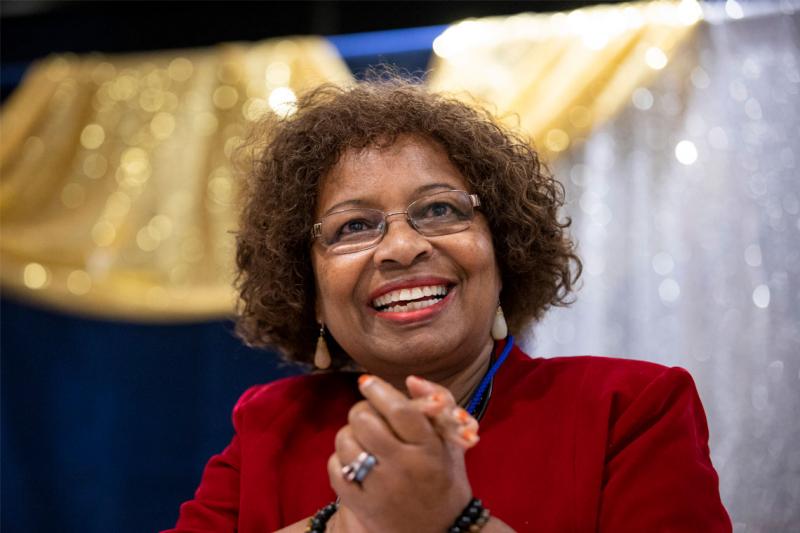 Professor Njoki Wane received an Influencers' Award at the African Scholars Awards (photo by Nick Iwanyshyn)
---
"A community is everything."
So says Professor Njoki Wane, chair of the department of social justice education at the University of Toronto's Ontario Institute for Studies in Education (OISE).
Wane is one of the recipients of this year's African Scholars Awards – a recognition given to faculty, students, alumni and community leaders by the African Alumni Association at U of T.
What connects this year's winners is their commitment to building and strengthening communities inside and outside the university in ways that promote diversity, inclusivity and innovation.
Wane grew up in a rural village in Kenya, moving to Nairobi for school, and continuing her studies at the University of New Brunswick before moving to Toronto in 1996 to begin her PhD at U of T.
Whether in a tiny town or a big city, making connections with like-minded individuals was crucial for her.
"Finding ways to contribute to a community is the way it should be because we are beings that cannot survive on our own," she said.
The African Scholar Awards were created last year but have now become an annual event, said Henry Ssali (BA 2013 WDW), founder and executive director of the African Alumni Association and the office assistant in the office of U of T's President Meric Gertler.
"We are creating a new culture, appreciating African alumni who have done distinguished work in their communities and within the university," said Ssali. "It's something people have been yearning for and are excited it's continuing at U of T."
Ted Sargent, U of T's vice-president international, spoke at the awards ceremony, which took place at the William Waters Lounge at Woodsworth College on Friday, about the university's global network of alumni, including those who have received African Scholars Awards.
"Tonight's awards exemplify that excellence in innovation, through the university's core values, are embodied among our alumni, our students, our faculty and our staff," he said. "To our award recipients, you have been identified and selected by your community as exceptional role models who have won our highest recognition and indeed our admiration."
New to this year's ceremony is an award for outstanding recent alumni – created to inspire current students by showcasing the work of successful young scholars.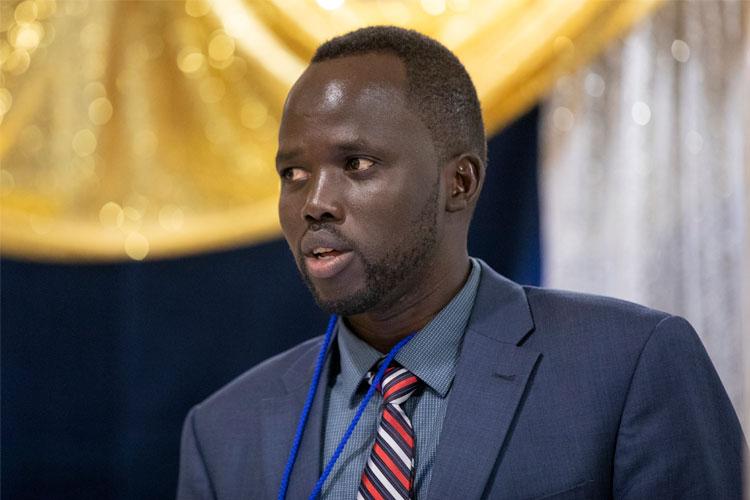 When Alfred Majak Maluach (BSc 2015 VIC, MSc 2017) received the email saying he was selected as a recipient of the new award, he was thrilled.
"Two words stood out from this email," Maluach told the crowd. "The first one was 'outstanding' and the second was 'African.'
"No offense to others but if you have African roots and you're attending or graduating from the University of Toronto, you are already outstanding individuals."
Maluach was born in South Sudan, moving to Kenya when he was a child as a refugee. He came to U of T through the World University Service of Canada (WUSC) student refugee program, and last year completed his master's in pharmacology and the collaborative program in biomedical toxicology.
He said finding fellow African scholars through WUSC and making friends in the Mastercard Foundation Scholarship program helped him find the support and sense of community he needed to make a large university like U of T feel a bit smaller.
"It's been a really great journey for me," he said.
Fellow outstanding alumni award recipient Emmanuela Alimlim will be graduating from U of T in November. The economics major in the Faculty of Arts & Science also came to U of T from Kenya but through the Mastercard Foundation Scholarship.
While at U of T, Alimlim founded the Eastern Africa Students Association – growing its membership from scratch and organizing the successful Wakanda Winter Gala.
Alimlim has 11 siblings – she's the oldest – so making the move to Canada away from her family was tough.
"For me, during my first two years I really struggled with a lot of depression and lack of community and I was isolating myself a lot in my room," she said.
But she was eventually able to find her place at the university and she hopes other students in her shoes can do the same.
"I don't want anybody to get lost."
 Alimlim was speaking about her family when she got choked up at the ceremony.
"It takes a village to raise a person. Especially for a women, it takes a village and a community to be able to raise me," she said. "I'm really grateful for my village."
Here's what some of the other award recipients had to say: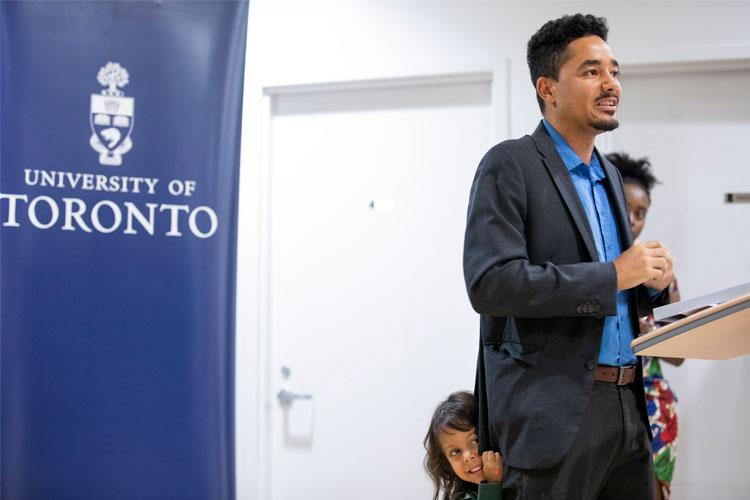 Influencers' award recipient Kofi Hope (BA 2006 INNIS) said he embraces the South African philosophy of ubuntu. "I am because we are."
"Yes, I'm glad to be celebrated as an individual but I really see this and this whole event as a celebration of our community and what we've achieved together," said Hope, a U of T alumnus and Rhodes Scholar who is the Bousfield Distinguished Visitor in Planning and strategic consultant to the vice-president, human resources and equity. Hope's daughter joined him at the podium for a big hug and moral support.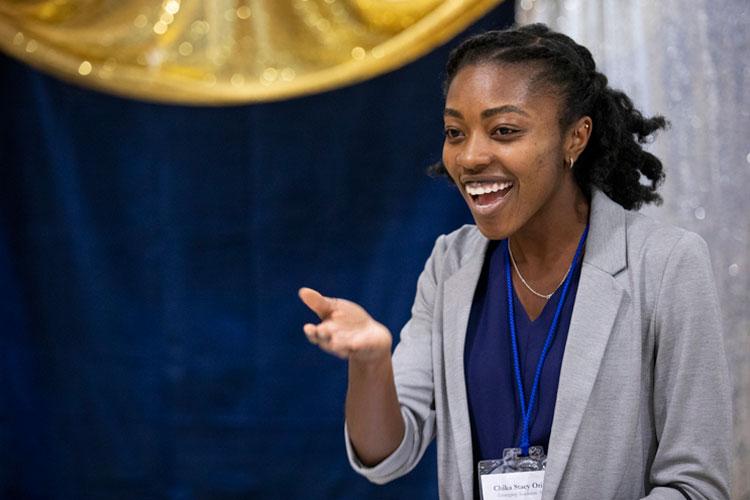 Medical student and spoken word artist Chika Stacy Oriuwa received an emerging academic award. "I learned my greatest empowerment came from empowering those within my community to break through the barriers that have long kept us from achieving new heights," she said.
Chizoba Imoka (MEd 2014), who also received the emerging academics award, is a PhD candidate at OISE. "Forums like this are really important…for providing space for us to be able to acknowledge the things that matter in our community and acknowledge the people who are actively engaged," said Imoka. 
The following alumni, faculty and community members also received African Scholars Awards: 
Nana Adwoa Frimpong who was vice-president of equity for U of T Scarborough's students union and co-president of the African Students' Association
Walied Khogali, a candidate for Toronto city councillor
Souleik Kheyre (BA 2016 UC, MIHR 2017), Somali-Canadian researcher and community organizer as well as a U of T alumna 
Fatima Kamenge (BSc 2013 WDW), alumna, entrepreneur and community leader  
Eugenia Duodu (BSc 2010 UTM, PhD 2015), alumna and advocate for education and engagement in STEM
Isaac Olowolafe Jr. (BA 2007 UTM), alumnus, real estate broker and philanthropist
Salma Hussein (BSc 2018 SMC), alumna who was an executive member of the Muslim Students' Association
Dickson Eyoh (MA 1979), associate professor of political science in the Faculty of Arts & Science
Ahmed Hussen, federal minister of immigration, refugees and citizenship