U of T remembers alumnus and volunteer John Switzer
By Blake Eligh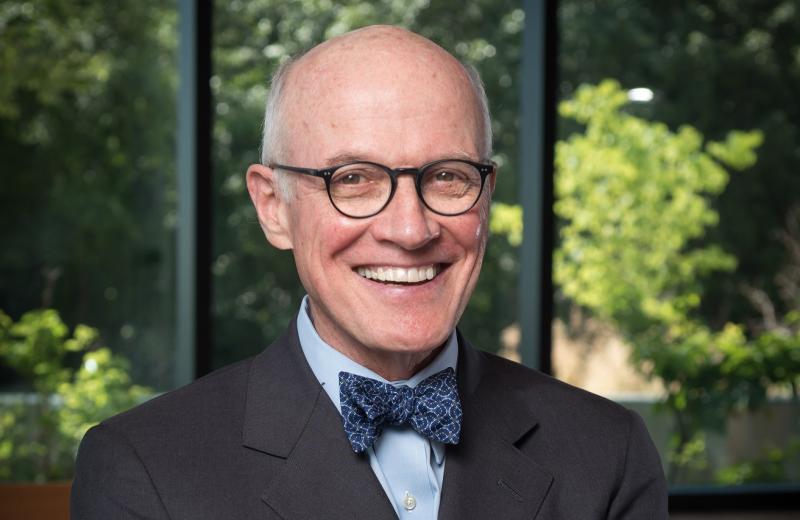 John Switzer. Photo by Jeremy Sale
---
A champion of the University and a dedicated volunteer is being remembered this week with the passing of Erindale College alumnus John Switzer, who died on April 27 after a year-long battle with glioblastoma.
Switzer, who was part of the first graduating class of Erindale College in 1970, began his undergraduate studies as a second-year transfer student to the bachelor of arts program, where he studied economics and mathematics. Those student years launched what would become a 50-year association with his alma mater. Switzer went on to hold many volunteer and advisory roles over the years, bringing his considerable expertise and enthusiasm to supporting governance and leadership initiatives at the university.
"John Switzer will be remembered for his outstanding service to the University of Toronto, and particularly for his extensive contributions to its governance," said Meric Gertler, president of U of T. "Those of us who had the privilege of knowing him will fondly remember his wisdom, his great personal warmth, his infectious smile and his wry sense of humour. On behalf of the University, I would like to extend our deepest sympathies to his wife Barbara and their family at this sad and difficult time."
He volunteered in so many roles he touched almost every aspect of U of T Mississauga
Wearing one of his signature bow ties, Switzer could often be found at university events or committee meetings. His many volunteer roles at U of T included: six years as an alumni governor with Governing Council, inaugural chair of the UTM Campus Council, vice-chair of the University Affairs Board and member of the UTM Principal's Advisory Committee.
Switzer played a critical role as a member of the task force on the Governance Implementation Committee where he helped to shape the tri-campus system. He also helped to direct leadership at U of T, serving on the Presidential Search Committee that recommended President Meric Gertler's appointment, on the advisory committee for the Vice-President and Principal, UTM, and on the advisory committee for the Vice-President, Advancement.
Switzer also served as chair and interim president of the University of Toronto Asset Management Board, an entity separate from U of T that is responsible for management of the assets of the university endowment and the assets of the university pension plan. Switzer was the recipient of numerous awards including the Paul W. Fox Award and Arbor Award in recognition of his dedicated, distinguished and generous volunteer service to UTM.
"I think of him in many ways as a 'founding father' of many aspects of our governance structure —from the inaugural chair of the Pension Committee to the inaugural chair of the UTM Campus Council," said Governing Council chair Claire Kennedy. "John managed to be on just about every governance body that we have—and perhaps even more notably, he seemed to enjoy every minute of it."
A community-builder, management executive and wine expert
Switzer is also remembered for helping the University to make important connections with the wider community. "John volunteered his expertise to help build some of the important ties between UTM, the city of Mississauga and the local business community," said Ulrich Krull, Vice-President, U of T, and Principal, UTM. "John stepped forward in the early 2000s to advise UTM, the city and various business partners as this group developed Mississauga's first small-business accelerator, which has grown to become the Research Innovation Commercialization (RIC) Centre in the Sheridan Science and Technology Park."
Before retiring in 2010, Switzer held executive roles in accounting, management and consulting. He began his career with National Trust and the Bank of Nova Scotia, where he was head of retail banking, comptroller, head of trust operations and internal audit. He went on to become a management consultant with Ernst & Young, American Management Systems and CGI Group, where he worked with banks and financial services clients around the globe to develop strategy and business transformation enabled by information technology.
Switzer was also a noted wine educator and writer, travelling widely to support his passion, which he documented in a newsletter and then through his biweekly blog, The Winesights Reader. He was a certified instructor in wine and spirit education and served as the Canadian delegate on the Independent Wine Education Guild alumni advisory board in London, England. Switzer also judged wines at annual competitions in England and France and was Chief Judge of the Royal Wine Competition at Toronto's Royal Agricultural Winter Fair.
John Switzer will be missed
"John had a tremendous capacity to appreciate potential, and he has been instrumental in supporting UTM to convert potential into impact," Krull said. "I will greatly miss his ever-present enthusiasm and his personal dedication to the well-being of our UTM and U of T community."
Switzer was remembered on May 5, 2018 with service of remembrance and celebration of life at Kingsway-Lambton United Church in Etobicoke. In lieu of flowers, remembrances may be made to the W. John Switzer Class of 7T0 Award at University of Toronto or The Gerry & Nancy Pencer Brain Tumour Centre at Princess Margaret Hospital.