June 3, 2019 | Volunteer & Awards
U of T honorary degree recipient Kathleen Taylor encourages grads to "lead through the power of example." Watch her Convocation address
By Rahul Kalvapalle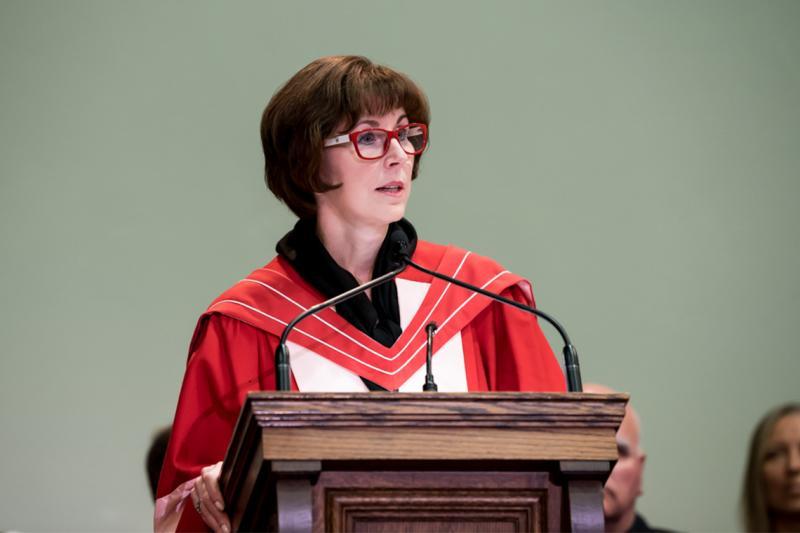 Kathleen Taylor, best-known for her 25-year career with Four Seasons Hotels and Resorts, was the first woman to chair the board of a major Canadian bank (photo by Steve Frost)
---
From becoming the first woman to chair the board of a major Canadian bank to helping shape the international brand of one of the world's leading hotel chains, University of Toronto alumna Kathleen Taylor (BA 1980 SMC, Hon LLD 2019) is one of the most influential leaders in corporate Canada.
Taylor is the chair of the board of the Royal Bank of Canada, a member of Air Canada's board of directors and a director of the Canada Pension Plan Investment Board. But she is perhaps best known for her nearly 25-year career with Four Seasons Hotels and Resorts, which culminated in her appointment as chief executive officer in 2010.
In addition to her range of business achievements, Taylor is recognized as a prolific philanthropist and a respected community leader and mentor.
Taylor received a Doctor of Laws, honoris causa, from U of T for her "outstanding service to the public good as a committed community volunteer, advocate for women in business, and mentor to youth."
Born in Toronto, Taylor earned a Bachelor of Arts (Honours) from U of T before earning her law degree and MBA from York University.
She went on to enjoy an accomplished career with Four Seasons, starting out as a corporate counsel in 1989 and going on to hold several senior leadership positions with the Toronto-headquartered hotel chain before taking over the role of CEO from the hotel's founder Isadore Sharp.
Over the course of her career with Four Seasons, Taylor is credited with playing a central role in establishing the company's global portfolio of hotels and luxury resorts. Her hands-on approach as CEO saw her fly around the world to visit dozens of hotels every year – part of an effort to maintain quality control and engage with hotel owners, staff and guests.
A strong supporter of increased diversity on boards, Taylor was named a member of the province's Women in Business Steering Committee and has been a member of the board of directors of SickKids Foundation for 15 years, currently serving as chair of the board.
Taylor maintains close ties with U of T, interacting with students and budding business leaders via guest lectures and mentorship opportunities.
---
Kathleen Taylor's message to the Class of 2019:
I learned quickly in my career that you can't count on things to materialize on their own. You must go out and make them happen! And having a global mindset will allow you to truly thrive. Your ability to adapt to different situations and cultivate different experiences throughout your career will prove to be a real asset. But most importantly, you should set a high bar for yourselves and the world around you. More than ever, the world and our business community need to be challenged with bold new ideas and inclusive leadership. Seize the opportunities that lie ahead of you. And remember that great leaders never lead through the power of position, they lead through the power of example.