June 18, 2021 | Volunteer & Awards
U of T alumnus David Shore, globally acclaimed television writer and producer, receives honorary degree
By Scott Anderson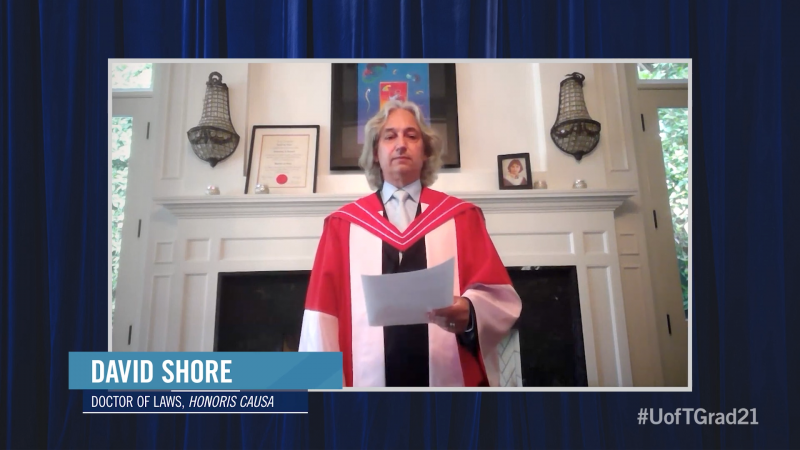 Even if you don't know television writer, showrunner and producer David Shore (LLB 1982, Hon LLD 2021), chances are you've heard of Dr. Gregory House, the title character from the acclaimed medical drama, House M.D., that Shore created and then oversaw for eight successful seasons.
In fact, if you look at the credits of many popular television shows from the past 30 years – NYPD Blue, for example, or Law & Order, Shore's name keeps popping up. He has a talent for writing TV series that audiences and critics around the world adore.
Today, in recognition of his "excellence in arts and entertainment through his creative genius, his exceptional contribution to global culture and his award-winning television series," Shore received a Doctor of Laws, honoris causa, from the University of Toronto – his alma mater.
Born in 1959 in London, Ont., Shore studied math for two years at Western University before enrolling at U of T's Faculty of Law. As a youth, he remembers enjoying television comedies and The Rockford Files, but he never considered getting into television as a career. "I wanted to be a lawyer from the time I was 12 years old until the second week of law school," Shore told U of T Magazine in 2008. "I didn't like law school. I liked it socially; it just wasn't right for me."
I wanted to be a lawyer from the time I was 12 years old until the second week of law school
Yet, it was while attending law school that Shore discovered his interest in – and aptitude for – writing. He and a friend became editors of the University of Toronto Law School Newsletter and promptly renamed it Hearsay. The content, not surprisingly, became more irreverent and sometimes drew admonishments from the dean. "If we did anything that was a little off-colour, we would hear about it," said Shore. He cultivated his creative talent in other ways, too – by hosting the first annual Law School Follies, a variety show written and staged entirely by U of T law students, and doing standup.
Shore practised corporate and municipal law at a Toronto firm for almost five years (and made partner), but in 1991 decided to move to Los Angeles to write comedy. In the U of T Magazine interview, he described telling his law partners that he was planning to leave for L.A. "They thought I was insane," Shore recalled. He secured a guarantee that he could return to the firm within two years if things didn't work out.
He rented a one-bedroom apartment close to Hollywood Boulevard, and, on the strength of a Seinfeld episode written on spec, found an agent. Two weeks after the two-year deadline he had set for himself, he landed a freelance writing gig with the TV show The Untouchables.
Two weeks after the two-year deadline he had set for himself, he landed a freelance [Hollywood] writing gig
The writing credits – and accolades – began to pile up. He wrote for Due South, about a Canadian Mountie solving crimes in Chicago and won a Gemini Award. He became head writer on another Canadian show, Traders, and later earned two Emmy Award nominations as a producer on Law & Order.
In 2004, Shore and two colleagues pitched House to Fox as a kind of hospital detective show. In creating his lead character, a brilliant but caustic doctor who solves medical mysteries, Shore was inspired by Sherlock Holmes. And although the series was set in a hospital, it wasn't only about medicine. "There's a philosophical bent to the show, an opportunity to speak about life and how to live life," Shore told U of T Magazine.
House became a global hit, airing in 66 countries, and was a top-10 series in the U.S. for three consecutive years. The show received numerous accolades, including five Emmy Awards, two Golden Globe Awards and nine People's Choice Awards. One of those Emmys, for "Outstanding Writing for a Drama Series," was for an episode Shore had written. For the same episode, Shore also won a Humanitas Prize, which honours film and television writers "whose work explores the human condition in a nuanced, meaningful way."
After the end of House's hugely successful run in 2012, Shore didn't take much of a break. He co-created the crime drama Sneaky Pete for Amazon Prime, and now serves as executive producer and showrunner on the ABC drama The Good Doctor, which has been renewed for a fifth season.
The degree you've earned … from an exceptional institution – it will open doors. See what's behind them
Television writing was not an obvious career choice for Shore, and in his speech to the Class of 2021, he encouraged graduating students to take the time to explore their options and not to fear failure.
"Life is long, you have time to make mistakes, time to make foolish decisions, time to try things," he said. "The degree you've earned … from an exceptional institution – it will open doors. Now and 20 years from now, doors you may not even know exist. … See what's behind them. See if you're any good at it. See if it gives your life meaning. See if it makes you proud. Know that if you fail, in a few years, that failure will morph into just a funny story."