February 18, 2020 | Volunteer & Awards
U of T alumnus and professor Charles Tator receives Order of Hockey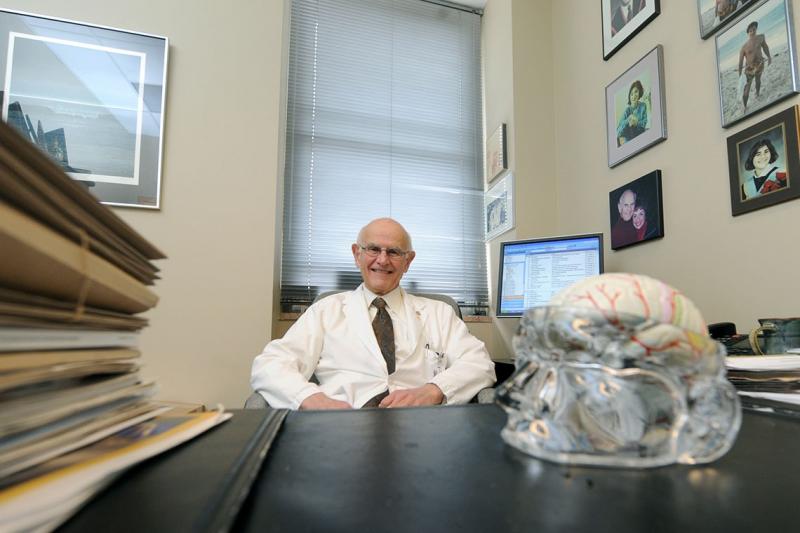 Dr. Charles Tator (MD 1961, PhD 1965): "It became clear to me that the only uniformly effective treatment for major injuries is prevention" (photo by Keith Beaty/Getty Images)
---
For his "significant efforts to combat concussions and reduce spinal cord injuries," the University of Toronto's Charles Tator (MD 1961, PhD 1965) is receiving the Order of Hockey.
Former players Ken Dryden and Sheldon Kennedy were also recognized with the honour.
"This year's group of honourees has made a tremendous impact on the game, one that extends beyond statistics and on-ice achievements," Tom Renney, CEO of Hockey Canada, said in a statement. "Ken, Sheldon and Charles have made unique contributions to hockey both on and off the ice, and all three men are equally deserving of this honour." 
A professor in the department of surgery, Dr. Tator is a world-renowned expert on concussion and spinal injuries in sports and a long-time advocate for safety in minor hockey in Canada. The director of the Canadian Sports Concussion Project at Toronto Western Hospital, he is also the founder of ThinkFirst Canada, which educates young people about reducing their risk for injury, and a board member of Parachute Canada, an injury-prevention charity. He is a member of the Order of Canada, the Canadian Medical Hall of Fame, and Canada's Sports Hall of Fame.