September 11, 2019 | Alumni
U of T alumnus and partner win The Amazing Race Canada, celebrate show's finale on campus
By Geoffrey Vendeville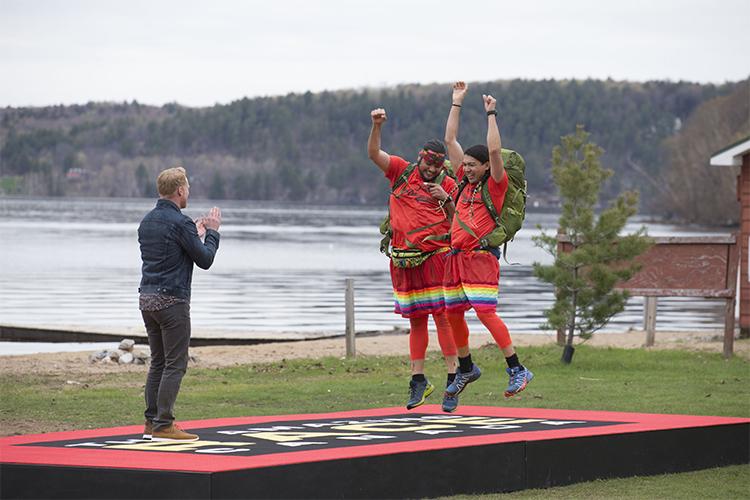 Anthony Johnson and James Makokis appear in the finale of The Amazing Race Canada wearing handmade skirts and a bandana to acknowledge missing and murdered Indigenous women (image courtesy of Mark ONeill/Bell Media)
---
Alumnus Dr. James Makokis (MHSc 2006) and his partner Anthony Johnson journeyed across the country to 14 cities, six provinces and one territory before finally prevailing in The Amazing Race Canada. Yet, in a way, the 20,000-kilometre adventure also brought Makokis back where he started: the University of Toronto. 
The two grand-prize winners, as well as other U of T contestants who were previously eliminated from the popular television show, held a viewing party at U of T's Isabel Bader Theatre, where they posed for pictures with fans. 
A two-spirit married couple who are both Indigenous, Makokis and Johnson used their time in the national spotlight to call attention to causes close to their heart. In the show's finale, they wore handmade skirts and a bandana to acknowledge missing and murdered Indigenous women.
Makokis said at the U of T viewing party that he was blown away by the kindness and friendship he experienced on the show and outside of it. That includes back home in rural Alberta, where people of all backgrounds rallied behind the couple.
"That gave me hope that things can get better and things will get better," he said. 
Makokis, who has a master's from U of T's Dalla Lana School of Public Health, where he is now an adjunct faculty member, and Johnson went by "Team Ahkameyimok" on the show (a Plains Cree term for "Don't give up, persevere"). The pair ended up taking home $250,000, two SUVs and a trip for two around the world. 
They are now selling apparel and crowd-funding to build a cultural healing centre in Alberta's Kehewin Cree Nation.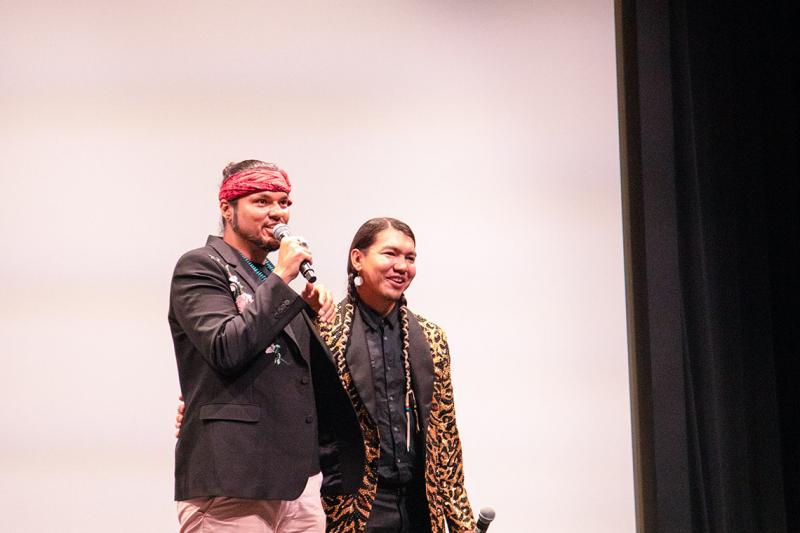 After the U of T screening, Johnson answered critics on social media who asked why he and Makokis brought politics into a reality TV show about racing through a series of challenges like zip-lining and tree-planting.
He said he and Makokis had no choice. "For us, being queer, being brown, being two-spirit, being from First Nations communities, Native American … our existence by default is political by nature," he said.
"When this nation was formed, and when the United States was formed, our ancestors signed agreements with people who came from another place to settle this land in peace and harmony. Unfortunately that's not how the relationship went over the years and unfortunately we're directly impacted by that," he added. 
"When we talk about representing our people, representing our nations, representing our ancestors, it's saying, 'Yes that happened and I will still be successful.'" 
His words resonated with Brianna Olson (MSW 2018), a recent graduate of U of T's master of social work program and a member of Ontario's Wikwemikong First Nation. 
"Their excellence and brilliance brought them to the end of the race," she told U of T News. "It's something that needs to be highlighted for the rest of the people in this land, that Indigenous Peoples are great, brilliant and leaders." 
The finale took the three remaining teams from Toronto to Muskoka by seaplane, where they competed in a life-sized cottage trivia game with questions related to the previous 10 legs of their trip. The next task was to throw a bean bag into a target while hydro-flying five metres above water.
The last – and perhaps most gruelling – challenge required irrigating a cranberry marsh larger than a football field.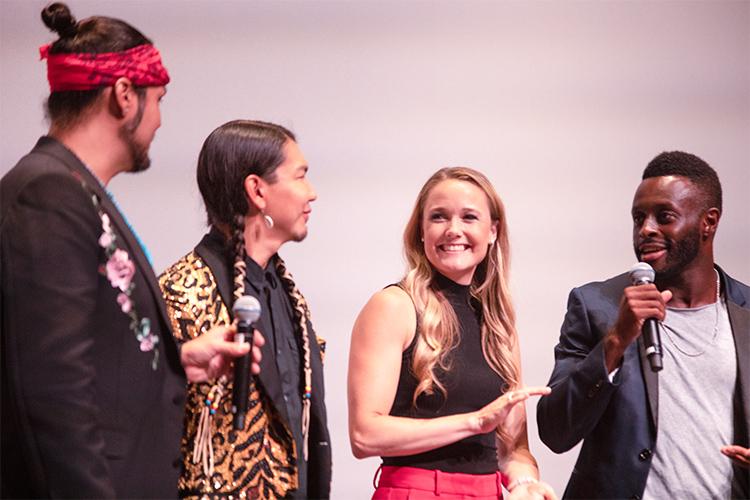 Sarah Wells (BPHE 2012), an Olympian and Varsity hurdler while she was at U of T, came in a close second on the show with her teammate Sam Effah, a champion sprinter. 
Wells said she was grateful for the experience, the "unbreakable bond" she formed with her teammate during the taping and celebrating her appearance in the finale at her alma mater. "It is about jumping out of your comfort zone, about choosing to keep persisting and getting back up in the times when it seems you're in the dumps or you're falling behind," she told the audience. 
"It's also about celebrating the moments just as proudly, just as strongly when you don't win."