November 19, 2019 | Volunteer & Awards
U of T alum Ian Williams wins the Giller Prize for his novel Reproduction
By Sarah MacFarlane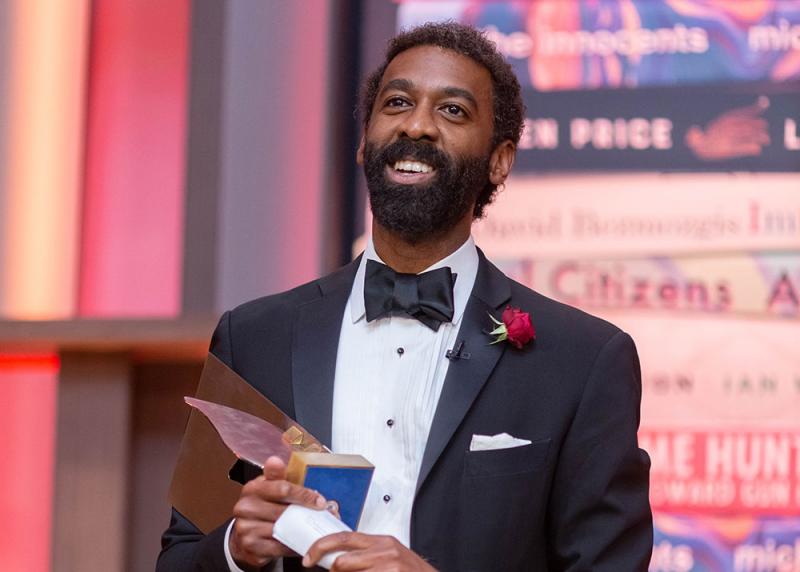 Ian Williams (BSc 2000 VIC, MA 2001, PhD 2005) holds his 2019 Scotiabank Giller Prize (Photo courtesy Scotiabank)
---
When Ian Williams (BSc 2000 VIC, MA 2001, PhD 2005) learned his first novel, Reproduction, had been shortlisted for the Scotiabank Giller Prize, it felt like multiple rows had lined up in Tetris. "It starts pinging and flashing," he laughs. "It felt like everything had clicked — slightly surreal, slightly by chance and slightly by skill."
And when he was named the winner of the $100,000 prize on November 18? "You have no idea how special this is for me," Williams told CBC News, telling how his writing and poetry was deeply inspired by another award-winning U of T alum (who was also longlisted for the Giller this year), Margaret Atwood (BA 1961 VIC, Hon DLitt 1983, Hon DSacLitt 1987 VIC).
Describing childhood summers reading Atwood's poetry, Williams explained to the Canadian Press: "How do you tell a writer that I feel like I've known you and you've been like my literary mother and you've been here for me this whole time?"
The jury for the Giller Prize describes Reproduction as "many things at once. It's an engrossing story of disparate people brought together and also a masterful unfolding of unexpected connections and collisions between and across lives otherwise separated by race, class, gender and geography."
How one poetry class changed a would-be doctor into an English major
Williams, a three-time graduate of the Faculty of Arts & Science, initially planned to be a doctor. His first-year undergraduate schedule was full of science courses — and one English course. Professor Julia Reibetanz taught the introduction to poetry class and had such an impact on Williams that he switched to a double major in psychology and English after his first year. 
"Ian was a joy to have in the class because he always responded so genuinely to the poetry we were reading," says Reibetanz. "I tried to show my students that reading poetry is, must be, a very personal act if it is to be meaningful. The classes where students were willing to take risks with their readings were quite wonderful! And Ian was one of the students who made that happen. He was the kind of student who makes a class come alive."
Williams went on to obtain his master's from the Department of English, followed by his doctoral degree under the supervision of Professor George Elliott Clarke. "It was a pleasure to work with him as a student, and now to watch his work become de rigueur for anyone who wishes to engage with the best of contemporary, African Canadian letters," says Clarke.
Reconnecting with poetry as a pleasure
After graduating, Williams began teaching English literature, but soon realized he was more interested in creative writing.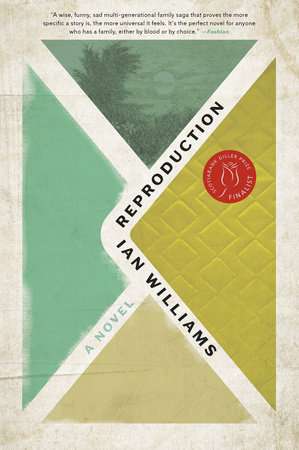 "In my undergrad English classes, Professor Reibetanz would be talking about Blake and in the margins, I would be scribbling a little poem to Blake," Williams recalls. "I always was responding to the canon as a creator, not just an interpreter, so I've always wanted to have a poetic interaction with them rather than an analytical one."
Now an assistant professor of poetry at the University of British Columbia, Williams teaches students ways to interact with poetry beyond analysis. "It's not something that needs to be fixed or even understood or analyzed. I try to reconnect them to art and literature as pleasure."
One of Williams's strategies is asking students to choose a poem and carry it around with them for a week. "You read it every day, and every time something occurs to you about the poem, you jot it down. You just live with it and slowly it starts to unfold beside you; as you learn more about yourself in the world, you learn more about the poem too."
The result? Students reported understanding the poem better, even memorizing it, says Williams. Some shared it with their friends while others found themselves reaching for it instead of their phones. "There's this friendship that they form with the poem, which is just such a beautiful thing."
Reproduction, is his first novel. "It taxes different kinds of creative muscles compared to poetry"
Williams moved from poetry to prose with Reproduction, his fourth book and first novel. "It taxes different kinds of creative muscles compared to poetry," he explains. He describes the ability to switch between the two genres as a form of bilingualism. "Bilingual people might sometimes dream in English or they might have certain relationships in French, and I feel that way about genres. I feel comfortable enough in each of them that I can respond to them when they call me."
Williams's last book, a poetry collection called Personals, was shortlisted for the Griffin Poetry Prize, and his short story collection, Not Anyone's Anything, won the Danuta Gleed Literary Award for the best first collection of short fiction in Canada. His first book of poetry, You Know Who You Are, was a finalist for the ReLit Award for poetry. Each corresponds to a different stage in life and relates to the progression of identity over time. 
"The first one dealt with identity and becoming yourself," explains Williams. "The second one was a kind of repudiation of those things. My last book was about partnerships, about dating and romance and finding love."
Reproduction, he says, marks the next stage: starting a family. "The next intellectual and personal progression was towards families and how they're formed. I think that men think a lot about children even though we don't often express that. And so as a mid-30s man, I was thinking, 'Where do babies come from?'"
"It's a very complex book structurally," he adds, "and then there's this other part of it that's just a good book to pick up in an airport and read."
So what follows Reproduction?
"Disappointment," he laughs. "That feels like the big, middle aged novel."
With Monday's win, he might just have to change that title.
The 2019 Scotiabank Giller Prize received 117 submissions from across Canada. Fellow U of T alumni Zalika Reid-Benta (BA 2012 VIC) and Margaret Atwood (BA 1961 VIC, Hon DLitt 1983, Hon DSacLitt 1987 VIC) had joined Williams on the Giller longlist.