October 21, 2022 | Volunteer & Awards
U of T Scarborough celebrates alumni with inaugural Alumni Awards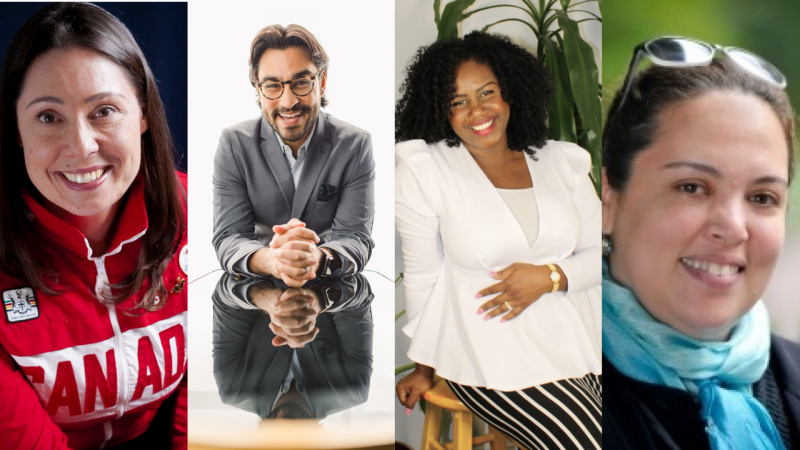 The U of T Scarborough community gathered to celebrate the achievements of four individuals who, through their enterprise, courage and hard work, have inspired others.
---
The University of Toronto Scarborough (UTSC) is pleased to announce the winners of the inaugural Alumni Awards. Launched earlier this year, the awards herald a new tradition in honour of exceptional accomplishments of alumni, along with staff and faculty who nurture alumni relationships and advance the mission of UTSC.
At an in-person celebration held at the iconic Miller Lash house, members of the UTSC community gathered to celebrate the achievements of four individuals who, through their enterprise, courage and hard work, have inspired others.
The evening brought together donors, faculty and staff who have continued to contribute to UTSC's vision of achieving Inclusive Excellence by supporting student awards, scholarships and other initiatives that enable the campus to welcome learners, scholars and community members alike.  
Addressing those in attendance, UTSC Principal Wisdom Tettey congratulated the winners on their commitment to making a niche in their careers while elevating the aspirations of everyone they meet on their paths to achieving their goals.  
"These awards are an opportunity for us to celebrate and elevate the inspirational journeys that members of our diverse alumni community are on and appreciate a member of the UTSC faculty and staff for going above and beyond their duties to keep that alumni connection strong," said Lisa Lemon, executive director of the Development and Alumni Relations Office and emcee for the evening.
Congratulations to this year's Alumni Award Winners!
---
University of Toronto Scarborough Alumni Award for Outstanding Achievement
Victoria Nolan (HBSc 1996 UTSC, MA 1999)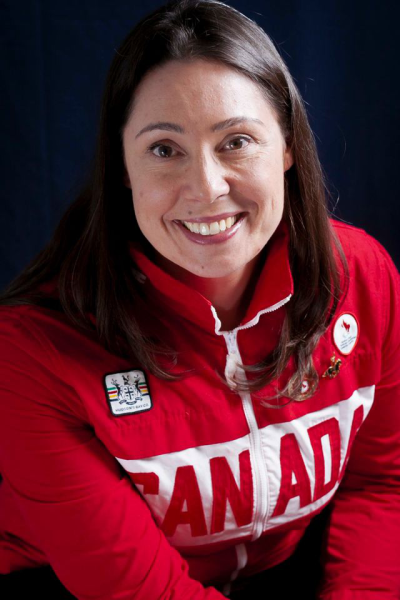 Victoria Nolan has had a phenomenal professional and personal journey since her time at UTSC.  
Currently engaged in a leadership role at the CNIB Foundation to improve the quality of life for Canadian students who are blind or partially sighted, she was diagnosed with Retinitis Pigmentosa in her second year at UTSC but refused to let the diagnosis come in the way of her dreams. In fact, even though she had less than 10 per cent of vision, this setback further strengthened Nolan's resolve to succeed.
After completing a specialist degree in Cognitive Science, she went on to earn a master's degree in Child Study and Education, pursuing a career as an elementary teacher.  
Her tenacity led her to achievements on the World Stage as Canada's National Rowing Team member. Together with her team, she has won eight medals for Canada, including a gold for breaking the world record at the World Rowing Championships in New Zealand.
Losing the remaining 10% of her vision hasn't stopped Nolan from seeking new heights. She has since published her autobiography Beyond Vision: The Story of a Blind Rower, hosted the TV show AMI This Week, volunteered on Ontario's Accessibility in education committee and motivated thousands of students through her address at the U of T convocation.
In Victoria's words:
"Graduating from the University of Toronto has always been a source of immense pride for me. I look back on my time at UTSC as life-changing, I had incredible learning opportunities in my Cognitive Science degree and made lifelong friendships. My accomplishments since graduating have required incredible inner strength and determination, skills that took root at UTSC. To now be recognized by the university with this award is an incredible honour for which I am very grateful."
University of Toronto Scarborough Young Alumni Award for Outstanding Achievement
Adam Rodricks (BBA 2010 UTSC)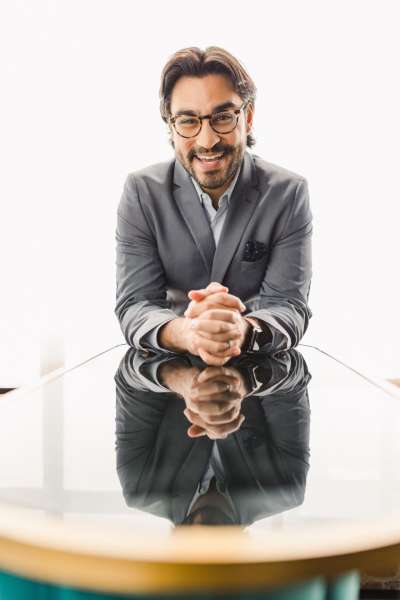 Adam Rodricks is an expert digital storyteller teaching the world how to wield the power of social media more effectively.  
Recently named "Canada's Top Social Media Strategist" by the Speakers Bureau of Canada, Rodricks emerged this year as a #1 best-selling author with his first book, Trigger Fingers: Personal Branding through Storytelling.
While being the National Lead of Digital Marketing Services at KPMG, he teaches the LinkedIn fundamentals course at George Brown College and serves as a Program Advisor on Digital Engagement Strategy at Centennial College.
A social media influencer and strategist, Rodricks has worked with prominent brands to build their digital presence and strengthen their social media properties. With a growing repertoire of exciting initiatives, he is consistently working with students, young businesses, and established brands alike to leverage storytelling to turn their ideas into reality.
In Adam's words:
"I vividly remember the first time I walked into UTSC; it was punctuated by awe and bewilderment. The calibre that came out of this university was everything I dreamed of being one day. Over a decade later, I'm still motivated by the brilliance of my peers, the faculty who have become friends, and my wife (for whom I also have UTSC to thank). I am humbled and honoured by this award, thank you so much; it prompts reflection on a cherished career journey that I'm so excited to continue. After all, we've only just begun."
University of Toronto Scarborough Alumni Inclusive Excellence Award
Melisa Ellis (HBA 2015 UTSC)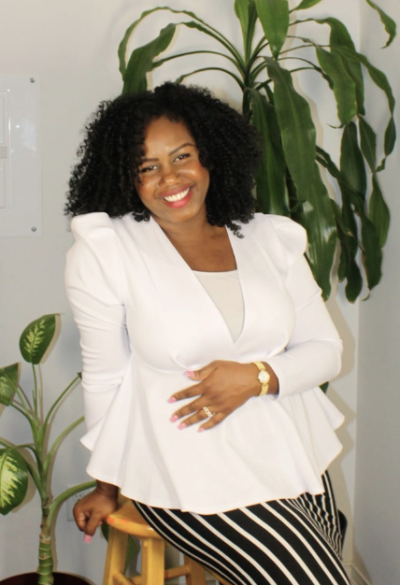 Melisa Ellis is on a mission. A mission to break the glass ceiling for underrepresented students and Black entrepreneurs in STEM in the pursuit of a more equitable, diverse, and inclusive tech industry.
Ellis is the founder of Nobellum, a non-profit social and technology enterprise that is partnering with U of T to launch 100 Black-owned businesses by 2025. She also led the technical implementation of OMO Campus – a virtual reality space for Black children to access free tutoring after school.
A leader and a mentor at heart, Ellis has been actively involved in supporting and raising funds for equity-deserving organizations, such as Because I Am A Girl, Terry Fox Run, Women in Science and the Black Student Association.
Through Nobellum, she is poised to empower the next wave of BIPOC innovators by providing them with opportunities to hone their skills, raise finances and network.  
In Melisa's words:
"This award is meaningful to me because of how open and willing the UTSC leadership has been in supporting an initiative that goes against the status quo. As a student, I had no idea that UTSC would one day be a place where I could return to amplify the work that I am doing to create access and diversify the tech industry for equity-deserving groups. I have never been prouder to be an alumna of the University of Toronto Scarborough!"
University of Toronto Scarborough Faculty and Staff Award for Alumni Engagement
Maria Assif, Associate Professor, Teaching Stream, Department of English, UTSC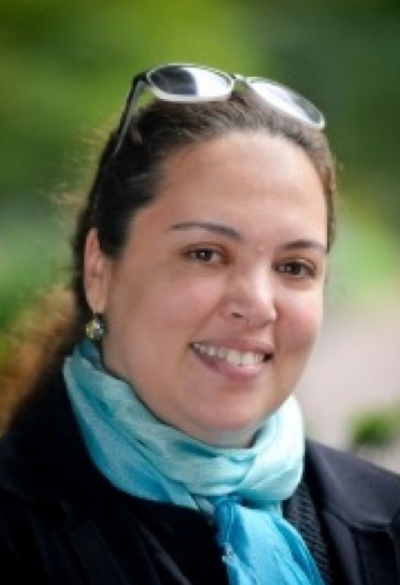 Prof. Maria Assif is someone whom Malcolm Gladwell would perhaps refer to as a connector. From designing mentorship programs to organizing alumni reunions to connecting current students with growth opportunities, Prof. Assif has consistently endeavoured to create spaces for people to come together in valuable ways.
Part of UTSC's English Department since 2008, Prof. Assif is a seasoned educator and administrator who also maintains an ongoing community of the department's alumni. Earlier this year, she received the University of Toronto's President's Teaching Award.  
Always seeking to build rich relationships with past and present students of the department, Prof. Assif has been integral in creating sustainable touchpoints for alums to stay connected with their alma mater. 
Over the years, she has collaborated on many projects with the UTSC Development and Alumni Relations Office to strengthen the bonds within the English community, and she continues to set new standards in the intentional engagement of the student body within the department and the campus.
In Maria's words:
"It is always an honour to be recognized, and for any good work to be celebrated, so I feel humbled and grateful! This award, to me, is particularly special because it reflects our UTSC English department's collective effort to create a vibrant, inclusive, and welcoming space for our students, past and current. It is also a testament to our alumni who take pride in their time at UTSC and the bonds they have fostered. Their spirit, generosity and kindness are always an inspiration to me!"