May 11, 2022 | Volunteer & Awards
Two U of T alumni win prestigious McCall MacBain Scholarships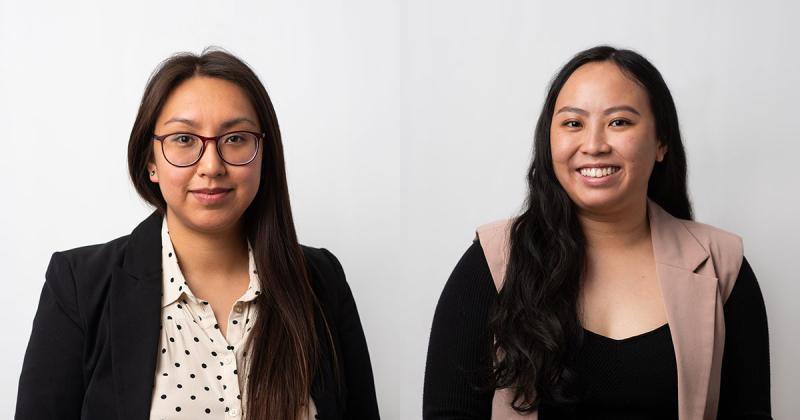 Left to right: Janelle Brown-Walkus (MSc 2021) and Linda Bùi (BA 2018 UTSC) are heading to McGill University on McCall MacBain Scholarships.
---
The process of truth and reconciliation is complex and has many dimensions. Overcoming gaps in preventive dental health care for Indigenous people is part of the path to reconciliation, says U of T alumna Janelle Brown-Walkus (MSc 2021). "During residential schools, people were getting their teeth removed with no anesthesia," she explains. "Understanding this explains why there's a lot of fear and dental anxiety in Indigenous communities."
Brown-Walkus aims to make things better. After her studies with a McCall MacBain Scholarship, she hopes to take the lead in helping dentists improve care for Indigenous communities.
Brown-Walkus, a recent graduate from the University of Toronto's Faculty of Dentistry, is one of two University of Toronto alumni who have been named McCall MacBain Scholars for 2022. She'll join public policy student Linda Bùi (BA 2018 UTSC) at McGill University in the fall.
Their outstanding achievements, skills, potential and character landed them in the top 20 of a pool of almost 700 applicants for the prestigious awards.
Modelled after the Rhodes Scholarship, the McCall MacBain Scholarships initiative is aimed at creating opportunities to help future leaders maximize their potential. McCall MacBain Scholars pursue master's or professional degrees in a supportive community that also provides mentorship and intensive leadership training.
U of T developed Brown-Walkus's dream to become a leader in dental public health
Brown-Walkus, who is a member of the Heiltsuk, Squamish and Gwa'sala First Nations in B.C., led several groups for Indigenous students in STEM as an undergraduate at McGill. For her Master of Science in Dentistry at U of T, she created a framework for the Norway House community in Manitoba to assess and improve the quality of preventive dental care.
"They had an idea of looking into oral health indicators," she says. "I had the great privilege of being able to fly into the community and hear from people themselves. People spoke a lot about patient and doctor interaction, and it really makes sense. Unlike in the city, you can't go to another dentist. Having a kind dentist, or someone who's good at interacting with the community, that's so important."
It means a lot to me, because I wanted an environment where I can thrive, and become a leader
The project showed Brown-Walkus where her dream lay. "I worked with Dr.Herenia Lawrence, who influenced me a lot," she says. "She guided me through a strong introduction to dentistry and public health. I think that really developed my dream to become more than just a practising dentist, but to work in policy."
Brown-Walkus's plans include educating dental practitioners about working with Indigenous populations, and threading through the complex rule differences between province and territories to improve access to care in northern and rural remote communities. The McCall MacBain Scholarship will be a huge help.
"I was so thrilled to hear about winning," she says. "Just so excited for what was to come. It means a lot to me, because I wanted so much more than just the curriculum and hands-on training. I wanted to have an environment where I can thrive, and become a leader in dental public health."
Perspective, curiosity and a community mindset set Bùi up for success
Linda Bùi, who graduated from University of Toronto Scarborough in 2018, found her path in the campus's International Development Studies Co-op program. "It allowed me to connect with interesting people and opportunities throughout my university years and beyond," she told the McCall MacBain Scholarship Foundation. "It equipped me with a critical perspective and curious mindset."
In her first year at U of T, Bùi co-founded Girls Empowerment Movement (GEM) to create opportunities for racialized youth. GEM is still running strong, and she's built on it with other community-minded projects, from climate justice discussions to a series of conversations with young Vietnamese women about cultural identities, gender, and leadership.
Bùi currently works in government relations at the Council of Ontario Universities, and is looking forward to completing her master's in public policy. "Being involved in my community has enabled me to cultivate connections in solidarity with incredible people to advance issues we care about to build better futures," she says.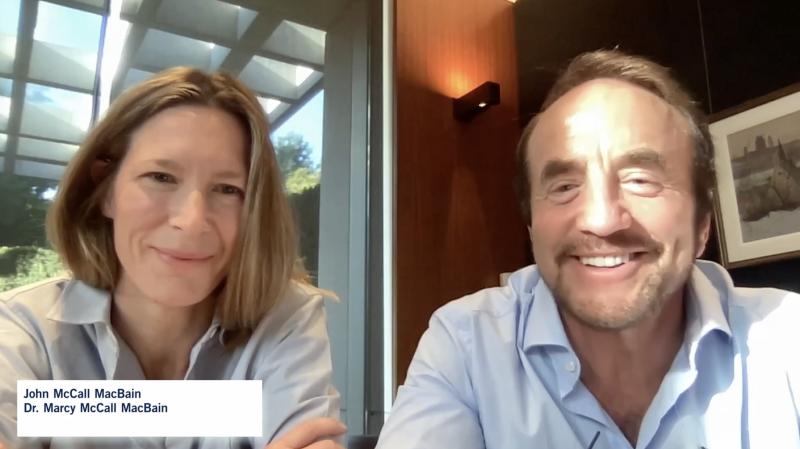 The McCall MacBain scholarship program aims to grow leaders
Philanthropists John McCall MacBain and Dr. Marcy McCall MacBain founded the McCall MacBain Scholarships program in 2019 with a $200-million gift to McGill University, the largest philanthropic gift in Canadian history at the time.
The McCall MacBains are signatories to the Giving Pledge—a movement by philanthropists who commit to donate the majority of their wealth to addressing society's most pressing needs. As well as establishing the McCall MacBain Scholarships, the couple has given generously to many other awards which help launch students, including the Loran Scholars Foundation, the Rhodes Trust, and the McCall MacBain International Human Rights Fellowships at U of T's Faculty of Law.
The McCall MacBain Scholarship program also recognized six additional U of T alumni this year. Finalist Awards went to master's of public health grad Nousin Hussain (MPH 2020), and to Konrad Samsel, who will graduate with a bachelor's of science from Victoria College this spring.
Christiana Agustin (BA 2020 UTSC), Rajpreet Sidhu (BA 2021 UTSC), and graduating students Yusef Al-Molieh of Victoria College and Aqsa Imran of U of T Mississauga earned Regional Awards for use at any public university in Canada.