July 14, 2021 | Volunteer & Awards
STEAM Sisters Sandhya and Swapna Mylabathula win a 2021 Youth Media Alliance Award of Excellence
By Jelena Damjanovic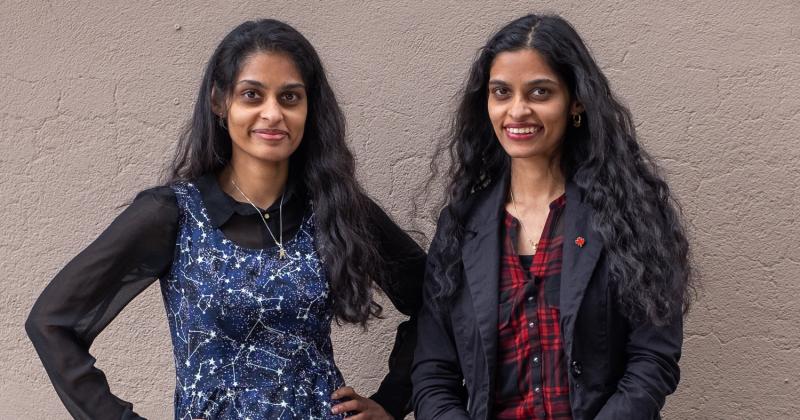 Twin sisters Sandhya (left) and Swapna (right) Mylabathula, both PhD students at the University of Toronto Faculty of Kinesiology and Physical Education and Faculty of Medicine respectively, have won the 2021 Youth Media Alliance Award of Excellence for an episode of their STEAM Stars show featuring Canadian astronaut Jenni Sidey-Gibbons (photo by Geoffrey Vendeville)
---
Twin sisters Sandhya and Swapna Mylabathula (both BSc 2011 TRIN) are passionate about spreading their love of all things science, technology, engineering, art and math, also known as STEAM. It's what earned them the nickname the STEAM Sisters. Together they started a YouTube show called STEAM Stars to help bring attention to women in STEAM – from archaeologists to astronauts.
An episode featuring Jenni Sidey-Gibbons, an astronaut with the Canadian Space Agency, was recently selected as the winner of the 2021 Youth Media Alliance Award of Excellence for Best Program, Short Form. The Youth Media Alliance seeks to enrich the lives of Canadian children and teens by helping improve the quality of the content created for them on all screen-based media.
"It is such an amazing honour to get this award," said Sandhya, a PhD student at the Faculty of Kinesiology and Physical Education at the University of Toronto. "It is also really meaningful to see that STEAM-specific content is being recognized, especially since this one was focused on featuring diverse women in STEAM careers, because it really is so important for under-represented groups to see themselves in these positions."
It is also really meaningful [that YMA chose the one] focused on featuring diverse women in STEAM careers
Before the pandemic, the sisters were able to film the show on various locations in Ontario, Québec and Alberta. They now use the show to do some of their STEAM outreach.
"It is very rewarding to hear the wonderful feedback from students," says Swapna, who is also a PhD student at U of T in the Faculty of Medicine. "They often say that they find it inspiring and feel motivated to explore the various fields featured."
Their newest show The STEAM League will further explore careers in STEAM.
"As science communicators, we feel that it is really important to build an interest in exploring STEAM at every age," says Sandhya. "We hope the show continues to inspire youth and encourages them to explore the possibilities in STEAM."