January 24, 2020 | Alumni
Speaking at career event, U of T alumna Ausma Malik emphasizes the need to 'show up' for your community
By Sean McNeely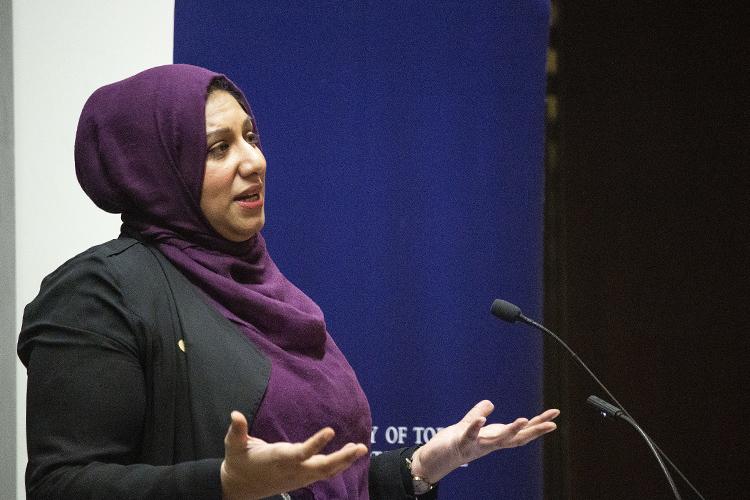 Ausma Malik (BA 2013 SMC), an alumna of St. Michael's College, speaks to students, recent grads and alumni at the recent 2020 Next Steps Conference at U of T's Bahen Centre for Information Technology (photo by Jackie Shapiro)
---
What advice did the first hijab-wearing Muslim woman to be elected to public office in Canada offer to students, recent grads and alumni?
Show up.
"It may seem painfully simple, but in a complicated world, maybe that's what we need more of," said Ausma Malik (BA 2013 SMC), the keynote speaker at the University of Toronto's recent 2020 Next Steps Conference at the Bahen Centre for Information Technology. 
Created through a partnership with the Faculty of Arts & Science, Career Exploration & Education and the Division of University Advancement, the annual full-day event brought together more than 350 students, recent graduates and alumni for panels and networking sessions that focused on career exploration and life after graduation.
"Most lessons worth knowing are hard-earned from experience," said Malik who, as a member of St. Michael's College, graduated from U of T with an honours bachelor of arts degree in 2013, majoring in international studies with a double-minor in history and political science. "And when it comes to life decisions, lived experiences are usually the greatest teachers."
"I put up my hand and said, 'I'll do it.' Making that little choice changed a lot of things"
Malik's show-up philosophy led her to be elected Toronto District School Board Trustee in 2014 – not to mention a community builder, campaign organizer, social justice champion and the director of social engagement at the Atkinson Foundation, a charity committed to promoting social and economic justice for Ontarians.
She remembered showing up at her first meeting of the Association of Political Science Students. "At the end of it, they were having elections and all the positions had been spoken for except one – I put up my hand and said, 'I'll do it.' Making that little choice changed a lot of things."
That sparked her to become involved with several student organizations and campus activities designed to bring about positive change.
"We agitated, we educated, we organized," Malik said. "Nothing was off the table: gender justice, racial justice, environmental justice, barrier-free education, human rights. And in those battles, sometimes we won. Sometimes we didn't. But it was about showing up for each other in that moment and for those in the future."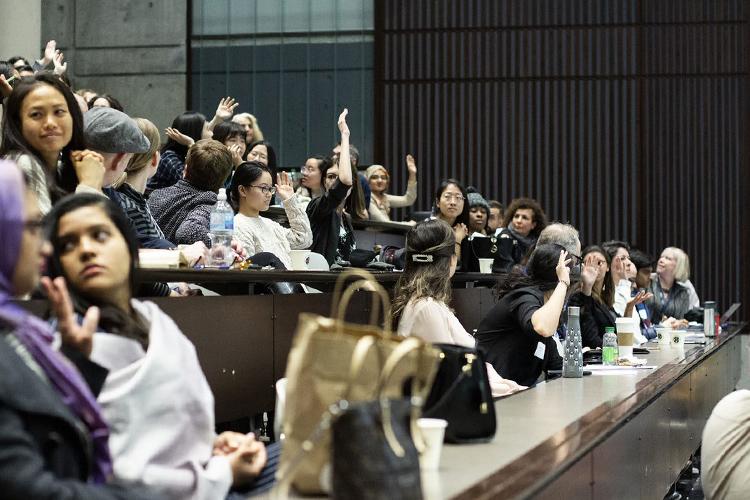 Malik explained that she never followed a set course, but instead followed her passions and convictions and stressed that it's OK to not know exactly where you're going. She also encouraged the audience not to shy away from adversity or potential skirmishes.
"If that involves making some noise, inviting some people to join you and a common cause and breaking a few proverbial biases – then that's what it takes," she said.
"I'll admit, I didn't always get it right. But it's an incredible energy that comes from mobilizing good people for a great purpose, and realizing that our experiences, our struggles, and our fates are tied together."
"The act of giving your time and experience will bring with it an energy that will illuminate and inspire every corner of your life"
Malik also spoke of how her connections and relationships with other students generated endless motivation and a keen sense of purpose.
"I brought that energy into my first job after leaving university and into each one after that," she said. "At the heart of all of it, building a world of social and economic justice drove me and it still does. But showing up for each other is what keeps me going."
She encouraged the audience to think about how they can use their education to better their communities, and suggested students and new graduates consider non-profit groups, politics and foundations.
"Take the learning and knowledge gathered during your years here and find ways to join others to make a difference," she said. "Let's use our collective power to transform systems instead of just managing them. The act of giving your time and experience will bring with it an energy that will illuminate and inspire every corner of your life."
"When it's tough, show up with a friend or two. When it's complicated, show up with your values. And when it's unbelievable, show up with higher expectations of what the world can be. When you decide to show up, the world will rise and reach you in more ways than you can imagine."